You will need
negalogenizirovanny fresh milk

separator
sourdough
Instruction
If you want to make homemade
sour cream
, do not be lazy to look for milk, not subjected to factory processing. Dairies milk
homogeniser
, breaking the capsules of milk fat into tiny droplets, causing the milk remains uniform, not separated into cream and skim milk. That is, for your purposes it is absolutely not suitable.
Very well, if in your household there is a special device for separating cream separator. In this case, just skip the milk through it.
But if separator is not, then put a jar of milk in the fridge for 12-20 hours, then you will see how the cream rose up, separated from the more transparent skim milk. Carefully remove the cream with a spoon in a separate bowl.
Your further actions depend on what kind of sour cream you want to. You can just leave the cream in the fridge, they freeze in a thick sweet mass.
And can add a little yeast, and then your cream will become more soft texture and slight acidity.
Useful advice
Separating cream in a separator turns out better.
Advice 2 : How to make sour cream thick
Regular sour cream from the store, no matter how fat she was, suitable for almost any uses other than the manufacture of confectionery. In order to make sour cream thick, for example for use as a cream for baking, it started to thicken. Not all the hand is a special thickener, but it can be done easily using common household ingredients.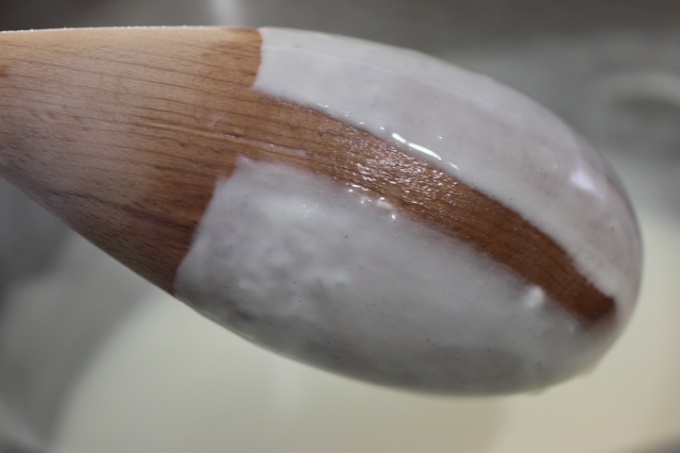 You will need
water;
- sour cream;
- starch;
- tablespoon;
mixer;
- two tanks.
Instruction
Put sour cream in handy for stirring and heating capacity.
Heat the cream in a water bath or in a microwave oven to a state close to a boil.
Take one tablespoon of starch (without slides) and pour into the second tank.
Dilute the starch with cold boiled water. The amount of water should be equal to the amount of the sour cream. Carefully stir the liquid with a spoon so that the starch is fully dissolved in the water.
Constantly stirring the warmed sour cream, pour into it a thin stream of water with starch.
Mix thoroughly the resulting mixture with a mixer. If you thought that the cream was not enough thick, repeat the steps from step 2.
Cool the mixture before use.
Note
If you just pulled it out of the fridge, it should take a little time to warm up to room temperature. When heating sour cream should not boil. In any case, do not add a large amount of starch, even if You think that the sour cream too runny. Will have to throw out spoiled sour cream and start all over again. Add the starch little by little, carefully stir the ingredients to avoid lumps and evaluate the result.
Useful advice
In the shop You can buy special thickener for cream and use it instead of the starch. Thickener for cream too. Also a good thickener for cream is flour of any kind and varieties, the dry or condensed milk, large amounts of sugar. For mixing the ingredients is preferred to use a narrow bowl with high sides. If you use thickened cream as a sauce for baking, it before using sour cream mixture to cool better.