You will need
wings or fillet)
0.5 liters of tomato sauce or tomato juice
0.5 kg of onions
5-7 cloves of garlic
ground red and black pepper (to taste)
coriander (to taste)
salt (to taste)
0.5 liters of yogurt
oregano (to taste)
0.5 liters of light beer
juice of two lemons
4 tablespoons olive oil
0.5 liters of white wine
2 tbsp. wine vinegar
3-4 Bay leaves
0.2 liters of soy sauce
fresh herbs (to taste)
2 tbsp. dry mustard
1 teaspoon sugar
0.5 teaspoon of turmeric
0.5 teaspoon of paprika
0.5 teaspoon chili pepper
Instruction
Chicken kebab in tomato marinade
Portioned chicken pieces RUB salt, ground coriander, and black and red pepper. Slice onion rings and mix with chicken. Add the finely chopped garlic. Pour the meat with tomato or tomato juice. For the marinade, you can use tomato paste, but in this case it should be diluted with water (preferably sparkling mineral water).
Chicken kebab in kefir
RUB the chicken pieces with black pepper, salt and skip through the press garlic. Mix the meat with sliced onions and pour all the yogurt.
Chicken skewers in beer
RUB the pieces with salt, black pepper and dry oregano. Add the meat, chopped onion rings, broken Bay leaf and pour in the blond beer.
Chicken kebab in lemon marinade
Mix 4. tablespoons olive oil, juice of two lemons, salt and black pepper. RUB the resulting marinade chicken pieces, add the meat, chopped onion rings. Lemon juice can replace vinegar.
Chicken kebab in white wine
RUB pieces of meat with salt and black pepper. Then mix the chicken with chopped onion rings and a broken Bay leaf. Fill skewers with white wine. In the marinade you can also add 2 tbsp. tablespoons wine vinegar or lemon juice.
Chicken kebab with lemon-soy marinade
Mix 0.2 liters of soy sauce, the juice of one lemon and black pepper. RUB the resulting marinade pieces of chicken. Add the meat, chopped onion rings. Optionally in the marinade you can also add parsley or dill.
Chicken skewers in a sweet and sour marinade
Mix 5 tablespoons soy sauce 2 tablespoons dry mustard, 3-4 tablespoons white wine 1 teaspoon of sugar, half spoon turmeric, half spoon of pepper and half spoon of chili pepper. RUB the chicken pieces with the resulting marinade.
Useful advice
The onion for the marinade preferably before adding to the meat a good mash with your hands to let the juice.
Advice 2 : How to soak chicken for barbecue
Soak
the chicken
in different ways. Meat from the
chicken
tender, just the breast dry. The choice of ingredients for steeping depends on your personal taste preferences.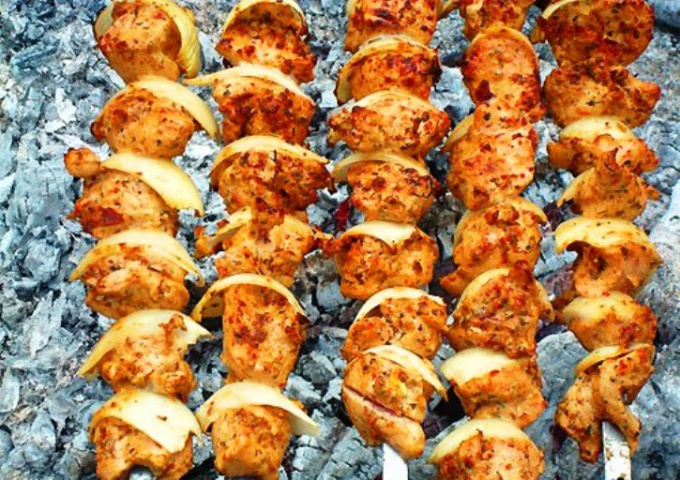 You will need
or legs (wings
tibia) 5 kg
mayonnaise 200 g
mineral water (wine or vodka), about 500 ml
kefir 0.5 l
LCT onions and garlic (nuts)
lemon (2 PCs)
vinegar (100 ml)
spices and salt to taste.
Container for soaking.
Instruction
Remember that
the skewers
mineral water should marinate no more than two hours, otherwise a possible foodborne illness. Cut meat into cubes, season with salt and add the spices for
kebab
, you can cut it into onion rings. Mix
the chicken
with the spices, pour water and put in a couple of hours under the press.
Take a couple of lemons, squeeze out the juice, pour over chicken and stir. Then add the spices and salt. All again to mix. After adding mayonnaise and onions. Leave in a cool place overnight.
Make a marinade with the vinegar, diluted vodka, meat to be very tender. Add the spices for barbecue and greens, onions and garlic. Marinate two hours (can be overnight in a cool place).
Take a liter of yogurt, cut the chicken into pieces. Salt and add spices to taste. Mix well and pour kefir. Marinate a few hours.
Try more complicated recipes: prepare the following products at the rate of five kg of meat to take two kg of onions,3 heads of garlic, six raw eggs, one pack of black pepper, a little red pepper, and any spices for the chicken and mayonnaise. All mix thoroughly, put in a cool place for at least two hours. When baking formed crisp, the meat is very tasty and unusual.
Take dry red wine, chopped chicken salt and add the spices, mix well and pour red wine. Under pressure marinate at least two hours in a cool place.
Prepare a mixture of garlic (pre-wipe, onions and nuts (crushed peanuts or hazelnuts)and vegetable oils. Cut the chicken and RUB each piece with the mixture, allow to infuse for an hour and add salt and spices. A bit of fry and insist on coals.
Note
mineral water skewers to marinate for no more than two hours.
Useful advice
Choose any recipe, you can combine components and ingredients.
Advice 3 : How to marinate fish for the barbecue
Good barbecue does not have to be from meat. Skewers of poultry, fish and vegetables is as delicious as it is unusual. If you like to experiment and surprise the loved ones unusual approach to classic dishes, fry fish on skewers, or wooden skewers. Special taste and aroma, she will give the marinade.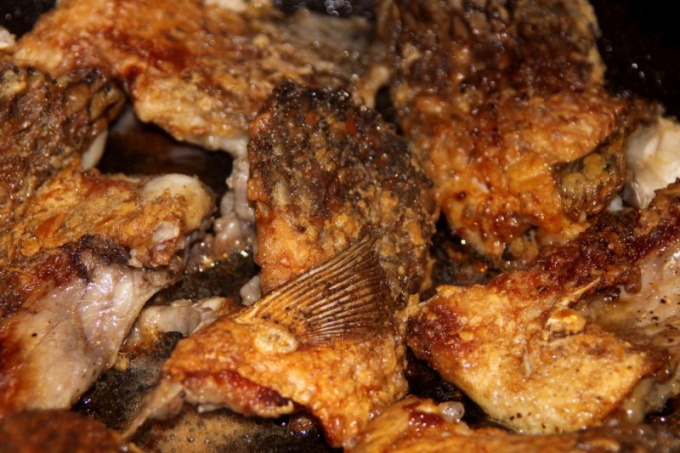 You will need
1 lemon
0.5 cups of vegetable oil
1 Cup dry white wine
2-3 onions
1 Cup pomegranate juice
salt
spices
greens.
Instruction
Sometimes you can find the statement that you marinate the fish for
barbecue
optional – just RUB it with salt and spices. However, if you want to make the fish flesh is more tender and flavorful, more oily or, conversely, slightly dry – without the marinade you can not do.
First select the fish you will cook the barbecue. That it is fatty, dense or loose it meat, will depend on the composition of your marinade. Great kebabs obtained from trout, sturgeon, tuna, salmon. Suitable as mackerel, salmon, lingcod. If the fish is fat enough, the oil in the marinade you can add. For dry fish (e.g., salmon) is better not to use highly acidic marinades as they will further dry the pulp.
The easiest marinade – juice of one lemon, chopped onion, salt, ground black pepper and any herbs. If you want to fish was more juicy, add to this marinade-vegetable oil – olive or sunflower. Based on this mix you can experiment to no end, adding the taste of mustard, garlic or sugar.
A more sophisticated option is to mix dry white wine, butter, lemon juice (from half of a lemon), spices, herbs and salt.
Very pleasant taste of the skewers of fish marinated in pomegranate juice. For him, you need natural pomegranate juice, vegetable oil, salt and spices (coriander, ground white and black pepper). Particularly well suited for such a marinade for skewers of white fish (sturgeon, pike, catfish).
Unusual rather gourmet, marinade for salmon (trout, salmon) – a mixture of soy sauce, lemon juice, fresh ginger and a small amount of honey.
And remember that the most important fish kebab – save the flavor and aroma of fried "smoky" fish.
Useful advice
Fish kebab marinated short – no more than an hour. Don't do a marinade based on vinegar, as it makes the fish loose. A large quantity of acid spoils the very taste of the fish, so the wine or lemon juice it is better to pour in too little than to add too much.
Advice 4 : This delicious recipe for chicken with plums
Tender, melting in the mouth meat chicken combined with a mild flavor of plums and sauce with a pleasant smell, you can't refuse, will conquer not only your stomach but your heart.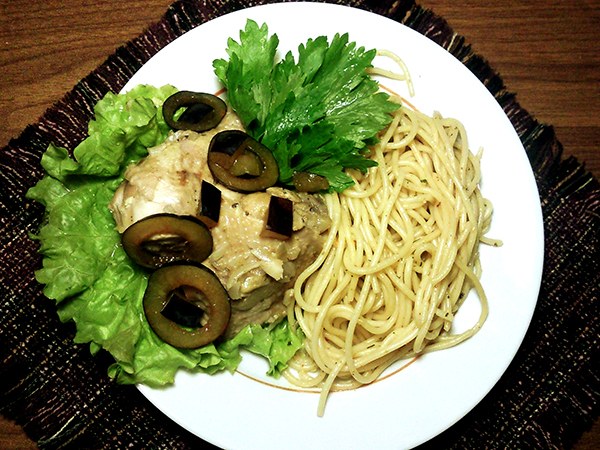 You will need
For 4 servings you will need:
Chicken (drumstick and thigh) 600 g
Plum 10 PCs (300-350 g)
Kefir 500 ml
Two large garlic cloves (40 g)
Onion 2 PCs (200-230 g)
Basil dried 3 g
Black pepper and salt to taste.
Instruction
To prepare
the chicken
. Take a deep frying pan or saucepan, put chicken in it, whole pieces. Add salt and pepper to taste and Basil, pour the yogurt to the meat disappeared. Mix seasoning should be evenly distributed in the yogurt. Marinate approximately one hour. While the chicken is marinating, lets start preparing the rest.
Onions and garlic peel. Cut onion into small cubes, close to the baby. The garlic chips. Pits from plums can be remove neat incision on the side and gently squeeze. Or if you have the tool to remove the seeds and cores, then use them. Plums can be cut at your discretion, slices or rings. All chopped add to the pan with the chicken and yogurt, stir. And continue to wait until marinated.
And here we have is marinated chicken. Turn on the stove and simmer on medium "the fire" (150-160 degrees). Don't forget to cover. Simmer 40-50 minutes, occasionally stirring lightly.
GARNISH. While preparing chicken, you can prepare the garnish. This is your taste. Will combine well with rice, spaghetti or mashed potatoes. Choose spaghetti. It is better to cook in a large quantity of water, so we'll take the pot more. In order to quickly cook turn on the oven at full fire, in a saucepan, add water half, sprinkle with salt, put it on the stove. Then pour a full kettle of water and switch it on. As the kettle boils, pour water into the pan, leaving a gap of 7 cm top to bottom. Then pour sunflower oil is 70-100 ml. This is to ensure that the spaghetti does not stick together. When the water boils, put in the spaghetti. Takes 7 minutes. At the moment when they will get soaked and completely fall into the water, you need to carefully prevent.
After 7-8 minutes, turn off the stove, drain through a colander. While the water from which flows down, the pot put back on the stove. Put into it the butter (you can pour olive), when the butter has melted, put the spaghetti back in the pot and gently stir.
Submission to the table. Spread on a plate of spaghetti next to a piece of chicken, pour a small amount of sauce, which was formed in the process of cooking chicken. You can decorate with a sprig of parsley.
Note
Also the chicken can be cooked in a slow cooker. Do all the same as in the recipe, put in the slow cooker and put on the fighting and 40 minutes.
Useful advice
Plums are best taken solid.
Advice 5 : How to make marinade for barbecue in kiwi
The combination of meat with fruit, not many people take with enthusiasm, however in some cases it can please everyone. For example, when it comes to soft, literally melting on the tongue pieces of the kebab. To make aromatic meat dish turned out exactly like this, to add to the marinade, puree, juice or pulp kiwi.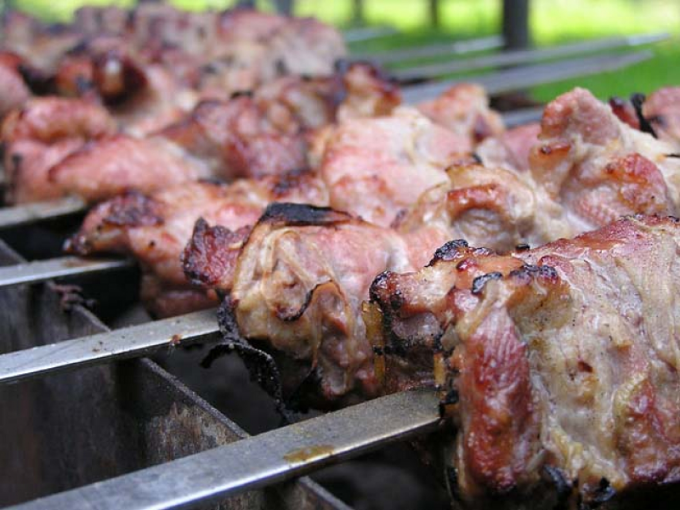 Marinade for shish kebab with kiwi and mint
Ingredients (for 2 kg of meat):
- 3 kiwi fruit;
- 50 g fresh mint;
- 3 heads of onions;
- 2 cloves of garlic;
- 1.5 tbsp of spices for barbecue;
Sol.
Peel kiwi and cut into quarters. Rinse the mint, spread on a paper towel and let dry. Tear off green leaves and lay them in the bowl of a blender or food processor along with the prepared fruit. Blend everything until smooth. Remove the husks from onions and garlic cloves and chop: first – thick rings, the second slices.
Prepare the meat, put it in a large container, sprinkle with spices and salt to taste. Keep in mind that ready-made seasonings already contain salt. Add in a bowl the vegetables and green sauce. Mix everything together with your hands, working carefully so as not to break the bow. Set on top of the cargo and marinate the skewers with kiwi half an hour.
The fruit contains much acid, so they very quickly soften the meat and with a long exposure begin to eat away at him. In any case, not peredergivaete skewers in the marinade, otherwise it will turn to mush.
The marinade sauce is based on the juice of kiwi fruit
Ingredients (for 2.5 kg meat):
- 3 kiwi fruit;
- 4 onions;
- 1 tsp of dried coriander;
- 0.5 tsp. black pepper;
- 1.5 tbsp of salt.
Slice the onion into half rings, put in a deep bowl or container and mash with your hands or a masher for mashed potatoes. Put pieces of meat about the same size. Season with coriander, salt and pepper. Squeeze the juice of kiwi, pour raw kebabs and leave it to soak spices and fruit marinade, but for not more than 1 hour.
Liberally sprinkle the red hot coals with salt. Then drained while cooking, the fat will not cause flashes of fire, and you will not desiccate the meat.
Kebab with kiwi marinade: recipe of mineral water
Ingredients (for 2 kg of meat):
- 2 kiwi fruit;
- 1,5 l of mineral water with gas;
- 4 onions;
- 1.5 tbsp of prepared spices;
Sol.
Use to marinate meat chemical-resistant crockery made of ceramic, glass or enamel with no chips.
Chop meat into cubes the size of 2 stacked with each other match box. Connect them in a pan with onion rings, kiwi, chopped into small cubes, and spices and salt. All carefully stir until components are evenly distributed, cover with mineral water, stir it again and let stand 1 hour.
Advice 6 : How to cook the marinade sauce from chicken ham
Marinade for skewered chicken is prepared is quite simple and gives this dietary dish juicy and tender taste. However, to get a really delicious chicken skewers, you need to choose the right marinade and cook it according to the most popular recipes.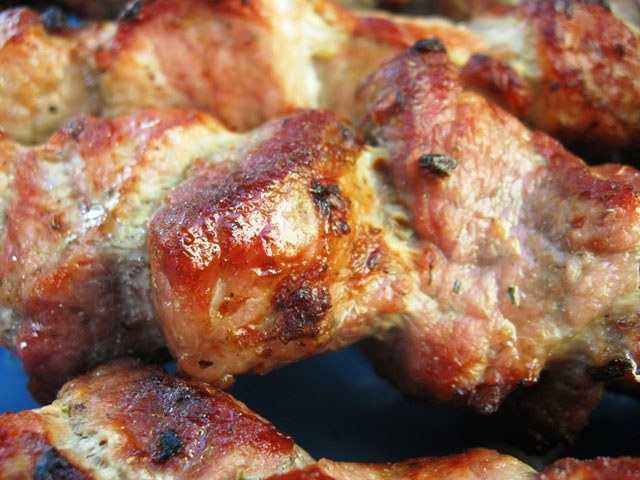 Types of marinades


Sweet marinades are ideal for chicken drumsticks, as they are well impregnated with the meat and give it a sweet taste. A barbecue, more spicy mustard will help the marinade and those who do not like to interrupt the natural taste of various spices barbecue, you should give preference to classic marinade with onion, salt and vinegar. You can also use sour pickles, but they are contraindicated for people suffering from hyperacidity of the stomach and ulcerative diseases of the gastrointestinal tract.

When preparing the marinade for the chicken kebab is very important to observe the proportions of the ingredients and the quality/weight of chicken.

If sour pickles are not suitable, you can replace them with a marinade of spices, honey and herbs – their thick consistency very quickly permeates the chicken legs and makes their meat soft and flavorful. If you want to make a spicy marinade, making use of a mixture of herbs, salt and ground pepper. Best acute types of marinades combine with chicken thighs or drumstick, as in other marinades these chicken parts are marinated pretty hard.


Recipes marinades


For preparing the classic marinade for 1 kg of chicken legs need to take 100 g 9% vinegar, 500 g onions, 2 teaspoons salt, 1 teaspoon sugar 10 peas allspice, 20 peas of black pepper, 5 Bay leaves and a teaspoon of vegetable oil. Onions should be clean and cut 100 g of chetverenki, grinding in a blender onion gruel – the rest cut onion rings and set aside. Peppercorns need to grind and mix with minced onion, Bay leaf, vegetable oil, salt, vinegar and sugar. Then to the mixture are added 200 g of water and mix thoroughly with the marinade.

Ready classic marinade into the chicken, placed onion rings and marinate 2 hours in a cool place.

To prepare sweet-and-spicy marinade, you need to take 1 glass of liquid honey, 1 tablespoon mustard, 10 peas of black pepper, 20 g red 20 g of sweet paprika and 1 tablespoon of vinegar. Liquid honey must be thoroughly mixed with a glass of water, mustard, paprika and vinegar, and then thoroughly RUB them chicken legs. The advantage of this marinade is its insensibility to the time – processed chicken can be put on the grill immediately after marinating for a short.