Instruction
To remove the hair strands have started in India. A few years ago, this method became popular in the United States. Unfortunately, to remove the hair painlessly threads almost impossible. The degree of pain depends on the density of hair growth and skin sensitivity.
Thin out the eyebrows using threads is much easier than to go wax their wax.
Tweezing
is even more painful method of hair removal. Before thinning eyebrows filaments the skin is treated with medical alcohol (degreased).
The procedure of plucking threads is pulling from the follicle several hairs using a cotton thread. The whole point here is that during the twisting of the two strands the hairs are captured and removed.
To start safesite your eyebrows up to provide free access to threads. Cut about 60 cm of thread, cut the ends of the string together.
Put the string on put together four fingers of both hands (except thumbs). Next, using the hand that you prefer, tighten the thread so that the middle was formed of 10 turns of twisted yarn.
Thread take index and big fingers of both hands. Now move it to the eyebrow. The movement should be: summing up the twisted plot threads close to the eyebrows, narrow two fingers of one hand and extend two fingers of the other hand. Thus, you will achieve retraction of the hairs in tiny gaps between the turns of the thread. That's the whole technique.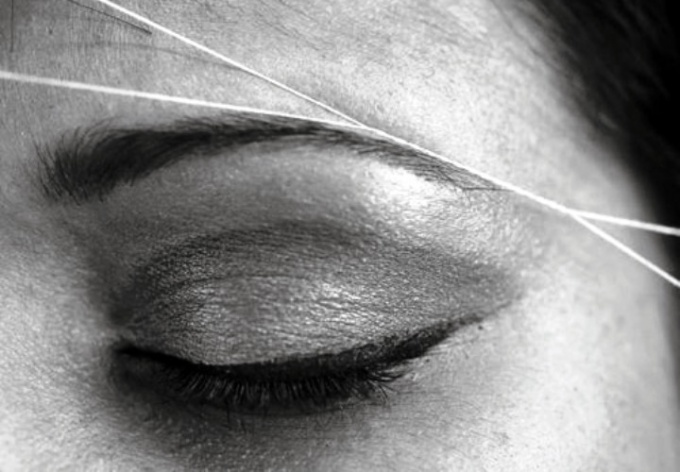 After the procedure of plucking attach to the treated brow for a few moments, a piece of ice or a cold compress. The skin may be red, but not for long.
This technique has its undeniable advantages:
- This method is relatively cheap.
- When pulling out the hair strands are created in the perfect thread, not the standard arch. The eyebrows needed shaped by much faster.
- During the procedure of hair removal using threads not only removes hair but also peels the skin.
- Achieved high working accuracy, resulting in a better eyebrow drawing.
- Hair pulled out from the follicle along with the roots.
- After thinning strands hair grows back very slowly. They also become thinner.
Note
If for any reason you do not want to use third-party services, we will tell you how to pluck eyebrows beautifully. How beautiful tweeze shape eyebrows. 1. Define a beginning, curve and end. Take a pencil and attach it to the wing of nose and inner corner of the eyes. The point on the corner of the eye will be the beginning.
Useful advice
To prevent errors, every time after that, re-comb the eyebrow. If you need serious correction, before plucking, you need to decide where the beginning and end of the brow and its curvature. In addition, it is very risky to remove the hairs from the top edge, as this may distort the face. These wonderful tips, how to pluck eyebrows give your eyebrows the perfect and beautiful form.