Instruction
Prepare sugar body scrub. It delicately removes dead skin cells and make it smooth and radiant. Take 3 tbsp sugar and honey and mix well. Apply scrub onto the face and rinse with warm water after 10 minutes.
Use ground coffee to scrub your face. Mix 4 tbsp. coffee and 1 tbsp of ground oatmeal. Massage the facial skin on the massage lines, then wash with warm water. After the procedure, wipe the face tonic and moisten with cream.
Mix 2 tablespoons of blue clay with 1 tbsp. of ground eggshell, dissolve the dry mixture in small amount of water to form a slurry. Massage peeling on clean face, leave on for 5 minutes, and then rinse with warm water.
Rasparte face over the steam, remove with a cotton pad moisture, and then wipe the face with ground oatmeal mixed with baking soda, in the ratio of 2:1. Hold 2-3 minutes and then rinse with warm water, after the procedure moisturize.
Mash 1 tbsp of the black currant and mix it with the same amount of flour, add 0.5 teaspoon of cream. Massage the mixture to the face for 2-3 minutes, then rinse with cool water.
Combine 1 tbsp sea salt 1.5 tsp heavy cream and gently RUB this mixture clean the face.
RUB on a small grater medium size cucumber, mix it with 2 tbsp of oatmeal and 1 tbsp olive oil. The resulting scrub apply to the skin, massage gently, leave on for 10 minutes and then remove the damp swab.
Useful advice
Use homemade exfoliating masks and scrubs 1 per week.

Always use a fresh composition.

Apply mask to clean skin, after the procedure be sure to wipe the face lotion or tonic, and then use nourishing or moisturizing cream. Needed tonic for pores and cream to protect the skin from drying out.
Advice 2 : How to make your skin glossy
Let's talk about shiny and sexy the skin of the body which and I want to boast in the summer. Shimmering bronze tan is the dream of every girl. And if the person is worth every effort to avoid any hint of luster, slightly shiny skin of shoulders, back, legs looks incredibly attractive. Start!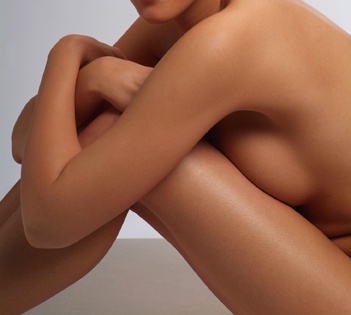 Instruction
First, smooth and delicate skin makes the exfoliation, so in any case do not forget about regular exfoliation while showering. The scrub should contain gentle but effective ingredients to have a good scrub and soften the upper keratinized layer of the skin. You could use a ready-made scrubs from cosmetic stores on nutrient basis, and to cook!
Here are a couple of recipes for effective and natural scrub that is so easy to cook at home. Take the dried peel of oranges pairs, mash in a coffee grinder and mix a small amount of rose water. This aromatic product is amazing, will improve the appearance of your skin, giving it a radiant healthy color and softness. The other way to make the skin glossy and soft, and gives a tanned tint - scrub of natural coffee. Mix coffee with a small amount of whipping cream, if your skin is very dry areas and massage well body. Rinse with warm water.
Nourish the skin! However, selected funds does not have to solidify oily film. Better if they will be carefully and completely absorbed into the skin. So, a daily nutrition and hydration is the key to beautiful and radiant skin, especially that now you can find many lotions and creams flicker and small reflective particles.
Use the body butter, it is desirable for children, as it is very lean, easily and absorbs quickly, leaving skin soft, smooth and slightly shiny. You can add various essential oils to give the skin a scent - for example, grapefruit, orange, patchouli.
Help your skin Shine from the inside, it's quite simple: drink enough water, avoid junk food, eat fruits and vegetables, drink vitamins - and then the efforts to make skin look amazing, will need quite a few!