You will need
water;
- cereal flour or cereal;
- baby formula for babies over 6 months.
Instruction
The mixture in any case should not be subjected to great heat, especially boiling. After that, she, first, loses all it contained useful vitamins and microcells, and second, it becomes quite tasteless. Therefore, add the mixture in need of a ready and slightly cooled porridge, cooked in water.
Purchase store cereal flour or cook it at home by yourself using the blender. Cereal grains out of the ordinary it is better first not to give the child, as it may be difficult to digest by the stomach. Start feeding better with buckwheat or rice grits, and then you can move to oatmeal. Semolina is heavier, and give porridge from it should be only after the first year.
Fold the cereal flour in a pan and pour it with boiling water at the rate of 1 part grains to 3 parts water. Buckwheat requires two parts water. Be sure to observe the proportion, otherwise
the porridge
will turn out undercooked or, on the contrary, absorbed.
Put porridge on the fire and boil for a few minutes, periodic, carefully stirring with a spoon. Salt, sugar and butter in porridge for kids, add is not recommended. After this time remove the saucepan from the heat and allow the porridge to cool slightly.
Add the porridge infant formula. So it was not too thick, place one half of the serving, which is usually required for feeding. If, for example, 100 ml of liquid you have dissolved 3 tablespoons, cereal for the same amount you need to add only 1.5 scoops. Then mix well the resulting dish is and safely give your baby.
Another option is cooking the porridge for the baby is to cook it from whole grains, grind in a blender to a mousse and then add the desired amount of infant formula. Some bits and pieces such a mess like it more because of its unusual structure.
Advice 2 : How to make porridge "Heinz"
To four months life of babies comes the important point – the introduction of complementary foods. Experts on child nutrition recommend starting with cereals, specially adapted for delicate stomachs – for example, porridges of the company "Heinz". You can choose dairy or non-dairy options and choose the texture that is especially good for your baby. You only need to hydrate dry cereal in the desired proportions.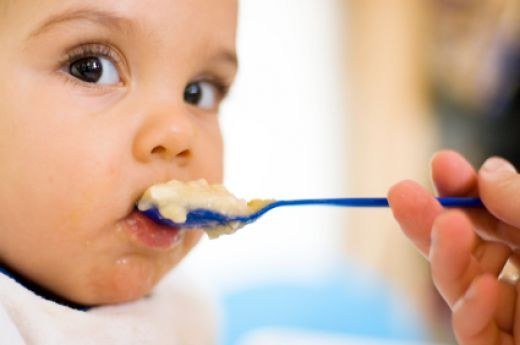 You will need
— porridge "Heinz";
— milk;
— water for baby food;
— children's juice;
— a mixture for baby food;
— scoop;
— bottle feeding.
Instruction
Select the appropriate mess. Experts recommend to start with a safe gluten-free options – buckwheat, corn or rice mixture. If a baby has a tendency to diarrhea, offer him rice, and those who, on the contrary, suffered from constipation, suitable buckwheat. Kids, not experiencing digestive issues, you can offer oatmeal or wheat porridge.
If the child is not allergic, you can try the options with fruit and vegetable ingredients – carrot, pumpkin, Apple, plum. In the line of "Heinz" there are cereals with prebiotics that helps to stimulate proper digestion and protect the immune system of the baby.
Decide what kind of cereal you offer the kid. Dairy-free options divorced warm milk – breast or special children. If the baby suffers from lactose intolerance, you can hydrate dry cereal soy milk mixture, which usually feeds your child. Dairy-free porridge , it is recommended to dilute the children's drinking water.
Add a portion of dry mixture into a clean bowl. Add pre-heated to 40 degrees water or milk according to the instructions and stir until smooth. Note that the proportions recommended by the manufacturer, provide an opportunity to get a thick enough mixture that you want to give with a spoon. If your child prefers liquid food from the bottle, increase the amount of liquid. Try adding a spoonful of cereal into regular formula – this variety of diet the baby will definitely appreciate.
Milk in porridge , you can add half a teaspoon of oil or butter – this is especially helpful to babies with low birthweight, suffer from problems with the chair. If baby doesn't like the taste of cereal with milk, dilute it slightly warmed baby juice – Apple, pear or others that your baby loves.
Carefully watch the reaction of the baby. Solid foods, start with one spoon of ready-made porridge and gradually increase the dose up to 150-170 ml, replacing it with one feeding. Do not try to diversify the diet of the child – first make sure that his body without problems accepts the new food.
Advice 3 : How to cook solid foods
Dogs and cats feed their young milk to an average of 2-2. 5 months. However, on the 3-4 week recommended to introduce
solid foods
, as breast milk to kids is not enough. Proper diet – the key to health and normal development of the animal. However, few choose the right products, you also need to be able to cook one meal.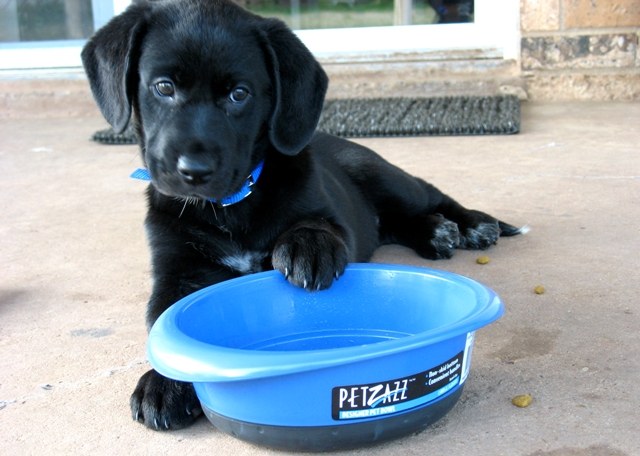 Instruction
Never add in the lure of salt, sugar, honey, chocolate, condiments, etc. Food for kittens and puppies should be cooked separately, and to give meals from the master's table is strictly prohibited. The pet owner should understand that normal food can be poison for your pet.
Cook puppies and kittens, fish and lean meat. To give these foods raw it is impossible in any case since it can lead to infection with worms. Also, do not give fatty meat, especially pork. Give preference to beef and chicken. Cut meat and fish into small pieces and then boil it in water, or diluted milk. After cooking pour all the broth – a bit can give the baby.
Cook puppies boiled potatoes. It's the only vegetable that they should not be given raw. Potatoes should be pre-peel and boil in their skins. It is also recommended to give him pieces, but not pureed. Potatoes should be boiled as usual, but without salt and spices, then cool and give your puppy warm pieces.
Be sure to cook the kittens porridge with meat. You can use semolina, rice, buckwheat, millet, oatmeal, etc., while mixing the lure should be in the ratio of 1 part porridge to 2 parts meat or fish. When you cook cereals, don't add too much water, not to drain it before to feed the kittens. Rice before cooking it no need to rinse, and prepared some rice gruel should be given, keeping the remaining liquid.
Do not use milk in the preparation of complementary foodsand every day. On the contrary, it is recommended to do not more than 3-4 times a week. The fact that cow's milk can cause stomach upset in your Pets. Puppies can from time to time to give warm milk, and kittens to cook the porridge.
Cut into pieces kidney, heart, liver, lungs before cooking them. Should not produce byproducts for too long. The essence of making feedingof these products and to destroy the probability of infecting kids, so you don't need long to boil the nutrients. The smaller the pieces are, the faster they cook. For example, cut into medium pieces beef liver to cook for 7-10 minutes, and chicken hearts – 15-20 minutes.
Advice 4 : How to cook porridge from barley grains for children
Fine ground barley is produced from barley. It contains large amounts of folic acid so it is useful for little children, and those women who are planning conception. Meals from barley grains will help to get rid of allergies.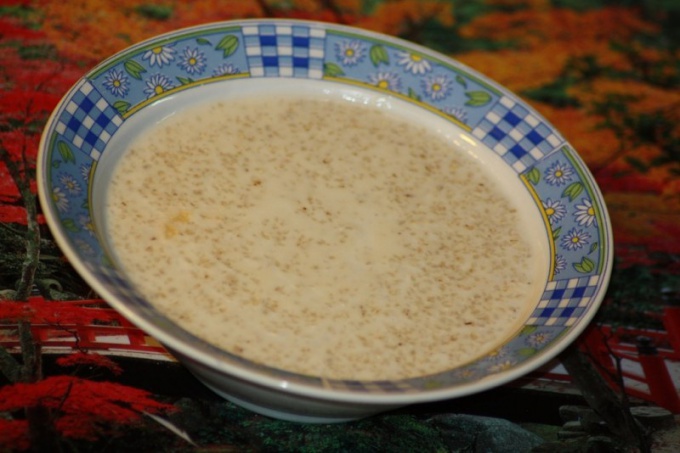 You will need
- fine barley grits – 6 tbsp
- water – 200 g
- milk – 150 g
- salt to taste.
Instruction
Pour in a pan of water and put on fire. The water slightly salt. Selecting the volume of the container, which will cook porridge, do not forget that when cooking grits in volume will increase by five times, so small pans should not be used.
Rinse fine fine ground barley in three waters, and add to the pan in boiling water. The porridge will be more viscous if the rump before cooking to wash out a little bit.
In lightly salted water to boil for grits should be on low heat so that the water completely evaporates. You can add a little vegetable oil.
To cook porridge about half an hour – Krupa should swell. During the boiling the porridge must be periodically stirred, so grits do not stick to the bottom and does not form lumps.
Add to the pot of milk after the water evaporated. Bring to boil and boil for 5 minutes, be sure to stir.
Remove the porridge from heat and cool. Cooling down, the porridge will thicken slightly and swell. If you want to add to mush butter, now's the time. If you put oil during cooking, it will precipatate, and most of the nutrients that it contains will be destroyed.
Feeding porridge to the table with sugar, butter, fresh berries or jam. For the child's body porridge from barley grains represents a very valuable food product. Its special value is that it contains large amounts of folic acid and phosphorus – it is necessary for good calcium absorption.
Note
Half of the rate water can replace milk.

If the evening to soak cereals in cold water, the morning porridge can be cooked in about 10 minutes.

From barley grains can provide useful decoction, which helps with colds, coughs.
Useful advice
If you want to make porridge is not especially thick, and the texture is more liquid that the spoon could stand in it, but not very confidently, of water is necessary towards the rump to add one to three. For thick porridge of water to take a ratio of two to one, that is, two cups of water per Cup of grits.