Instruction
Before you install the countertop , make sure that you have connected all the necessary appliances we have gas and water, stretched all the wires.
Inspect the finished countertop and subject to chipping and damage. Better if you can detect them before you install, in this case, you still have the opportunity to contact the vendor asking for replacement of the defective product for a new one.
If the countertop is made of particle Board, unprotected edge, before installation, be treated with sealant to prevent swelling in the process of operation. Before the treatment clean the surface from chips and dust, not wipe it with a damp cloth, otherwise the sealant will not set.
It is very important that all the elements of the countertops were on the same level, but it was strictly horizontal. Align all tables are on a single level. Put the countertop and check evenly if she relies on them. In the event of a possible sagging of the tabletop can be bent and go cracks, it is better to avoid this immediately.
Cut a hole under the sink. The resulting saw cut finish with a sealant or water repellent lacquer. Experts tend more towards the sealant, because that tightly holds the sink. But this is against what they actively support, is against cutting holes for taps directly at the table, because it will inevitably lead to the wetting of the material and its swelling in the near future.
With the help of corners, screws and other fasteners included in the package, screw the countertop to the cabinets and, where required, to the wall. We can say that the countertop is installed, it remains only to formalize its junction with the wall area, which will serve a decorative role and protect the new worktop from moisture on her face.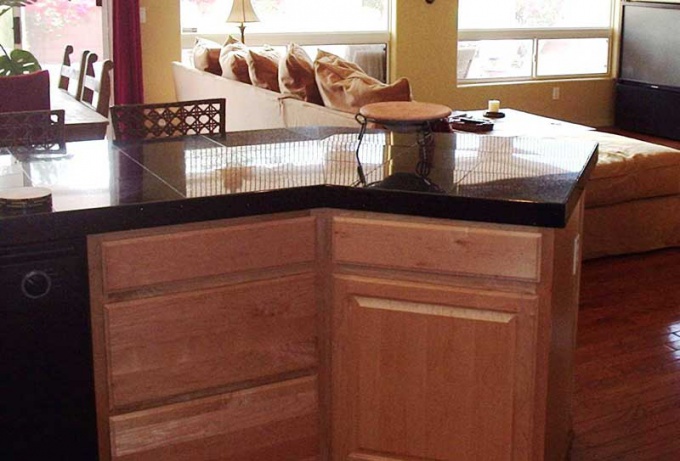 Useful advice
If the countertop consists of multiple fragments, insert them between the ornamental strip, which will protect the joints against ingress of moisture.