You will need
Hunting sausages - 3 pieces,

smoked sausage - 200 gr.
smoked meat (pork chops or pork) - 200 gr.
ham - 100 gr.
beef on the bone - 500 gr.
1/2 banks olives pitted
1/2 banks olives pitted
1 onion
1 carrot,
pickled cucumbers - 2 PCs.
greens
salt,
1 tbsp tomato paste
Instruction
For cooking soups, we need a few types of sausages and meat. The first thing you need to cook the broth. Fresh beef is good to wash and boil until tender (1-1. 5 hours). Ready to get the meat to separate from bones and cut into cubes.
Onion peel and finely chop with a sharp knife. Carrots wash, peel and grate on a coarse grater.
In the boiling broth add diced pickles.
To take a hunting sausages, ham, smoked sausage and smoked meat. All cut into small strips. Put in a pot which is already boiling cucumbers. There also send chopped boiled beef. Cook for 15-20 minutes.
Open the olives, drain the water. Cut into circles and put in a saucepan.
Preheat the pan, add a knob of butter, put onions and carrots. Slightly fry and add 1 tbsp of tomato paste. All it is good to overcook, stirring occasionally. Add to the pot.
10 minutes before readiness, a hodgepodge need to add salt. Do not forget that it is already salted at the expense of all the ingredients. Serve in a bowl garnished with the chopped fresh herbs and a slice of lemon. In a separate bowl apply the cream. BON APPETIT!
Note
Before you add salt to the soup, try a little broth, and then add salt. As the broth already has a slightly salty taste due to the cucumbers and olives. The bag should not be potatoes and noodles!
Useful advice
Soup can be cooked in the oven in a clay pot, the dish will be even tastier. The more kinds of meat you use in the brine, the tastier it will be. In the boiling broth, the fire must be immediately abated, and then the broth will become cloudy.
Advice 2 : How to cook meat Solyanka at home
I do not know what to surprise your guests and household to the first? Then see how to cook meat Solyanka at home and catch rave reviews in his address, with a minimum of effort.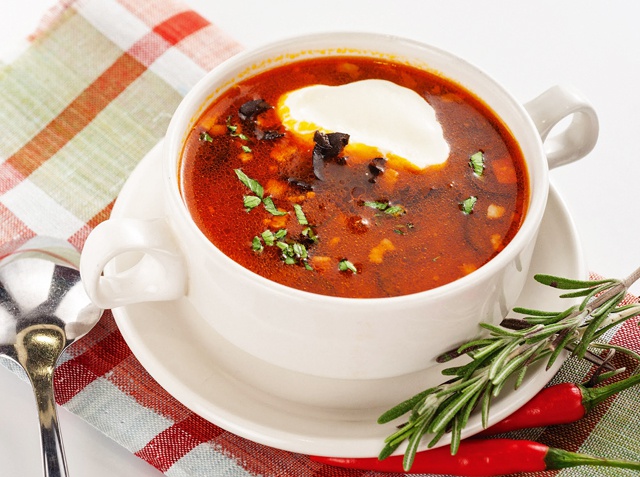 Meat Solyanka with confidence can be called a native Russian dish. This is one of the most fragrant and spicy soups, domestic kitchen, but still not everyone knows how to cook meat Solyanka at home. The hallmark of bright sour-sweet taste and a richly flavored soup from your favorite deli meats and smoked.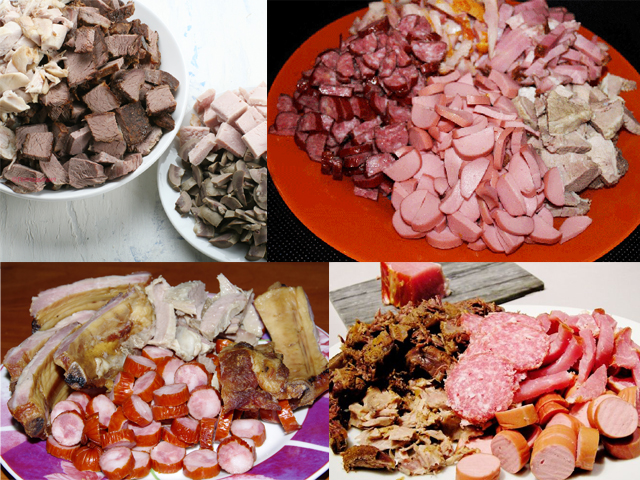 The basis of meat soups can be taken from beef, chicken or pork broth. However, the composition must be salty (not pickled) cucumbers, olives or olives, tomato paste and several types of meat. Potatoes in a bag is usually not placed. Below are the three most successful recipe for meat Solyanka with step by step cooking.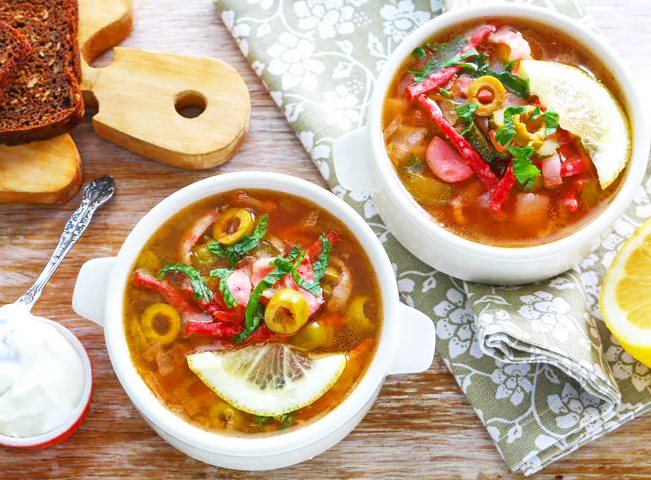 Beef stew pork broth
For the preparation of meat soups will need 0.25 kg of pork, 0.7 kg any meats (sausage, ham, sausage, pork chops, smoked neck, shank or rib to your taste), 150 g of salt cucumbers, 100 ml brine, 1 large onion, 3 tbsp tomato paste, 1 lemon, 100 g of olives or olives, pitted.
Pre-cook pork in lightly salted water (for about an hour, the pan is 3.5 liters). Strain the broth and pork cool and cut into cubes. For frying chop onion, slice into strips cucumbers and smoked meat. Dip on a hot griddle the onion and fry it in sunflower oil until Golden brown. Add the cucumber, after a few minutes pour in the tomato paste and cook the mixture for at least 5 minutes. In a separate skillet, sear meat, and pork, and then add them to simmering broth and cook for another 10 minutes. Put the finished fried in the soup, pour the brine and all mix well. Add salt and pepper if needed, cover the pan and allow the bag to infuse for 30 minutes. Before serving, add to the plate a slice of lemon, a few olives or olives. Also eat meat Solyanka with sour cream.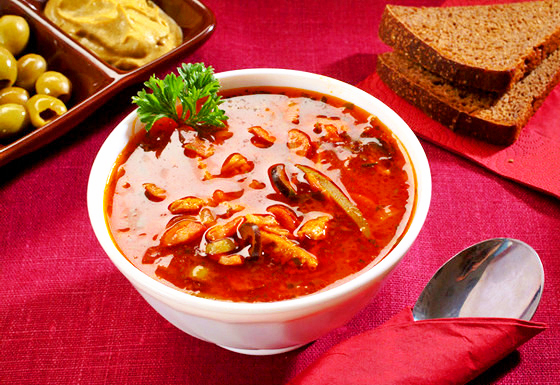 Beef stew with beef broth
To cook this meat-bag at home, you need to take 0.4 kg of beef, 4 sausages, 0.2 kg of cooked sausage and ham, 3 pickle, 1 onion, 1 jar of olives (olives), 2 tbsp tomato paste, Bay leaf, pepper, salt, herbs to taste and a slice of lemon for decoration.
Cook beef broth (not much salt) and strain. The beef cool and cut into small pieces together with other meat ingredients. Cut the onions, cucumbers and herbs (parsley, dill) and cook in the frying pan together with tomato paste for a few minutes. Add the broth, vegetables and meat and cook the soup to a boil. Pour in meat hodgepodge jar of olives (olives), together with the brine, wait until the broth begins to boil, remove the pan from the heat. The first serve with a slice of lemon and sour cream.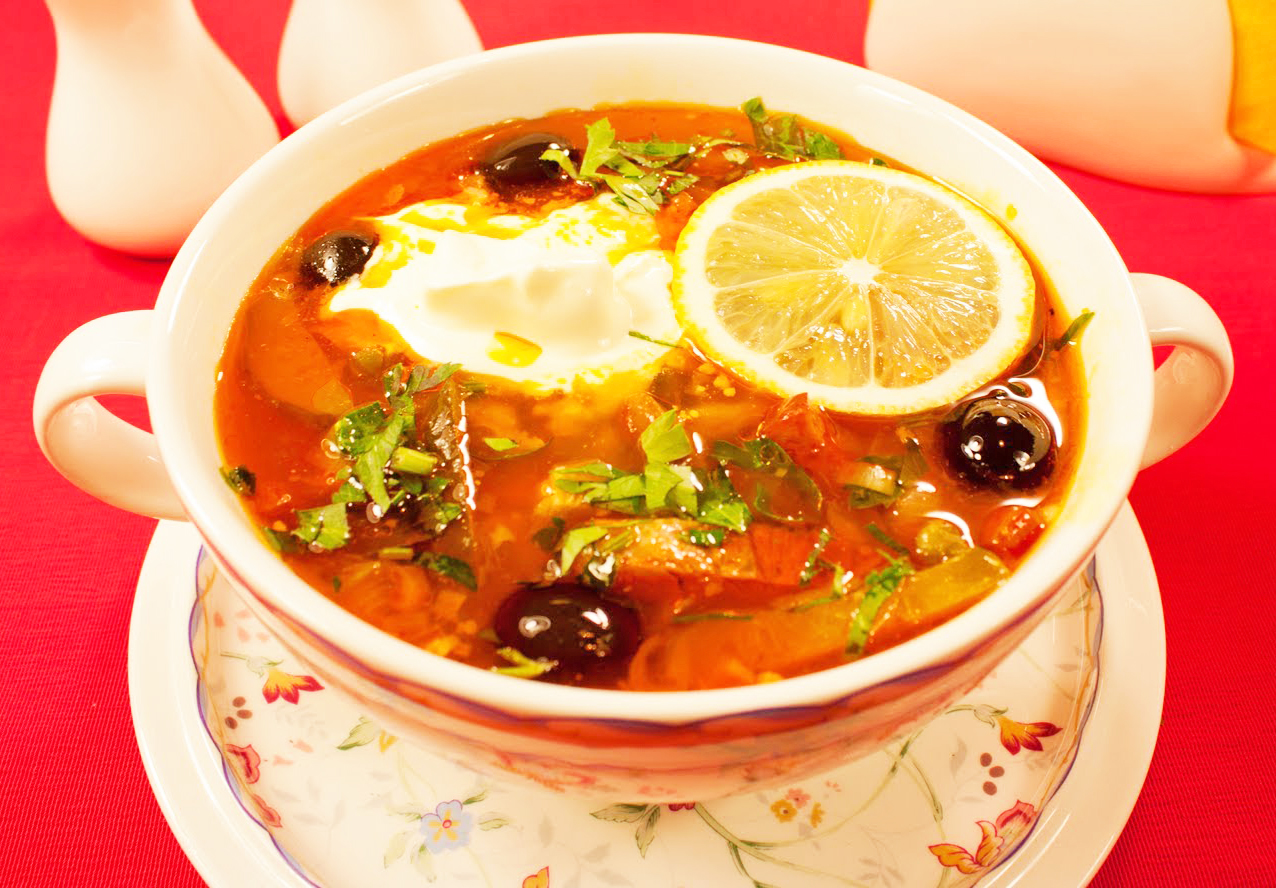 Beef stew with chicken broth
This homemade beef stew is prepared very simply and it will require 1.5 liters of chicken broth, 0.2 kg of chicken, 0.5 kg of any of smoked sausage and meat, 2 tbsp tomato paste 2 pickles, olives), salt, pepper and lemon wedge.
Fry the pieces of sausage in a dry frying pan to slightly melt the fat. Chicken and smoked meat cut into cubes. Cut rind pickles, and the flesh is chop. So it was not too watery, drain it on a sieve. Dilute the tomato paste a tablespoon of broth and along with the cucumber, saute in the pan for about 5 minutes. Bring chicken broth to a boil, put all meat ingredients and stewed cucumbers. Simmer the soup for another few minutes. Salt and pepper meat hodgepodge, if required. Serve with a few olives, a slice of lemon and sour cream.