You will need
2 tbsp sugar
1 tsp . salt
1 egg
1 tsp. soda
vinegar
2 tbsp vegetable oil
2 tbsp. flour
any filling for pies.
Instruction
First you need to prepare the dough. To do this, pour into a bowl 1 Cup of yogurt, add one egg, 1 tsp salt, 2 tbsp sugar. All mix well and add 1 tsp. soda slaked vinegar and again stir gently. Add 2 tbsp oil. Give a little stand.
Once the mixture starts to bubble, start adding gradually the flour. The dough shall not be too tight. Leave dough in bowl, cover for a while with a towel to dispersed gluten.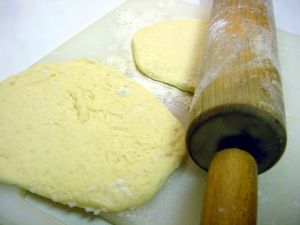 When the dough is dispersed, to grease hands and rolling pin with vegetable oil. On the unrolled dough put the filling and blind pies.
Pour into
pan with
sunflower oil and put on fire. Put
patties
in a hot pan on distance from each other, as in the process they will increase in size. Fry one side until cooked without a lid, after which
the patties
to flip, cover and reduce the heat. Fry until Golden brown.
Note
If you sculpt cakes with flour, then frying in a pan it will begin to burn. Better grease hands, rolling pin and table with sunflower oil. Vegetable oil to add to batter last, thanks to the dough will not stick to hands and will become more elastic.
Useful advice
If you are preparing cakes in the oven, on the bottom put a bowl of water. Then the pies will be baked and will not burn. Baking pies use flour only the highest quality. Pies need to sculpt directly before frying. If you make in advance, the juicy filling can soak the dough. Fried pies should be put on a paper towel, thus draining the oil.