You will need
Detergent, brush, fine sandpaper, masking tape, thinner, primer, paint, lacquer.
Instruction
If you decide to paint the wheels, the first to be puzzled is to purchase required materials. Primer, paint and lacquer should choose the special wheels for: acrylic enamel disks acrylic clear varnish, anticorrosive acrylic primer – they have high wear resistance to mechanical stress. For painting small items it is better to use paint in spray cans. The solvent whatever sandpaper needs to be fine – suitable for rubbing scratches, not to create them. As a detergent shampoo suitable for washing machines, in extreme cases, ordinary washing powder.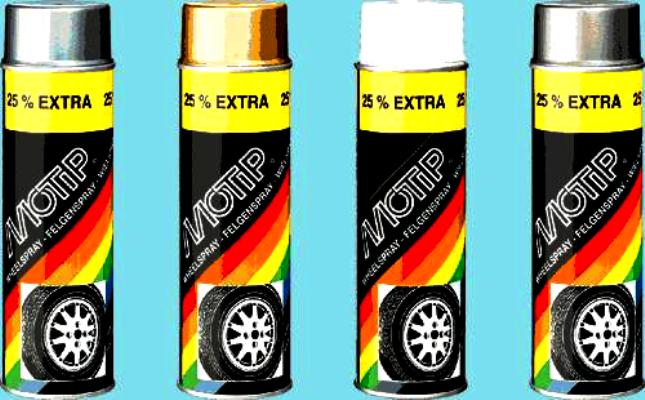 Before priming the wheels, you need to clean and wash dirt and corrosion with a brush with plastic bristles, for cleaning in hard to reach areas perfect toothbrush. The discs are washed and cleaned with both external and internal parties. Better if the wheels are without tires, it's much more convenient when painting, and just by the fact that they are so much easier, but if the tires still allow operation, do not ressortiront, wheels can be painted so.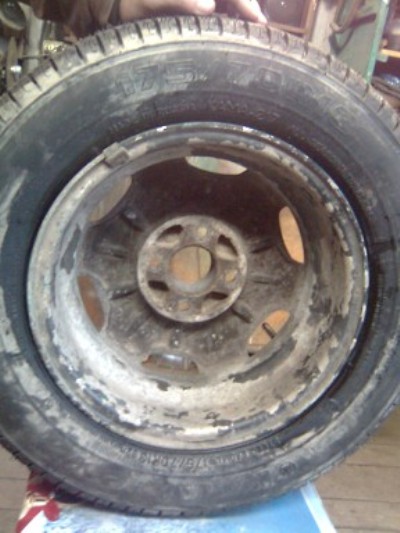 When the discs are washed they should be smoothed out with sandpaper to a uniform matte finish when the desired effect is achieved degrease the surface with solvent and allow the disks to dry well. Now it is necessary to separate the painted surface from the tyre, you will need thin cardboard and molar adhesive tape, and tape wrap the nipple of the wheel, for just one its not paint. You can start priming disk. Apply 2-3 coat with a gap of 15-20 minutes between layers for drying. Wait until the primer has dried.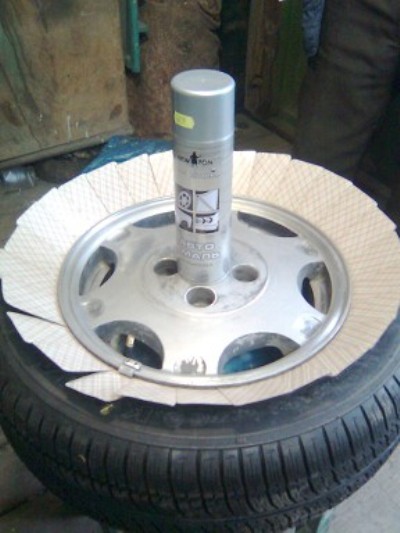 When the primer is completely dry, you can begin to paint the disk. Apply 2-3 coats of paint with an interval of 15-20 minutes. Apply the paint evenly, preventing the formation of stains. Once the paint is dry, you can apply varnish, it is applied in 2-3 layers with an interval of 25-30 minutes. Wait for final and complete drying of the varnish, may have to leave the discs to dry overnight, then flip the disk and repeat the procedure for painting the back of the disk. Leave the disks for a day for complete drying. Now you can surprise friends original color and rims of your car. Believe me nobody will remain indifferent.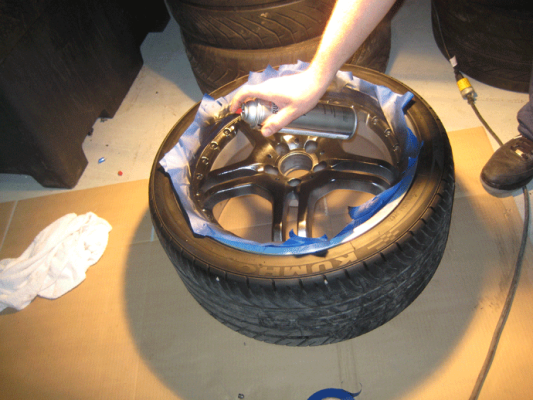 Note
When working with solvent and aerosol paints, wear a mask and glasses, the room should be aired, do not work near heat and open flame.
Useful advice
Ready to paint all of the disks, the later for the waiting time of drying of one disc can be painted (primer, varnish) the second and subsequent disks.
Apply a thin layer of paint, carefully procrasinate trudnoudaljaemye places, the paint should be applied in several layers that would dry faster, not formed streaks, but the end result gave rich color.
On the aerosol cans there are instructions for use of a specific type of paint, follow these instructions but the final result did not disappoint.
Advice 2 : How to wash acrylic paint
Modern acrylic paints are popular in the repair and artistic activities. These paints, though water-based, but the dried drop is very difficult to erase with any coatings. Need to know a few tricks that will help get rid of
acrylic paint
.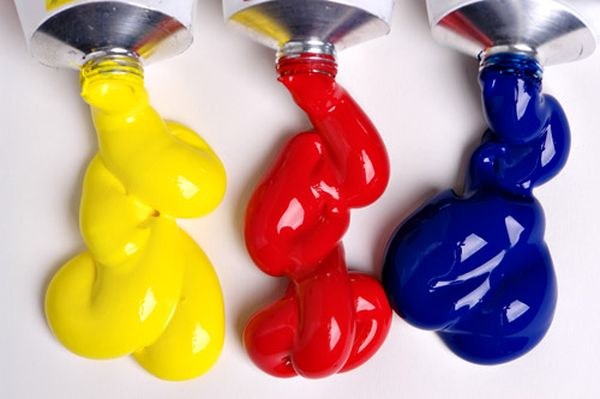 Instruction
The result of removing acrylic stains affect the speed of reaction: the sooner you start to remove the paint, the easier it'll wash.A fresh stain is easy to wash off with plain water. Take a sponge or cloth dampened with water and wipe the surface with paint. Not had time to dry the paint better to scrub with soap and water. If the acrylic has started to dry, then add water, a little baking soda or vinegar - it promotes the rapid elimination of paint.
The greatest difficulty occurs when you delete the dried up stain. Acrylic paint drying is not washed off with water, that's why she like to use when painting facades. At the same time, unsuccessfully dripped the paint after drying it is impossible to wash off with plain water.
If the surface allows it to scrape off the paint, use as a tool blade, knife and other items. With plastic, linoleum and metal, you can easily remove the paint. Take a knife and, pressing lightly, scrape off the dried acrylic. Try not to damage the surface.
Much harder to wash acrylic fabric. In the case when paint gets on your clothing, use a special remover. Remover is a solvent acrylic paint. You can buy it at any hardware store. Refer the problem to the sales assistant and he will pick your acrylic paint with a special remover. Dried on the stain pour some of the solution and note a few minutes. Then attrite the stain with a sponge soaked in detergent. The remover has a strong smell, so the fabric needs to be washed.
A wash can be used on all surfaces, but it is better to apply it in situations where other means can not cope.To avoid wasting time on removing spots from paint, be careful not to spill it. If you notice drops of the acrylic, immediately repair them.
Note
Water base polyurethane and acrylic varnishes and paints for plastics for industrial painting technology for PVC and ABS. PaliPlast RP – base single-component acrylic polyurethane paint for PVC plastic coloring. Characterized by high decorative coating, excellent weather resistance and resistance to contamination.
Useful advice
This one-component primer for plastic to cope not only with plastic. It is valid when applied to even the most difficult materials for coating, including aluminum, PVC, fiberglass, polyvinyl, many types of plastics, including PP, ABS, PS, PE, and leather goods. After applying the primer to all other types of materials, surface can be painted with alkyd and acrylic paints.
Advice 3 : How to paint a car spray
To paint a car yourself. However, when it comes to small cosmetic repairs. And do it best from a spray. And the result you are pleased with, you need to follow all the rules of the dyeing machine.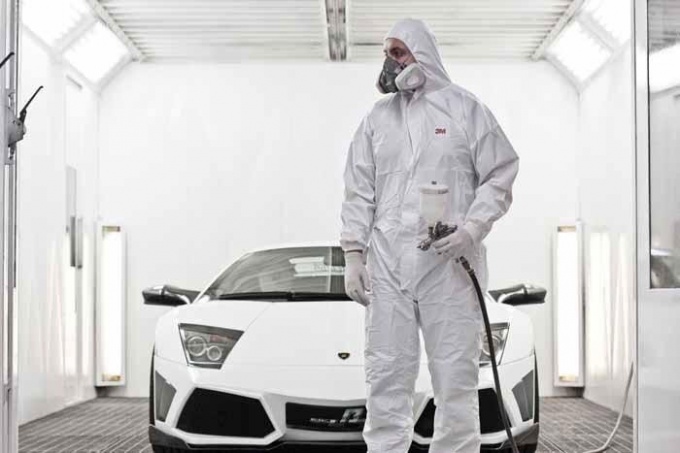 You will need
-spray paint;
-protective film;
Polish
Instruction
First, find the room. It should be spacious, not ventilated (i.e., must be the lack of any wind), also there should not be dust.
Guide surface preparation for painting. Sand and Prime the repaired area, degrease it. Then glue the remaining parts and details of special protective film or paper. Need to paint did not get on the not repaired parts.
In addition, pick a paint color. This can be done by computer selection. If you are not sure, consult the sales consultants automotive store.
Next, start painting the car. Shake the spray paint for 2-3 minutes. This will help to mix it correctly. Then do a test. any iron parts. Need this procedure in order to understand the force with which spray paint and a thick layer is obtained.
Paint spray equal to 30 cm is Necessary to cover the surface with thin layers of paint. As soon as I applied one of them, let dry 10-15 minutes. Then re-apply paint. Make three layers.
After you complete the painting and give the last layer to dry, cover the repaired item with a colourless varnish-fixer. It dries in 30 minutes. Now the procedure of repair can be considered finished.
Note
Paint spray, without much graciousness, otherwise you risk to get stains and smudges. In order to properly evaluate the result, let the paint dry a little before applying the next layer.