You will need
- cardboard;
- joiner's glue;
- oil white / chalk;
- sandpaper;
- PVA glue;
- bristle fleyts / hard brush.
Instruction
Pick any of his works on cardboard. For further priming is important to choose a method, which takes into account the quality of the material. It depends on the components of which are made of cardboard. For example, rag cardboard gray has good elasticity and density, while wood is usually white or yellowish, and it is quite fragile. Note that under sunlight grey cardboard fade, and white yellow. Therefore, when priming use white and chalk. Artists usually choose the best varieties of rag or wood cardboardand a thickness of approximately 3-5 mm. It does not rot and does not crack.
Be sure to provide an appropriate quality of the soil. Primer is the first coating that is applied to the material intended for painting, and is located directly under a layer of paint. Durable and elastic, it closes the pores of the cardboardand gives it a uniform density and a slightly rough surface, which in turn provides optimal adhesion to the paint layer of the painting. So it is better to remain will be resistant to environmental influences.
To primed sheets of thin wood cardboardand use carpenter's glue. Many artists are primed cardboard yourself using those soil types, which are used on canvas. For example, soak the cardboard boiled oil (linseed oil), and give the sheet to dry for 2-3 weeks. Then cover in one or two layers of oil white and a good dry. Lightly sand surface with sandpaper. The treated cardboard is not warped, it is a pleasure to work with, paint lie flat and do not fade with time.
Try to primed cardboard emulsion PVA, which should be prepared from the glue and water in a ratio of 1:10 or 1:15. Glue the front surface of the cardboardand once or twice, let it dry and then Prime. Mass for priming includes 1 weight part of PVA, 2 to 4 weight parts water, 3/4 part by weight of dry zinc white and 3/4 part by weight of chalk. Apply it on the cardboard once evenly using a bristle fleyts or a stiff brush. Let the soil to dry thoroughly for 1-2 days. Then cover your cardboarding the basis of the second layer, making you will need: 1 weight part of gelatin; 15-17 parts by weight of water; and 0.4 part by weight of PVA; 2 weight parts of dry zinc white; 2 parts by weight of chalk. And need to purchase antiseptic - sodium pentachlorophenolate, which is in a mixture of 0.01 weight parts. A lot of preparing and priming the canvas.
To cardboard not warped, gratuite its two sides. The flip side is often coated with a thin layer of natural beeswax which is previously dissolved in turpentine at the temperature of 40-50oC. Such a wax solution is applied to fleyts. Can be primed and an aqueous solution of PVA glue in the ratio 1:10.
Advice 2: Toy furniture out of cardboard: fast and cheap
Chinese manufacturers today offer toys for every taste and budget. But you can remember your childhood, when the fantasy helped to transform a cardboard box into a magical castle, and samorzadny doll into a Princess. Why not develop the imagination of the child, to teach him to make simple crafts? For example, most of the furniture for the Dollhouse easy to do a couple of evenings. And then, suddenly, the kid already independently collects and new homes for the pups, showing creativity and ingenuity.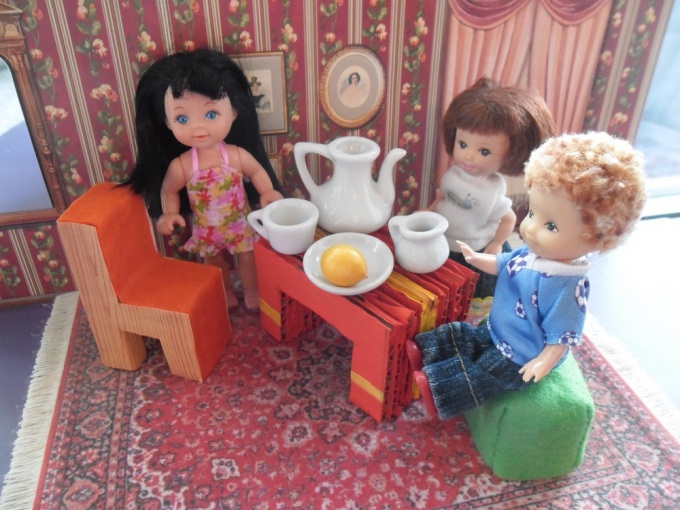 You will need
- corrugated cardboard;
- scissors and utility knife;
- glue stick;
- gouache or acrylic;
- fetr;
- self adhesive film under the tree.
Instruction
Pick up pieces of corrugated cardboard. Best fit for DIY thick-walled boxes from large equipment. The thicker the cardboard, the faster you can collect the furniture.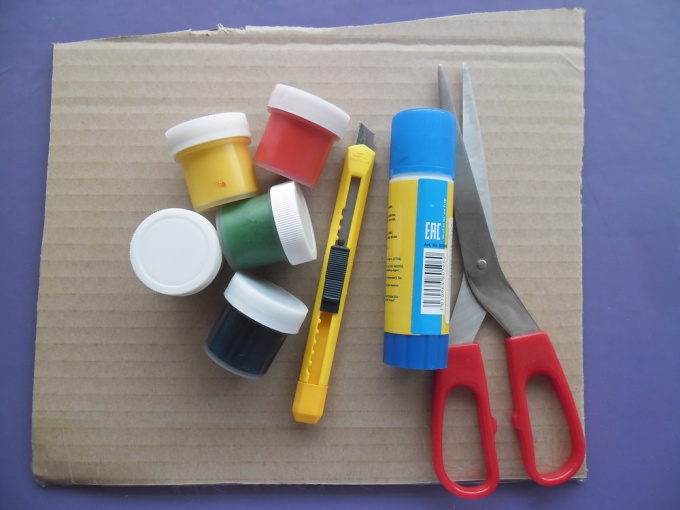 Based on the size of dolls, draw on paper silhouettes of future furniture. Note that legs should not be too thin, otherwise the details will be harder to cut.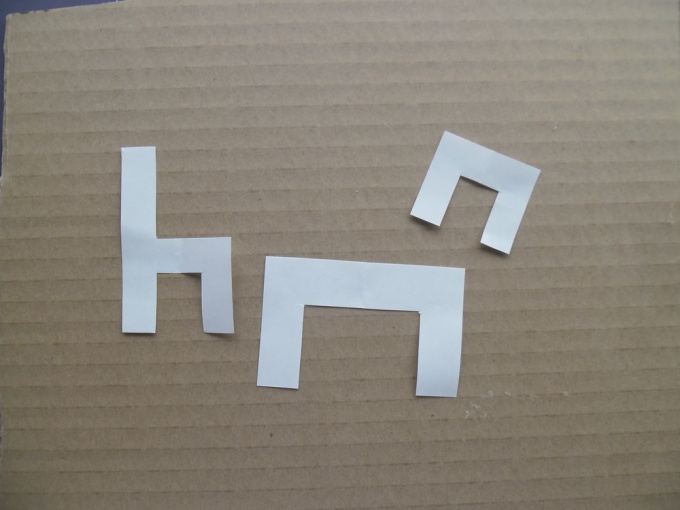 Transfer the contours of the parts on the cardboard so that all of them were located in the same direction. With a utility knife and ruler cut out the elements and seal in several layers. The number of layers depends on the thickness of the cardboard. Use a glue stick, as liquid glue can lead to deformation of the structure. Prodavlivaet each layer to cardboard well sealed.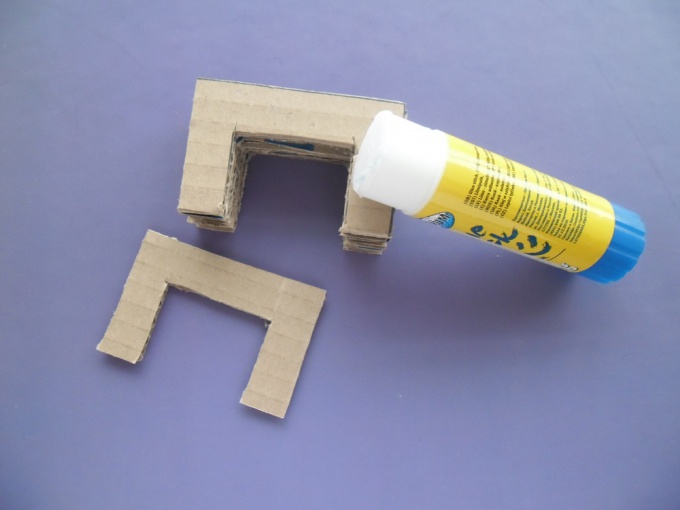 Give the collected furniture to dry and carefully trim edges with a utility knife.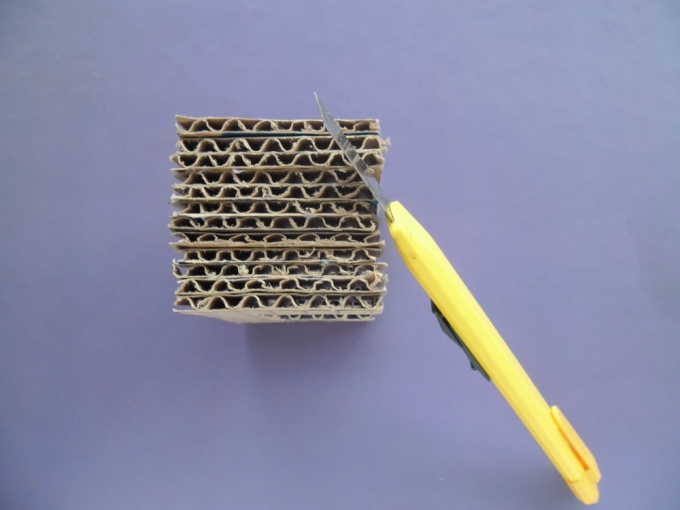 To decorate the toy in different ways. The easiest way to paint them with gouache or acrylic, using a wide brush and making sure that the paint got into all the grooves.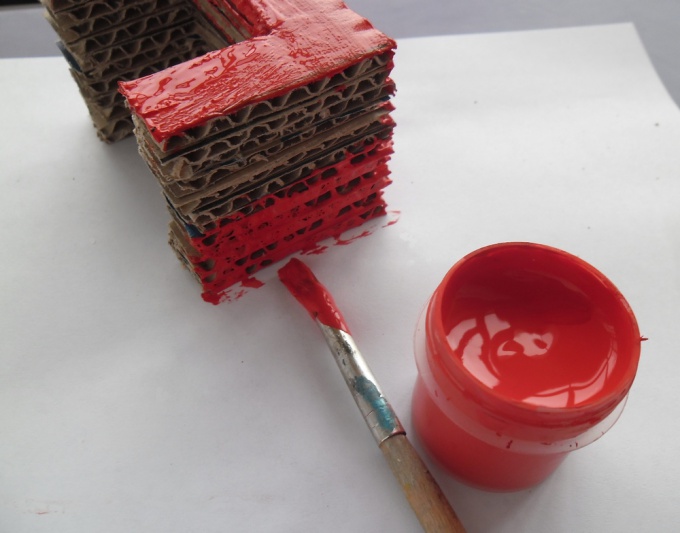 For Ottoman, you can sew a pouch out of felt or other easypayday tissue. Draw a net of a cube without one side, stitch the side seam "over the edge" turn and pull the case on a cardboard base.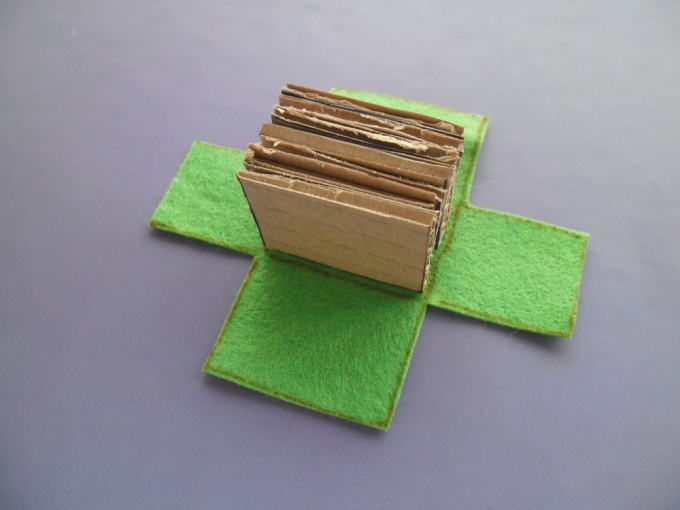 The stool will become more elegant if on the backrest and seat to stick the strip of cloth. Easier to use a glue gun or glue of type "Moment-Crystal". The other parts attach the self-adhesive film podrachivaya slices inside the structure.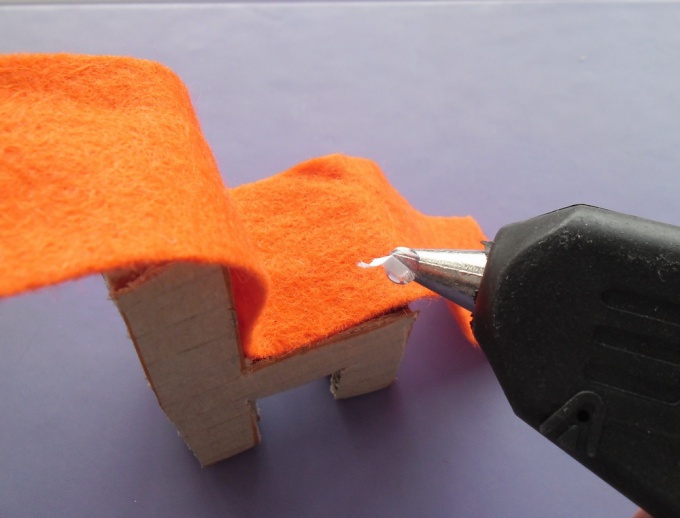 This technology is easy to make beds, chairs, benches, and other furniture. By the way, increasing the scale and procured enough sheets of cardboard to the large size and furniture of the human dimensions. Of course, in this case you will need a beautiful cover, but it would be easy and cheap.