You will need
Paraffin, sandpaper of different rooms, grinding wheels, soft cloth, sand, pumice-containing wax means to care for stone.
Instruction
Major damage (chips, cracks, deep scratches) to fix on its own will not succeed. Materials, accessible to the layman, you can only add luster to the marbleand to remove minor defects. For polishing do not use products that contain any acids: they are destroying the stone structure, eventually leading to fracture. Wax and lacostera means will not damage the stone. Some damaged marbletion surfaces are difficult to remove without abrading.
Rough marble- ing the surface with noticeable changes first polished with coarse abrasives, such as grinding wheels and rails. The circles are attached to a special drill. Fine sand and pumice can also be used for grinding. To the marble glistened and looked perfectly smooth, for polishing use a few rooms of abrasives. To make the stone monolithic type you need to remove a significant layer of material (not less than 3 mm). Small items can be sanded fine sandpaper.
After sanding, helps to eliminate shallow potholes, cracks and scratches, marble must be protected from external impact by using the polishing that will give the marblethe glitter. To do this, use the special tools on a wax-based, they fill the cracks and protect against water, dirt, food dyes and other destructive substances.To carry out the polishing using a mixture of fine ground iron oxide and sulphur; after applying this powder RUB the surface with a piece of leather to Shine. Sprinkle the marble with wax and rubbed it dry with a soft canvas, you will also give it Shine and protect from harmful influences.
Note
Grinding and polishing of marble in the home can lead to significant damage to marble surfaces and costly repairs. With the appearance of deep damage or cracks, contact the professionals. Conducted properly repairing marble surfaces can cause destruction of the stone, which will lead to much greater expense than the cost of professional services.
Useful advice
Marble floor at the entrance door cover with carpet, do not walk on it in shoes.

Many household cleaning products are not suitable to care for marble, use only specifically designed for natural stone tools.
Advice 2: How to make cast marble
Molded marble is a mineral, ecologically safe material used in the manufacture of sanitary ware, stands, countertops and other accessories. This material for its beauty and practicality named the best decorative material of the present century.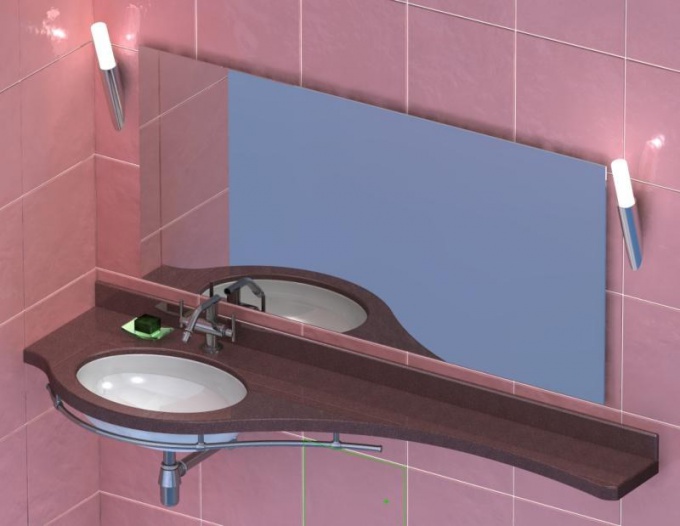 You will need
form mold halves for pouring;
- a release agent;
gel-coating;
- pigments;
hardeners;
- quartz sand with quartz flour;
- styrene-unsaturated polyester resin brand MO-12.
Instruction
Prepare a form for pouring molding marble. Depending on the kind of pour products this form may consist of multiple semi-molds. Apply to the mold halves separating lubricant. Both moulds are coated with a special gel: it will give the surface gloss of molded marble.
Prepare the polymer mass. Knead the mixture of the following components: quartz sand in combination with quartz flour, styrene-unsaturated polyester resin brand MO-12, pigments and hardeners. Moreover, pigments and curing agents choose according to color, type and purpose of the future product. Also, choosing hardeners, refer to the temperature ambient and humidity. All the prepared mixture a good stir.
Pour the prepared polymer mixture into the prepared mold halves. Then the vibrating form: this must be done in order to remove an air layer in the injection molding marbleE. Let the marblehave dry: as a rule, the curing lasts from half an hour to twelve hours.
Run raspressovki: remove the mold halves and remove the finished product from it. After that, if necessary, perform additional machining of molded marble.
Note
Take care of your health: all plant operations perform exclusively in thick gloves!
Useful advice
If during the production of cast marble technology of manufacture has not been violated, then the crafted product will last for many years. The only reason that you are forced to change your sanitary ware from cast marble to a new - the desire to update the interior. Besides, cast marble is four times stronger than granite: to break it is not so easy.