Instruction
Meanwhile, the dismissal by agreement of the parties has many advantages. For the employee it is an opportunity to quit at any time, without practicing two weeks (even if he is on vacation or sick); the employer is a reason to part with negligent employee without scandal and excess, unnecessary red tape. Another important difference from other grounds – the inability to refuse the dismissal unilaterally.
If the initiator of the dismissal is the employee, he may apply to the employer with a written statement (preferably), or orally. The statement is written in any form to the head of the enterprise. In it, the employee must provide your name, position, label the document ("Statement").

The text of the statement should set out the reasons, the exact date of the dismissal, the base. For example: "Please terminate the employment contract concluded with me under paragraph 1 of article 77 of the labour code by agreement of the parties in connection with urgent relocation to another town 02.12.2010 year." Next is the personal signature and date of application.

In addition to the main text of the statement can be specified for more wishes. For example, the request to send copies of documents of resignation by mail at the address provided.
The established procedure statement is passed to the supervisor for decision. If he doesn't mind, the appropriate visa is placed on the application of an employee, it is transferred to the office of personnel management. Specialist prepares the draft of the additional agreement to the employment contract of the employee, it is grounds for dismissal by agreement of the parties. Only after it is signed by both parties (employee and employer), preparing the order for dismissal (unified form T-8) note-the calculation for the accounting Department.

In day of dismissal the employee meets with the order, with the entry in the workbook, gets her hands on.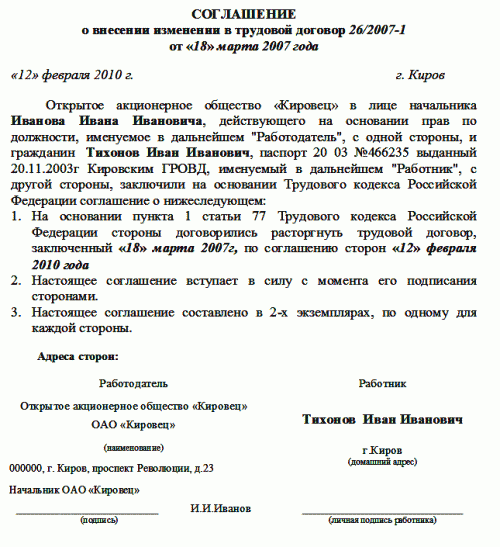 If the initiator of the dismissal – the employer, he shall also notify the employee of its decision. In case the consent is issued the above-mentioned supplementary agreement to the employment contract. In it by mutual consent can be included additional paragraphs: on payment of remuneration at a certain amount, determination of period for transfer of material assets, etc.
Since the legal grounds of dismissal by agreement of the parties is a supplementary agreement to the employment contract, you can negotiate verbally. If the signatures of the parties in the contract is delivered, cancellations can be made only by mutual consent. For example, if an employee changed his mind, and not the employer, the dismissal will be lawful.
Useful advice
If the employment contract you had to sign the separation agreement without a date (this way some employers insure themselves from mistakes of the personnel), it is illegal. In the case of dismissal can be challenged in court, after a simple examination. After the obligatory condition - the supplementary agreement, both parties must sign personally and at the same time.