Instruction
Like any seeds, enclosed in a thick shell, seeds
walnut
require stratification. To ensure nuts are suitable conditions for germination, they are planted in the ground in the fall. For spring planting you should soak the seeds in cold conditions and high humidity.
For planting, use fresh nuts from the harvest this year. The longer they are kept, the lower will be the germination. If you have the opportunity to collect the seeds yourself, select ripe nuts, which are easy to fall out of the box kernels and soak them in the sun a day or two. To dry the seeds in shade.
If you are going to put nuts in the fall, select the plot slightly acidic or slightly alkaline soil. Acidic soil should be limed before sowing. The groundwater level at the site must be constant, but not high. Dig the ground and make it groove with a depth of eight inches.
Put the nuts in the groove on the rib at a distance of about forty inches from one another. The distance between rows should be not less than one meter. Sprinkle the ground nuts. In areas with snowy winters, the crops should be covered with grass or sawdust layer of ten to twenty centimeters.
In the spring, when the nuts begin to germinate, remove parts of sawdust, leaving a five-centimeter layer. Walnut seeds germinate irregularly, shoots can appear even after a year.
Before spring planting the nuts kept for period of up to three months in moist sand or sawdust. Seeds with the shell, the thickness of which is less than a millimeter, it is better to soak in water, nuts with a thick skin strategicgrowth all the rules.
Before you put the nuts in sawdust or sand, soak them for two or three days in water at room temperature, which will have to change every day. Soaked seeds, place in a container with damp sand or sawdust on the edge, sprinkle with substrate and put in a room with a temperature three to seven degrees. Once a month the containers of nuts should be checked and, if necessary, to moisten the substrate.
Nuts with thin shells stored at a temperature one to five degrees in a dry place, and a month before planting soaked in water at room temperature. When the flaps of the shell will unfold, spread the seeds on edge in a container of damp sawdust and germinated at a temperature of about twenty-five degrees.
Plant sprouted nuts in the ground after the spring frosts.
Advice 2: How to grow walnut
Walnuts
can be grown far North of their native places of growth, and in recent decades managed to bring him cold-resistant varieties. In winter, the plant bends and additionally snowed in, so for the convenience of the shelter is recommended to grow a walnut in patchy form.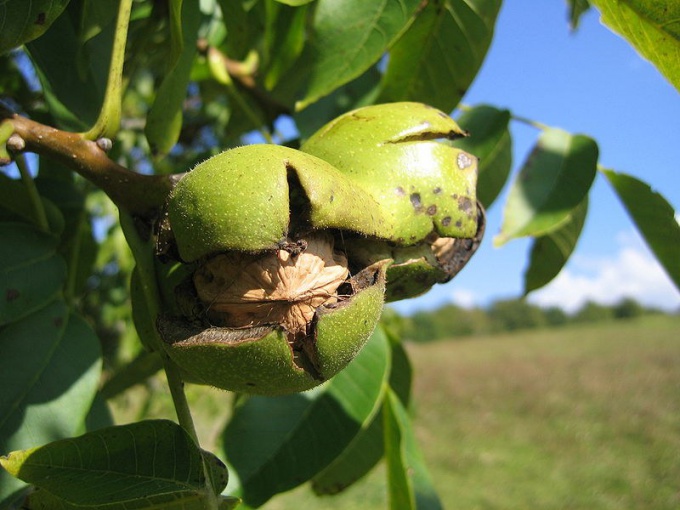 Reproduction


Walnuts are propagated by cuttings or cuttings, seeds or grafting. Seed propagation is the easiest way. To do this, select the seeds of large-fruited, high-yielding and frost-hardy trees.

Seed germination is retained for only one year. Walnuts intended for autumn sowing, can be sown without drying. Dig the garden bed to a depth of 30-40 cm, spread the seeds in the groove depth of 7-9 cm at a distance of 15-20 cm in the row and 50-60 cm between rows. After this the soil is compacted, and then tuck a fallen leaf or straw in winter with snow.

Seedlings appear in mid-may of the following year, during the summer the seedlings will grow up to 30 cm and form a good root system. If the winter was snowy with strong alternating frosts and thaws, autumn sowing may prove to be unsuccessful.

Safer to do spring planting, but it will require careful storage of seeds. It is best to put the nuts in a single layer in wooden boxes, covered with wet sand and place in a cool place where the temperature is close to 0°C. For a month and a half before sowing, the boxes move to the room where supported +5-7°C. To increase humidity close to water left in an open container.

For planting walnut it is best to choose polozhennye place. When spring sowing distance in the row should be increased to 30 cm drilling depth should be 7-9 see If the nut is planted in a permanent place of growth, dig a pit of about 1 m, add a few buckets of compost, then place in the prepared planting 3-4 walnut. You should continue to keep the best plant. Nuts are placed in a triangle or a square whose side is equal to 20-25 cm, and after planting watered.

The seedlings are planted in spring, and the planting hole is prepared in the fall. 2/3 of it is filled with carefully peremeshennoi with a mixture of compost, fertile soil and peat in a ratio of 1:1:1, as well as fertilizers.


Features of cultivation and care


Further plant care includes regular removal of weeds, mulching and watering in dry years. Walnut grows well on almost all soils except heavy clay, too wet and boggy. It is recommended to plant it in a Sunny, well sheltered from the wind. At strong shading young trees may die. Walnut is very responsive to heat and light. Planting in the lowlands are doomed to failure, as they constantly accumulates and becomes stagnant cold water.

If planting walnut was added to the recommended fertilizer, the tree will be provided with the necessary materials for the next 3-5 years. After this period should be 3-6 kg decomposed manure or compost per 1 square m, as well as phosphate and potash fertilizer every 2-3 years.
Advice 3: How to break walnuts
Walnut walnut is sold in stores in purified form and in the shell. In addition to the difference in the price of crude nut has the advantage. The shell helps to preserve the vitamins and valuable substances.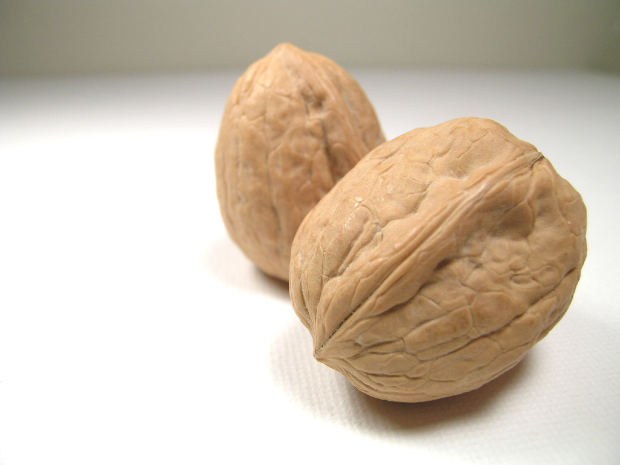 You will need
Knife, bag, hammer, two plates.
Instruction
Soak the unshelled walnuts walnut in hot water. This will help to soften the shell and internal partitions. So the walnut will be easier to access. Wait for thirty minutes. Meanwhile, prepare a knife and two plates. One for peeled walnuts, one for the shell and partitions. Cleaned walnut walnut hand - a long process. You can combine it with your favorite movies.
Gently insert the knife into the opening between the shells of the nuta and turn. If you stick the knife too deep, rotate it will be more difficult. Don't overdo it. The nut should split in half. Remove the baffles, clean the nut with small shells.
To speed up the process, you can use another way. Fold the nuts in a plastic bag. The package spread on a hard surface which will not suffer from hammer blows. Gently tap each walnut through the bag. Vysypite contents of the package on the table and go through the nut. In this case, you will cope with the cleaning of the nutand faster. But beautiful shape when walnut walnut, carefully broken in half, achieve will not work.
There are also a number of tools for splitting a nuts: nutcrackers, nutokay and other fancy tools. They are all simple to operate and is based on the same principle.
Note
Children often crack the nut in the doorway. It's not safe and can damage the door frame.
Useful advice
Use walnut walls to create medicinal tinctures.
Advice 4: How to drink a tincture of partitions walnuts
Walnuts contain protein, sugar, oil, vitamins, minerals and tannins. However, partitions walnuts have not less valuable composition. They have long been used in folk medicine for the treatment of endocrinological, gastrointestinal, broncho-pulmonary and other diseases.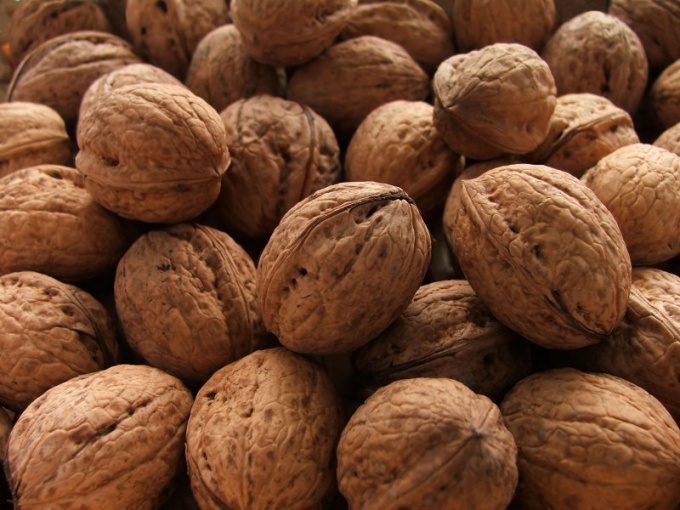 You will need
- partitions walnuts;
- vodka.
Instruction
For the preparation of
tinctures
, the partition of 250 g walnuts, pour 0.5 liters of vodka. It is desirable that the bottle, which infused the walls were made of dark glass. Put it in a cool place for 2 weeks. Daily shake the contents of the bottle. The finished tincture has healing, bactericidal, anti-inflammatory, hemostatic and tonic properties. In addition, it can be used as antihelminthic and antiallergic funds.
In violation of the bowel (colitis, enteritis, functional disorders, etc.) drink the infusion of partitions of walnuts twice a day. 7 drops of ready-to-use dilute in a tablespoon of cold water and consume on an empty stomach. The course of treatment is long — about a month, but the recurrence of the disease after it is not seen.
Tincture of partitions walnuts helps to regulate sugar levels in diabetes. Dilute 10 drops of tincture in a tablespoon of water and drink on an empty stomach. If necessary, you can increase the reception frequency to 2-3 times a day. The course of treatment is 6 weeks. After a 10-day break, therapy can be continued.
To improve the functioning of the cardiovascular system drink 5 drops of tincture partitions walnuts 3-4 times a day. Alternate 2-week receiving infusions with weekly guests. The total duration of treatment — up to six months.
Partitions of walnuts are rich in iodine, so the infusion helps in diseases of the thyroid gland. Drink it at half a teaspoon twice a day for two weeks. If necessary, repeat the course a month and a half.
To treat cough drink infusion 4 times a day on a teaspoon. Take it with plenty of water. The course of treatment is 3-5 days.
Advice 5: The healing properties of sprouted buckwheat
Buckwheat - a storehouse of useful minerals. But few know about the healing properties of green sprouted buckwheat. Meanwhile, in the diet of the green buckwheat sprouts can be a source of strength and health.
Sprouted buckwheat affects the human body "comprehensively":
Strengthens and cleanses blood vessels, improves the immune system of the body.
Enhances sexual, mental, creative and physical activity.
Acts like a natural doping and anti-depressant, improving health and reducing fatigue.
Breaks down unwanted fat and improves metabolism, contributing to weight loss.
Sprouted buckwheat contains high amount of enzymes that contribute to the revitalization and normalization of digestion.
Green sprouted buckwheat is an excellent preventive drug that reduces the risk of cancer. The high content of antioxidants helps quench free radicals, thereby producing anticarcinogenic and antitumor effect.
Sprouted buckwheat is recommended for a number of ailments and diseases: atherosclerosis, ischemic heart disease, hypertension, diabetes. Recommend it in the treatment of diarrhea and infectious diseases - scarlet fever, whooping cough, measles, sore throat. This is due to the fact that thanks to the sprouted buckwheat from the body to intense toxins.
Excellent tool, restoring power and sprouted buckwheat is after delivery and operations, a protracted serious illness during irradiation. It is useful and pregnant women to reduce morning sickness. Useful this unique product and in glaucoma lowering the intraocular pressure.
Beneficial effect of buckwheat on blood vessels. Thanks to its rich range of trace elements and it serves as a prophylactic and softens the symptoms of such ailments as varicose veins, thrombophlebitis, hemorrhoids, various hemorrhages, associated with fragility of blood vessels.
Oil sprouted buckwheat has a wonderful effect on the skin and hair, so it can be used in homemade natural cosmetics: it can be applied in pure form, can be added to creams, massage into hair and scalp to strengthen hair and relieve irritation or flaking.
What grain need to buy sprouting seeds?
Ordinary brown buckwheat is not suitable for sprouting. Germinated only "living", "green", not thermally processed, fresh buckwheat. If it is not cleaned - should be carefully and delicately, so as not to damage the embryos, cleaned grain from the dark films, where, as in a capsule, contain grains with the germ. Best buy green buckwheat in the pharmacy or from the manufacturer - that is, directly "from the field".
As green sprout buckwheat at home?
In a bowl or large pan with low sides and pour the buckwheat, rinse several times in cold running water and leave in water for 2-3 hours to grain soaked and departed do not need the starch.
Rinse soaked buckwheat a few times until the water becomes clear, and pure buckwheat.
Drain off the water and dried in the open air. After that, pour the buckwheat into a bowl or pan, cover with a lid or plate and put in a cool shaded place (not in refrigerator). It is important that the cover is not closed hermetically buckwheat, beans need air.
After 12 hours, the buckwheat must be carefully rinsed, so as not to damage the structure of the grains.
Buckwheat sprouts can be eaten a day after you see the first sprouts.
How to use sprouted buckwheat in homemade food?
Sprouted buckwheat can be lightly steamed and without any additives, almost raw.
 
Sprouts also go perfectly with avocado, bananas and apples, figs, apricots, raisins and prunes, also walnuts, hazelnuts, peanuts. The mixture of these products in the form of porridge or salad will become a real storehouse of healing energy.
"Raw porridge" sprouted buckwheat goes well with meat, fish, poultry. For this purpose it is enough to slightly steam it and season to taste - oil or butter, kefir, yogurt, sour cream or broth.
Sprouted buckwheat and sprouted wheat can be added to salads of fruits and vegetables by combining the ingredients at their own discretion.
Despite the wide range of applications, sprouted buckwheat also has some contraindications. Consumption of sprouted buckwheat is not recommended for people with individual allergic reactions to this product, as well as in peptic ulcer disease. We should not use this product at night.