To render the room fit for purpose, requires a certain area (ideally not less than 3.5 metres, the minimum dimensions of 1.5 meters. The most optimal in terms of capacity dressing room is square shaped. It is possible to place the cabinets and shelves along two walls, the passage will serve as free access to clothing.
To avoid the musty air you must ensure the room is adequately ventilated. And in the case when there is no complete ventilation system, the grid in the next room will help to solve this problem. Mounted ozone generator will always contribute to the fresh and clean air in the room. Also a nice fragrance to your clothes will give the herbal bags with the smell of lavender, citrus and pine needles.
Optimal, natural or artificial lighting is necessary, especially in case of placement of a dressing room in the corner or niche. Special lamps built into the walls or ceiling, will be a design solution, and the doors with frosted or translucent glass will visually increase the space. In small apartments idea corner walk-in closet will be the best option in the distribution area of the room. In these parts you can fit much more clothes and things than furniture.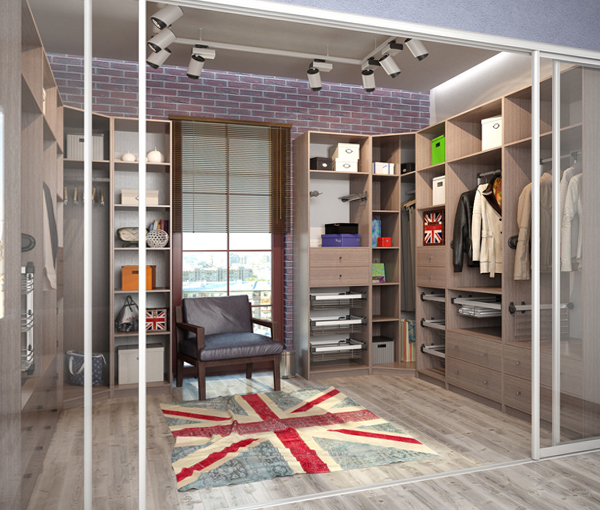 The design of the dressing room, if it is not isolated, should match the style and execution of the main room. Finish offline the room is not dependent on the overall design solutions, but considering the practical side, it is desirable to use materials which can be subjected to hygienic treatment. This can be a painted walls, washable Wallpaper, plastic.
Flooring can be represented with tiles or linoleum. Different versions of the doors should fit harmoniously into the environment and can be sliding, folding, like an accordion or wardrobe. Dressing should differ in design, capacity and functionality.