Ingredients:
150 grams of beans;
1.3 kg of potatoes;
0.5 kg of minced meat;
1 onion;
4 cloves of garlic;
100 ml milk;
1 egg;
2 tbsp tomato paste;
4 tbsp sunflower oil;
100 g of Dutch cheese;
salt and favorite herbs.
Preparation:
The beans are thoroughly washed, soaked in cold water and leave to stand for one night.
In the morning the beans are rinsed again, pour clean water and boil until tender so that it does not seethe.
Potato peel, wash, cut into large chunks, put in saucepan, cover with water and boil until tender. Then turn into a puree, season it fresh, but a little warmed milk.
Greens, onion, garlic peel, wash and finely chop with a knife, not linking.
In a frying pan heat sunflower oil. In the oil put the garlic, onion and fry them until Golden.
The minced meat thoroughly mash with a fork or hands put into the frying pan to the onions, season with salt and fry for 5-7 minutes. After there, add the cooked beans and tomato paste, continuing to stir and fry for another 3-5 minutes.
Dutch cheese rubbed on a coarse grater.
In a bowl beat the egg, season with salt and beat with a fork. After the egg mixture add half of the chopped herbs and half the grated cheese. All carefully mix.
The baking pan liberally with oil.
At the bottom of the form, evenly spread ½ of the mashed potatoes.
Mashed potatoes to cover evenly with a layer of bean-meat filling, and the filling sprinkle with remaining chopped greens.
Greens to cover the second part of puree, and mashed potatoes on top evenly spread the egg-cheese mass.
Formed potato casserole with beans to send for 25-35 minutes in oven preheated to 180 degrees.
5-10 minutes before end of cooking the casserole, remove from oven and sprinkle with second portion of cheese and again to send in the oven.
The finished pudding remove from oven, garnish with greens and serve directly in the form.
Advice 2: How to cook potato casserole
Potato casserole – delicious and easy to prepare dish does not require long standing at the stove. Depending on the available products in the fridge you can prepare different types of potato casseroles.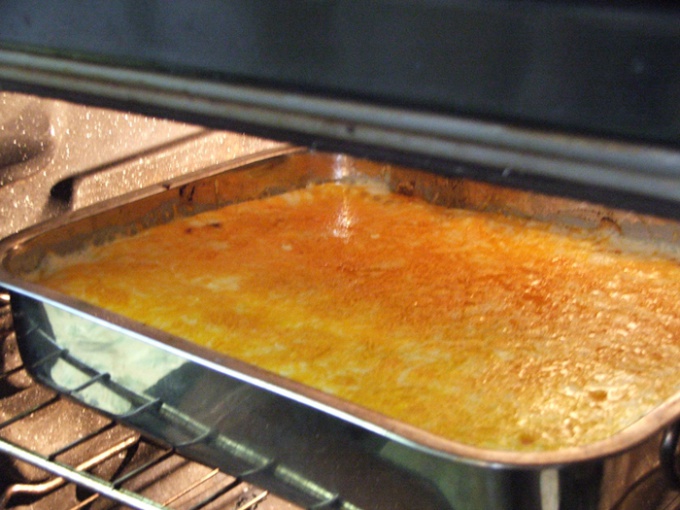 You will need
0.5 kg of minced meat (pork or pork-beef)
1-2 medium size onions
3-4 eggs
200 ml of milk
200 ml cream
1 large zucchini
1 large red bell pepper
200-250 grams of cheese
fresh herbs
salt (to taste)
ground black pepper (to taste)
Instruction
Potato gratin with persema. Fry until cooked in vegetable oil 0.5 kg of minced meat with finely chopped onion. Salt and pepper the meat to taste.b. Peel 1 kg
of potatoes
, cut it into slices with a thickness of 0.3-0.5 cm. c. Take a deep bowl for baking and grease its bottom and sides with vegetable oil.d. On the bottom of the form put half of the potatoes. Potatoes place a layer of meat. On top of meat place a layer of the remaining potatoes.e. Whisk 3 eggs, mix them with a glass of milk. Add salt and black pepper. Pour the egg-milk mixture
the casserole
and place it in a preheated 180 degree oven for 40-60 minutes.f. Willingness casseroles you can check the readiness of potatoes. To do this, pierce a potato slice with a knife or fork. When the potato is almost ready, pour
the casserole
with a layer of grated cheese (about 200 grams) and soak it in the oven for another 5-7 minutes.
Potato gratin with grilledwhatulike potato casserole with mushrooms almost similar to prepare potato casserole with minced meat. Only instead of ground meat use sautéed mushrooms. You can also mix fried mushrooms with minced meat, in this case, get casserole potato with meat and mushrooms.
Potato gratin with Bosnia. Peel 1.5 kg potatoes, cut into slices with a thickness of 0,3-0,5 cm Large zucchini cut into slices thickness of 0.5, see Cut in half large red bell pepper, remove the core and chop the pepper in small squares. Grate 250 grams of cheese.b. Grease a baking dish with vegetable oil. On the bottom of the form put the prepared food in layers in the following order:- ? part of the potato;
- ? part of the zucchini;
- ? part of red bell pepper;
- ? a piece of cheese.Then repeat the sequence of layers until you have exhausted all products. Each vegetable layer with salt and pepper.c. Whisk 4 eggs, mix them with a Cup of cream and a bunch of finely chopped fresh herbs (such as dill). Salt and pepper the egg-cream mixture, pour it in the casserole.d. Put the casserole in a preheated 180 degree oven and bake it 50-60 minutes.
Note
When the dish is ready, serve it with any sauce or low-fat sour cream. A little secret: to make pudding easier to remove from the mold, and she's not broke, lay on the bottom of the pan in which you cook it, the sheet of fresh pita and directly it form a dish. Juicy potato casserole with lamb mince.
Useful advice
First you need to decide raw or boiled potato you are going to make a casserole. If raw, then most likely, you'll need a little more time on cooking. If cooked, then all is absolutely simple - prepare mashed potatoes and spread in a baking dish, sandwiching the filling. Choose the toppings to your taste (meat, mushroom, fish or vegetable).
Advice 3: How to cook a casserole of minced meat
Tender and tasty casserole with meat and potatoes can be cooked in two different ways: cut the potatoes in slices or make it a puree. In any case, get a delicious and hearty dish.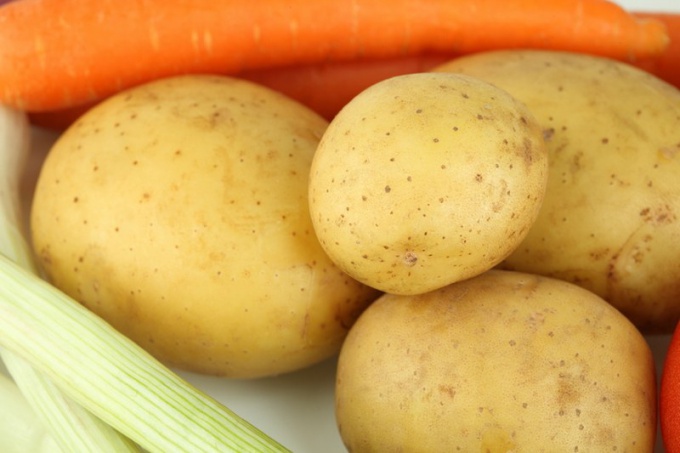 You will need
Ground beef – 0.6 kg
Onions – 2-3 PCs.
Cheese – 150 grams
Sour cream – 300 grams
Eggs – 2 PCs.
Milk – 150 ml
Vegetable oil – 2 tbsp
Butter – 1 tbsp
Garlic – 4-5 cloves
Greens
Ground black pepper
Salt
Instruction
Add in minced meat chopped small cubes onion, salt, ground black pepper and passed through chesnokodavilku garlic. Mix thoroughly. Heat the pan with vegetable oil and fry the meat for 7-8 minutes. Especially good potato casserole with minced meat, consisting of equal parts of pork and beef. But you can also use pure pork or ground beef.
Wash and peel the potatoes, prepare for pie - make mash or chop the potatoes slices.
Casserole of mashed potatoes and minced meat prepared from ready-made mashed potatoes and fully cooked meat. Mashed potatoes for casseroles should be prepared as usual with butter and milk, casserole with ground beef is much tastier. But you can just mash the potatoes and season with salt to taste. On a greased baking sheet or a baking dish place a layer of mashed potatoes, then a layer of forcemeat, then again a layer of mashed potatoes.
Casserole with minced meat and potatoes slices prepared from half-baked potatoes and ground meat. Potatoes cut into slices thickness of 0.5-1 cm and filled with boiling water for 4-5 minutes, then boiling water is drained and the potato is cooled. The beef for this casserole can be cooked, not completely – it needs to remain juicy. Casserole with minced meat and potatoes slices longer prepared casserole with stuffing and mashed potatoes, so the meat has time to doganitsa. Place on a greased vegetable oil a baking sheet or a baking dish a layer of potato slices, then a layer of forcemeat, then again a layer of potatoes.
Prepare the sauce for filling casseroles. Mix lowfat sour cream and eggs, add melkorublenoy greens, passed through chesnokodavilku garlic and black pepper. Pour this mixture in the casserole.
Preheat the oven to 180 degrees and put it in the casserole. For cooking casseroles of mashed potatoes and minced meat will need about 30 minutes, and cooking casseroles with meat and potatoes slices – 40-50 minutes. 5 minutes until cooked, remove the form with the casserole, sprinkle it with grated cheese and put back in the oven. Wait until cheese is melted and crispy.