Ingredients:
For the dough:
2 egg yolks,
250 g butter (bring to room temperature),
75 gr. powdered sugar,
500 gr. flour
3 tbsp water.
For the filling:
1 egg,
Fig jam, if not, suitable and more (best figs is combined with black currant),
fresh figs.
Cooking
First you need to mix the two bulk ingredient – flour and powdered sugar, then sift all together through a sieve, any lumps can not leave.
In the sifted mixture need to add oil and a good grind with hands, spoon or fork, as someone more comfortable, the main thing that all was well and evenly mixed.
Further, in the mixture, you must add the yolks and again mix it to make smooth, wrap in cling film and refrigerate for 40 minutes in the refrigerator so that the oil came from.
Pre-heat the oven to 180° and prepare a sand crust. The cooled dough can be rolled out to approximately the diameter of the form, or simply to distribute it in the form of fingers so that the sides were about two and a half centimeters, the dough is a little crumbly, but it does not interfere with the sculpting. It is desirable to prepare a baking pan with low sides. In the test at the bottom of the baking dish to make holes with a fork in several places, so that no further bubbles.
Now you can send the dough in the oven for 10 minutes will be enough.
Need to get the dough out of the oven and smear it whipped (no foam) egg, then add a few tablespoons of jam, as long as you need to cover the bottom sand of the workpiece.
Cut the figs will look more beautiful quarter-cut, but in General it's a matter of taste, to put it into a form and pour some jam.
Send a cake in the oven for twenty minutes.
This pie before eating better to give to cool thoroughly, the filling will hold well, and it's easy to cut into pieces a La carte. If you bake a cake with jam made from figs, it will be very nice and unique, but any other jam will not spoil it. Very beautiful and tasty cakes, perfect for festive table, it is sure to please guests and will be gone in seconds!
Advice 2: How to cook a delicious jam tart currant
Real homemade
pie
and is the pride of the hostess. Special culinary masterpiece will be the blackcurrant cake, the recipe of which can be one of the ones that carefully stored in "my grandmother's trunk."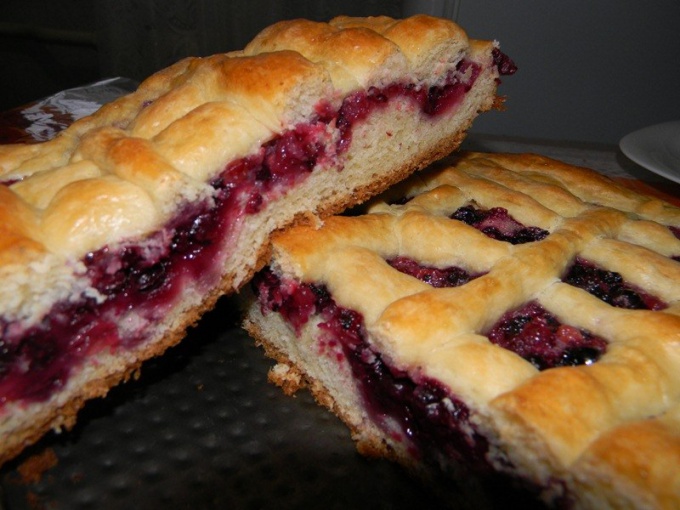 On the list


Delicate cake of black currants will come in handy if you want to use old stocks of jam sugar or jam. The dough can be make different for that dessert, but in the traditional list of required ingredients the following:

- 1 Cup of jam (about 200 ml, any density);
- 1 tbsp. wheat flour;
- 1 tbsp. of yogurt (can be nonfat);
- 1,5 tbsp. sugar;
- 3 chicken eggs;
- 1 tbsp. sour cream (quite thick, large, fat);
- 1 tbsp. crushed walnuts;
- zest of one lemon;
- 1 teaspoon of baking soda;
- vanilla (to taste).

If a jam was not possible to take fresh or frozen berries and mash them with a spoon of sugar. Goes well also with black currants raspberries, red currants and apples.


Easy


With everything you need on hand to prepare this pie is easy. First you need to make the right dough. In a bowl break the eggs and beat them with a half Cup of sugar. There then send jam, yogurt, soda, and all mix well. You can now add flour and vanilla, all the while disturbing, the mass turned viscous and homogeneous.

Now you can bake the basis for a future pie. In the form, lubricated with oil, so that nothing is burnt, spread and flatten the dough and send in a hot oven. 40 minutes the pie will be baked at 180-200oC. You can periodically lightly to pierce, checking for readiness. Even if the outside crust Browns, the inside is capricious the dough may still be buggy.

Meanwhile, you could do cream. Cups sugar beat with a mixer sour cream, crushed nuts and zest. Then the finished cake must be cooled down and cut in half lengthwise, making 2 thinner layers, each of which is liberally lubricated cream and leave to soak. The top of the cake you can sprinkle with nuts or garnish with fresh berries of black and red currants.

There is another option of filling. Between the layers put a thin layer of black currant jam or just sprinkle them with currant syrup and the top to decorate and soak hazelnut cream. In addition to pure currant, you can use it with your favorite berries and fruits, decorating them top the cake or adding to the filling.

For those who like something quite simple: any normal sponge cake or shortbread can be turned into a currant cake, put the layers of cakes and jam. And sprinkle with mixture of powdered sugar and cinnamon.