You will need
A computer with Internet connection;
Own music.
Instruction
Popular among musicians social network "Myspace". It is popular because is popular among ordinary people, which are recorded in it. Sign up there as a musician, complete profile information, including about the style of his music is to help listeners find you faster.

In the top menu, find "My data". Look for "Songs", then "send". On the new page under the words "My songs", click "Add songs", then click on the popup field to the right and select the tracks you want to download. Pay attention to the restrictions on the songs on volume and format.
Another resource for the promotion of the musicians Last.FM. Sign up on the website, then scroll down to suggestions, as in the illustration. Click on the link "Artists" (if you compose). On the new page in the "Artist or group" enter the name of the team and confirm.

On the new page, enter information about the team (or yourself personally if you are the only musician in the project) and currency. On the new page select project "Last FM" will share the money with you for listening to your music. Again confirm your selection, read the agreement in English, accept the terms (if you do agree) and navigate to the download music.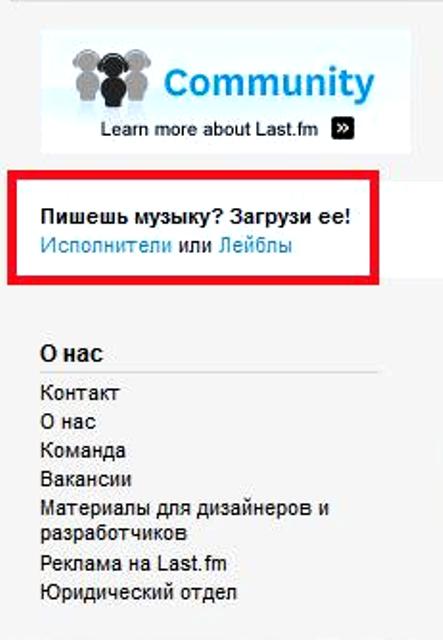 Note
These two sites are not completely Russified, so please read carefully and translate everything you have to offer.

"Myspace" implies the possibility of free listening, but the music you can buy. On "Last FM" music is played only on condition of payment. Not enough promoted teams it is not very convenient.