You will need
- napryajennaya wool for felting
- water
- soap solution
- spray
film
winter
Instruction
The technique of wet felting wool is perfect for beginners to work with wool. What things can you do? It is easiest to start with the manufacture of beads.
Tear off from the roll of the coat a small section and start rolling the ball with your hands. Dip it in soap solution. Then start to roll the ball between your hands. Wool from the friction will fall down and the ball becomes denser. When he finally matted and become thick, dip it in warm clean water and thoroughly wash. Remove from the water, put on clean cloth and dry. Prepare therefore, in the technique of felting of wool the desired number of beads and make a bead necklace.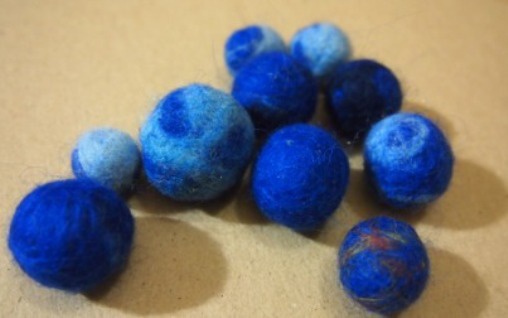 Making beads, you can start making in the technique of wet felting flower for brooches. For beginners it is a simple case of creating unique things. Easily pulling out of the coil strands of wool, lay the circle on the film in several layers. The minimum number is three. Each layer is put in different directions - horizontally and vertically. Moisten the wool of pulverizator, cover with a piece of tape and start to roll the gurney. Check the density of the product. With the creation of each new product, you will consider the mistakes and not repeat them.
Turn work to other side and continue to roll out. Remove the product, cut the circle with scissors, shaping the petals. Hands knead petals, dumping region. When the petals matted, rinse the product in warm water. Dilute a weak solution of water with PVA glue, dip the flower, gently squeeze and work it into shape. Dry the product, sew the inside bead . To make a brooch, sew mount for brooches.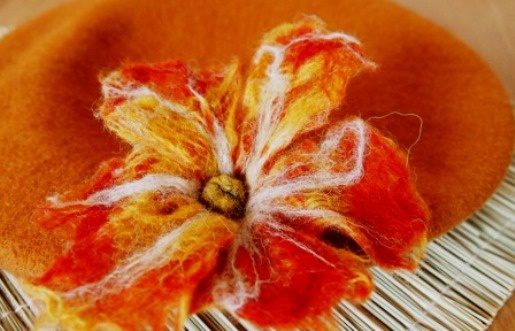 The technique of felting wool for beginners does not require a large amount of materials and tools. Wool for felting can be purchased in stores of goods for needlework. The beginner is better to buy a set of wool in one color. So you will be able to create products at low cost and with the presence of good opportunities for making necklaces and brooches. Flower brooches can be done, laying the strands, of different shades.
Useful advice
In the technique of felting of wool can be created as small forms: beads, brooches, flowers, and large. These include scarves, murals, and more.