You will need
Yogurt sauce with garlic and cilantro:
- a glass of kefir;
- 5 cloves of garlic;
- bunch fresh cilantro;
- salt and ground black pepper to taste.
Yogurt sauce with fresh cucumber and greens:
- a glass of kefir;
- 1 medium size cucumber;
- 1 tablespoon of lemon juice;
- a few sprigs of fresh parsley and dill;
- 1 clove of garlic;
- salt and black pepper to taste.
Spicy yogurt sauce:
- a glass of kefir;
- 2 egg yolks;
- half lemon;
- 1 teaspoon of sugar;
- a few sprigs of fresh parsley and dill;
2 tbsp of refined vegetable oil;
- 1 teaspoon prepared mustard;
- salt and pepper to taste.
Yogurt sauce with onions:
- a glass of kefir;
- 1 clove of garlic
- 1 small bulb onion;
- bunch of green onions;
- half teaspoon sugar or sugar powder;
- salt and black pepper to taste.
Yogurt-tomato sauce:
- a glass of kefir;
- 1 teaspoon prepared mustard;
- half teaspoon of salt;
- half teaspoon sugar or sugar powder;
- ground black pepper to taste;
- 4 teaspoons of tomato ketchup, tomato paste or sauce "Chile";
- a pinch of nutmeg.
Yogurt dessert sauce:
- a glass of kefir;
- 1 banana;
- half lemon;
2 teaspoons of apricot jam;
- 1 tbsp coconut flakes.
Instruction
Yogurt sauce with garlic and cilantro

Peel garlic and grate it on a fine grater, or skip through the press. Add in the chopped garlic salt and black pepper, mash thoroughly. Wash and dry the coriander, finely slice it. Connect the yogurt, chopped herbs, garlic, salt and pepper. Carefully stir the sauce until the salt is completely dissolved. Put the sauce in the fridge for 10-15 minutes.
Yogurt sauce with cucumber and herbs

Wash the cucumber and grate it on a fine grater. The resulting cucumber pulp and juice, mix with yogurt. Wash and dry the parsley and dill, finely chop the greens. Add in the sauce passed through the press garlic, lemon juice, chopped fresh herbs, salt and pepper to taste. Stir the sauce and put it in the fridge for 10-15 minutes.
Spicy yogurt sauce

Pour the yogurt in a deep bowl. Add the egg yolks, a little salt, sugar, vegetable oil, squeezed from the half lemon juice, mustard and ground black pepper. Wash, dry and finely chop fresh parsley and dill, add to bowl. Using a mixer, thoroughly mix the sauce.
Yogurt sauce with onions

Peel the onion and grate it on a fine grater. Wash, dry and finely chop the green onions. Pass through a garlic press. Mix the onion paste, crushed garlic and chopped green onion, add salt to the mixture and mash everything well. Pour in the onion-garlic mixture to the yogurt, add black pepper and sugar. Stir the sauce until the sugar is dissolved. Instead of sugar you can use powdered sugar.
Yogurt-tomato sauce

Add in mustard, sugar, salt and black pepper, mix thoroughly. Pour a mixture of yogurt and whisk all the mixer. Add the ketchup sauce and nutmeg, and again stir. Ketchup you can substitute tomato paste or chili sauce. "Chile" is spicy version of the sauce. Ground black pepper in this case add should not be. Sugar can be replaced with powdered sugar.
Kefir dessert sauce

Squeeze the juice of half a lemon. Peel the banana and mash it with a fork. Connect the banana pulp with the lemon juice, shavings of coconut and apricot jam. Pour all the yogurt and mix thoroughly. Instead of apricot jam you can use any other jam, such as strawberry or raspberry. Dessert sauce made with yogurt can be served with various sweet dishes, for example, use as a dressing for fruit salad.
Advice 2: How to cook pork ribs in convection oven
Pork ribs is a dish fit for a holiday feast and everyday table. It is so delicious that will not leave you indifferent. And special skills in the preparation of the ribs is not required.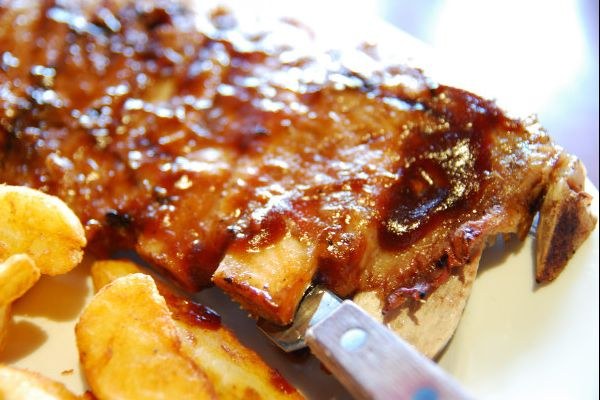 You will need
sauce grill;
soy sauce - 2 tbsp;
balsamic vinegar - 2 tbsp;
lemon juice - 1/2 pieces;
brown sugar - 1 tbsp;
vegetable oil - 2 tbsp;
Tabasco sauce - 1/3 tsp;
salt to taste.
Instruction
Bought ribs, rinse thoroughly and divide for 1 or 2 ribs per serving. Soak the ribs in cold water, remove, dry on paper towel.
Prepare the sauce grilled with soy sauce, balsamic vinegar, lemon juice, brown sugar, vegetable oil and Tabasco sauce. Add salt to taste.
Place ribs in a flat shape and pour the sauce. Leave for 1-2 hours to marinate. Periodically turn it upside down.
Put the ribs on the upper grille aerogrill. For intensive roasting and heating meat the first 30 minute bake at 200°C, then 15 minutes on 175°C and 15 minutes at 150°C. Watering pieces of meat with sauce every 5 minutes, so the ribs are evenly baked and are soft.
Note
For a tasty pork ribs you need to follow some rules. Carefully prepare the ribs, remove the rib tape. Not in a hurry to prepare this dish - give it a good steep in the marinade, do not expose the convection oven to a high temperature. Bake slowly, gradually lower the temperature, and the meat is soft and tender. Soy sauce and balsamic vinegar the meat will acquire the taste and smell of the BBQ, it smells like a bonfire. Brown sugar and Tabasco sauce give a sweet and sour taste. But don't forget that this dish is very nutritious. If you care about your figure, don't cook it often.
Useful advice
Order the Prime rib was really tasty and hearty, they need to choose the right. Do not take the "fin soup" - too little meat. Better buy the lean brisket with the smallest amount of fat on it. Important and spices which you can choose according to your taste. Mustard or honey with cinnamon, lemon juice or wine vinegar, brown sugar or honey – choose what you like best. The finished ribs are best served with a green salad and vegetables.
Advice 3: How to prepare tasty buds
Kidneys
inappropriate preparation have an unpleasant peculiar odor, so few Housewives are taken for the preparation of this byproduct, but in vain. With the right approach you can cook interesting, tasty and healthy dish of kidneys, which will exude a pleasant and alluring scent.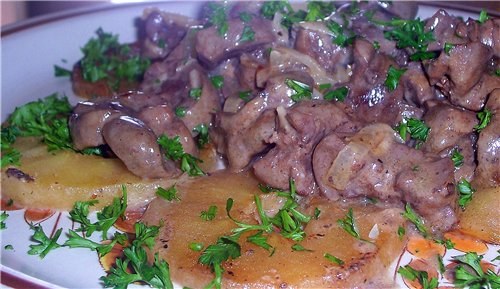 You will need
lard;
bow;
butter;
flour;
meat broth;
salt;
pepper;
Bay leaf;
greens;
lemon.
Instruction
Before you begin cooking kidneys should be thoroughly rinsed under cold running water. Remove the tape and take the ureters, as through
the kidneys
is urine, which is why when the wrong treatment is an unpleasant smell that is almost impossible to kill.
Pour into a bowl or large pot with cold water and soak in it processed and sliced kidneys for four hours (can be left overnight, put a container of water in the fridge). Fill the buds with fresh water, bring to the boil, periodically remove the formed foam and bring the water to a boil. Again drain and flush the kidneys, bring to a boil over medium heat for one and a half hours.
Prepared beef kidneys, slice with a sharp knife into small slices and place in a pre-heated pan with 50 grams of melted lard. Brown the kidneys on all sides, stirring occasionally with a wooden spatula.
While buds are fried, prepare the onion sauce that gives the dish a spicy flavor and exquisite aroma. Peel one large onion from the husk, and rinse with cold water. Cut in half and place on a baking sheet. Put in preheated oven and bake until soft. Mash is still hot onions into a puree with a blender.
Melt twenty-five grams of butter in a frying pan and fry a tablespoon of flour to a Golden color. Add one hundred and fifty milliliters of strained meat stock or water, pound the sauce so that lumps don't form. Mix cooked flour dressing with mashed baked onions and bring to a boil, the sunflower is a good choice.
Fold the sauteed kidneys in a ceramic or clay pots, add salt, pepper and Bay leaf. Pour the offal cooked in onion sauce, sprinkle with herbs and close the pot lids, place in a preheated to two hundred degrees oven. Simmer on low heat for forty minutes, fifteen minutes before end of cooking, add in each pot on the middle slice of lemon without seeds.
Advice 4: How to cook gravy to the liver
How nice to pamper yourself and family with a delicious dish of pechenochki! Every housewife prepares this by-product of his own brews, roasts or stew. But almost always liver served with fragrant delicate sauce.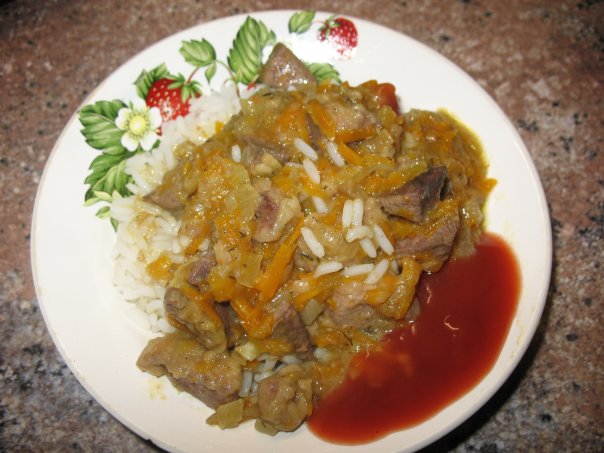 You will need
For the first and second recipes: pork liver

salt
1 carrot
1 onions
175 ml of water
Bay leaf
flour for breading.
For the third recipe: liver
2 medium onions
tomato
sour cream
greens
spices and salt to taste
3 tablespoons cream cheese
lemon.
For the fourth recipe: liver
1 onion
sour cream
spices.
Instruction
Typically, the gravy is prepared from the
liver
. For example, the gravy of pork
liver
with vegetables. To start rinse the liver under running water and peel off the film. Then cut into small pieces. Slice the onion and grate carrot on a coarse grater. Salt liver, roll in flour and fry in vegetable oil until Golden brown. Now add the onions and carrots. Simmer for 2-3 minutes, then add water and Bay leaf. Continue sautéing until tender.
The ingredients for this recipe are the same as for the previous one. The dish is prepared almost the same, but the carrots cut into slices and slices of the liver do not need to pyrovate in flour. Liver it turns in natural sauce, but if sauce seems too liquid, you can add a tablespoon of flour for thickness.
Fry the onion and chopped tomato. In a pan, add the liver, salt, add the spices and saute with the vegetables for 5 minutes. Now add the sour cream, cream cheese and juice of half a lemon. Stir and simmer for another 10 minutes. The finished dish sprinkle with herbs and leave under the lid for another 5 minutes.
You can do without carrots and tomatoes. Chopped liver, roll in flour, fry in a skillet. Then add 3 tablespoons of vegetable oil and 2 cups of water. Simmer. After 10 minutes, add the chopped onions and sour cream. After 15 minutes the dish can be served to the table.
You can make creamy yogurt gravy. Liver saute and cook as in previous recipe, but oil and water add very little. At this time, prepare the sauce. Mix 1.5 tablespoons of sour cream and 100 ml (about half a Cup) of yogurt. Add a pinch of Basil, a little oregano, salt and pepper. Add the gravy to the liver and continue to simmer for a bit.
Useful advice
To the liver is not bitter, you can soak it in milk for 1-2 hours.