You will need
- wheat flour (in/s) – 1000 g;
- water – 500 ml;
- margarine – 200 g;
- vanilla – 1 package;
- dry yeast – 1 tbsp. spoon;
- chicken egg – 2 PCs.;
- butter – 150 g;
- sugar powder – 50 g;
- salt -1 tsp.;
- cinnamon – 10 g;
- vegetable oil – 10 ml;
- granulated sugar – 2 cups.
Instruction
Start to cook the dough. Take warm water, add ½ tsp salt and 2 tbsp sugar. Mix everything carefully. Then add the liquid 1 tablespoon of yeast. Leave it for 15 minutes in a warm place. During this time the yeast will have time to dissolve and foam.
Sift in large bowl flour. Into it add the vanilla and carefully stir. In the finished yeast dough, beat the eggs, stir in the sugar and salt. Melt the margarine and cool it to room temperature. Pour it into the yeast mixture and stir with a whisk.
Make a well in the flour hole. Pour into it the yeast mixture and start to knead the dough. When it becomes thick, put it on the table. Then continue to knead until then, until its consistency is smooth and soft and elastic structure. Then put the dough in a bowl and leave for 40 minutes. During this time it will be in time to come.
Start making the filling for the rolls. To do this, use the powdered sugar and butter which should be slightly poddany. You must put these ingredients in a bowl and thoroughly mix, using a whisk or a spoon.
Remove the risen dough from the bowl. Divide it into four parts. One of them roll out into the reservoir. Its thickness should be about 0.5 cm. Next, take the fourth piece of the cooked filling and spread evenly over rolled out dough. All of this sprinkle small amount of cinnamon to buns had a spicy taste and aroma.
Roll the dough with filling into a tight roll and slice it into pieces (thickness 3-5 cm). Each of them desipite on the one hand, he was like a little rosebud. Place buns on a baking tray, which should be pre-greased with vegetable oil. It is necessary to observe the distance of 2-3 cm, as the dough is still a little time to come up during baking.
Leave buns in a warm place for 30 minutes for proofing, and this time, make the remaining dough and filling rest. Then preheat the oven to 180oC, make sure to put on the bottom of a bowl of water. This will prevent scorching buns. Put them on the middle level in the oven and bake for 30 minutes. Then remove muffins and allow to cool slightly. Then lay them on a dish and serve tea.
Useful advice
To use this dough you can prepare muffins with raisins and poppy seeds, and other fillings.
Advice 2: How to make a scone dough
Scones
is probably the most popular kinds of pastries with tea, coffee, milk or compote. Lush and fragrant, they like children and adults. The composition of the dough, shape and fillings for this kind of baking can vary to infinity, which vary daily and festive menu.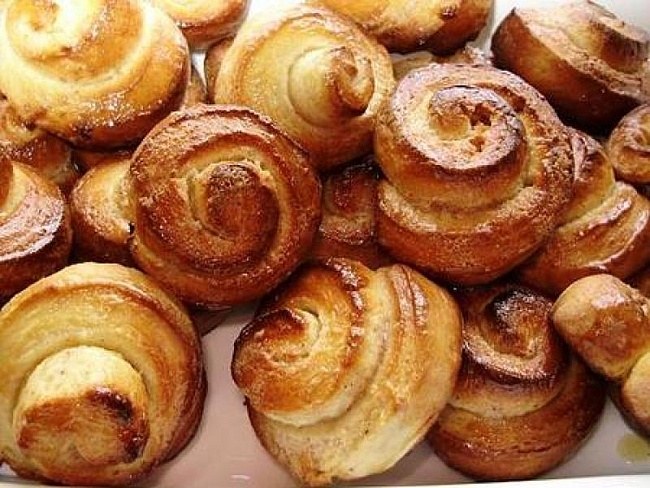 How to prepare yeast dough


To cook on an old recipe brioche dough, it is necessary to take:
- 1.1 kg of semolina flour;
- 2 sachets of 7 g instant yeast;
- 150 g of sugar;
- 2 tsp. of the salt;
- 2 tsp ground cardamom;
- 400 ml of milk;
- 250-300 ml of milk;
- 3 eggs;
- 200-250 grams of walnut kernels;
- 200 g of raisins;
- 300 g dark brown sugar;
- 2 tablespoons of honey;
- 90 g of powdered sugar.

First of all, make a yeast dough. To do this, in large bowl, combine instant yeast, powdered sugar, salt, cardamom and 450 g of flour. In a small pan or pot heat the milk and 90 grams of butter to about 50 ° C. In advance melt butter is not necessary. Using a mixer on low speed, gradually beat warm liquid into the flour mixture. Then beat in eggs. Increase speed of mixer and beat all the ingredients for another 3 minutes. With a wooden spoon, add 600 g of flour and knead a soft dough.

Put the dough on the covered with flour a work surface and gradually add 80-90g of flour, knead for another 10 minutes until the dough becomes elastic and smooth. Form a bowl, close with cling film and let stand 15 minutes.


How to cook scones


Prepare for bread stuffing. To do this, melt in a saucepan 90 g of butter. With a small bowl, combine chopped with a knife or in a mortar the walnuts, raisins and brown sugar. Divide the dough into 2 halves and roll out each into a rectangle. Then grease them with melted butter and spread evenly on the layers of the filling. Roll the dough into a roll starting with the long side of the rectangles and seal seams.

Then with a knife cut each roll into 10 pieces. Lay the buns on a greased baking tray cut side down. Close all with plastic wrap or a cloth and put in a warm place for half an hour. During this time the rolls should increase in volume by about half.

Heat the oven to 180oC, put him in a tray of "coming up" biscuits and bake them for 25-30 minutes until rolls are brown.

Next, prepare the glaze. To do this, place a saucepan on medium heat and in it heat the honey with the remaining 90 g butter 100 g brown sugar. The butter has fully melted and the sugar to dissolve. Then pour the prepared glaze baked muffins and cool them on a wire rack. When the cakes are completely cooled, mix the icing sugar with a tablespoon of water and sprinkle the buns with this mixture.
Advice 3: How to cook biscuits "Roses"
Homemade cakes always turns out sweet, lush and fragrant. One of the most simple to prepare dishes are rolls, for example, from leavened dough. If you show imagination and patience, you can decorate your biscuits and turn them into a real culinary masterpiece. Prepare biscuits "Roses" of dough.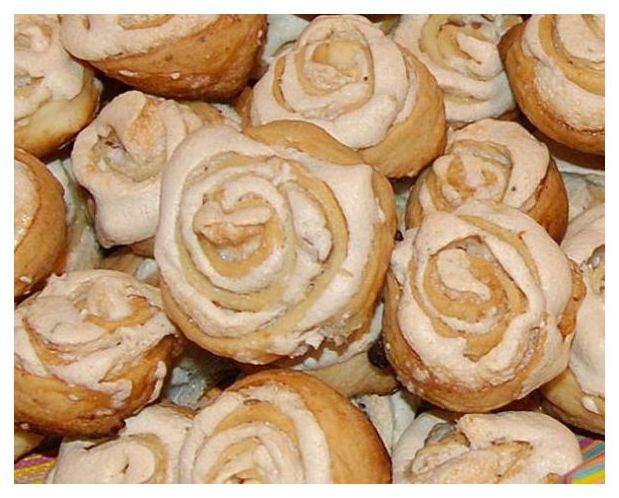 In order for your cakes had a magnificent form, you can use 3 of:
The first technique is sculpting figures out of the dough and with the help of the incisions. So prepare bagels, pretzels or swirls.
The second option is the use of stacked on top of each other cakes and dough which can be the cream or filling.
And the last method is the use of baking confectionery forms.
Buns from yeast dough "Roses" can be prepared in various ways, independently shaping the dough into a ball and giving it the original form, and also use the molds for cooking.
You'll need to test:
- eggs - 2 PCs.;
- flour — 5 tbsp.;
butter - 75 g;
- sugar - 100 g;
- water - 100 ml;
- dry yeast - 2 tsp
For decoration and filling rolls:
- sugar - 3 tbsp;
chicken yolk - 1 PC.;
- butter - 30 g;
- sesame seeds - 2 tbs.
In the first stage of cooking, take the yeast and dissolve in warm boiled water, then add to the dough 1 tablespoon of flour and sugar, mix well and leave for about 30 minutes. Once you see the foam, you can begin to knead the dough.
This is best done in a glass or enamel deep bowl in which to pour the sugar, add the yeast mixture, break the eggs and pour the flour in a thin stream. After this you need to add oil (best to use a soft). The oil can be replaced with margarine.
Knead the dough with your hands, gradually adding flour. You should get a dense mass, then cover the dough with a towel and leave for about 2 hours. In order to know that the dough came, you can from time to time to check, pressing lightly with your finger: if the resulting hole is filled within 5-7 minutes, the fermentation is not yet complete and prepare the rolls early. The dough should have a porous structure of the air.
After 2 hours the dough need to press down and leave for another 10 minutes. Divide your dough into 40 pieces and roll out each part into a cake, having a thickness of several millimeters and a diameter of about 10 cm.
Prepare the stuffing: melt the butter and combine with sugar. The tortillas over the filling, then fold each tortilla in half to make a triangle and leave for about 10 minutes.
Take a cake pan, grease with oil and place in each 2 tortillas, folded in half. Grease your muffin top with egg yolk and sprinkle with sesame seeds.
Next, you need to send buns "Roses" in the oven at 180 degrees and bake for about 30 minutes.
After the specified time biscuits "Roses" of the yeasted pastry is ready and you can serve tea.
Advice 4: How to cook yeast-free buns
Biscuits made from unleavened dough, turn out very tasty and tender, it is only necessary to give the process of making the dough more time. As filler, you can use any dried fruit such as apricots, raisins and so on, as well as sugar and poppy seeds.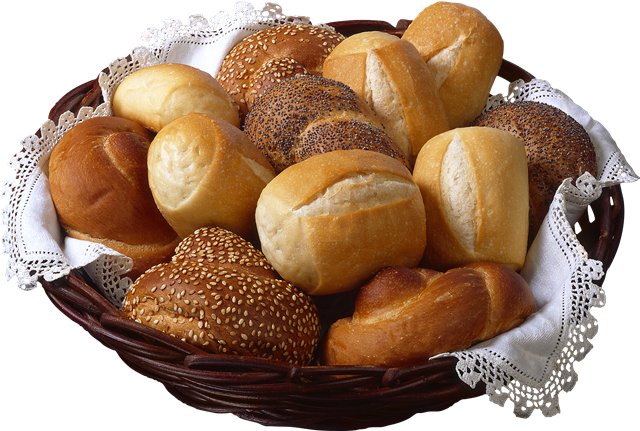 How to cook puff buns with poppy seeds
You will need:
four cups of flour;
- 2.5 cups whey;
- 50 ml vegetable oil;
- tablespoon of salt;
- one egg;
- 40 grams of poppy;
- six tablespoons sugar.
Pour the whey into a deep wide bowl, add a Cup of sifted flour and mix everything carefully. Put the dish with the dough, after closing it with foil, in a warm place for about a day. After the specified time, check the dough, if its surface appeared small bubbles, add in a bowl ... salt, oil and remaining flour. Brush the dough with vegetable oil and put back on the day in a warm place.
Over time, doubled the dough slightly ebonite and five to seven hours refrigerate.
Mac pour hot water and gently remember. Drain the excess water.
Separate the white from the yolk, whisk it with a tablespoon of sugar until stable peaks and mix with poppy seeds.
Cooked roll out the dough into a rectangular layer of thickness 0,5-0,7 cm. Put the filling across the surface of the seam, then roll the dough into a log and cut it crosswise into pieces about five inches.
Grease the molds with vegetable oil, put it in buns and place in a preheated 180 degree oven for 40 minutes. Puff buns with poppy seeds ready, serve them to the table hot.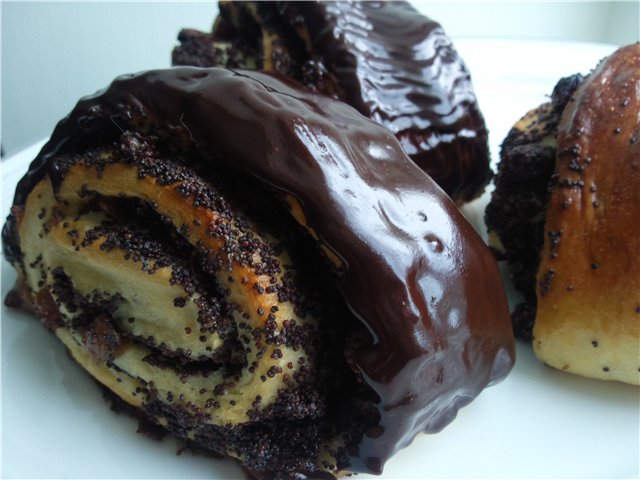 How to make non-yeasted buns
You will need:
- two eggs;
- 50 grams of sand;
- 500 grams of flour;
- 1/4 teaspoon of salt;
- 150 grams of raisins;
- a sachet of vanilla sugar;
- 200 ml of milk;
- 100 grams butter;
- egg yolk.
In a bowl break two eggs, add sugar and whisk. The process of whipping shall take place not less than three minutes, in the end, the egg mass should increase in volume by three times.
Divide egg mixture into two equal parts, one part set aside, to the other add the milk and vanilla sugar and start to whip.
Sift flour, add salt and butter, grated on a grater. Grind the mass into fine crumbs.
A milk-egg mixture, mix with crumbs and quickly knead the dough. The resulting mass is put previously abandoned the egg mass and mix gently.
In the dough add the washed raisins and mix.
Grease a baking sheet with oil and place on it the dough with a spoon in the form of a convex pellets. Brush each "cake" with egg yolk, then place the pan in the oven, preheated to 170 degrees for 20-25 minutes. Unleavened buns with raisins ready.