How to cook puff buns with poppy seeds
You will need:
four cups of flour;
- 2.5 cups whey;
- 50 ml vegetable oil;
- tablespoon of salt;
- one egg;
- 40 grams of poppy;
- six tablespoons sugar.
Pour the whey into a deep wide bowl, add a Cup of sifted flour and mix everything carefully. Put the dish with the dough, after closing it with foil, in a warm place for about a day. After the specified time, check the dough, if its surface appeared small bubbles, add in a bowl ... salt, oil and remaining flour. Brush the dough with vegetable oil and put back on the day in a warm place.
Over time, doubled the dough slightly ebonite and five to seven hours refrigerate.
Mac pour hot water and gently remember. Drain the excess water.
Separate the white from the yolk, whisk it with a tablespoon of sugar until stable peaks and mix with poppy seeds.
Cooked roll out the dough into a rectangular layer of thickness 0,5-0,7 cm. Put the filling across the surface of the seam, then roll the dough into a log and cut it crosswise into pieces about five inches.
Grease the molds with vegetable oil, put it in buns and place in a preheated 180 degree oven for 40 minutes. Puff buns with poppy seeds ready, serve them to the table hot.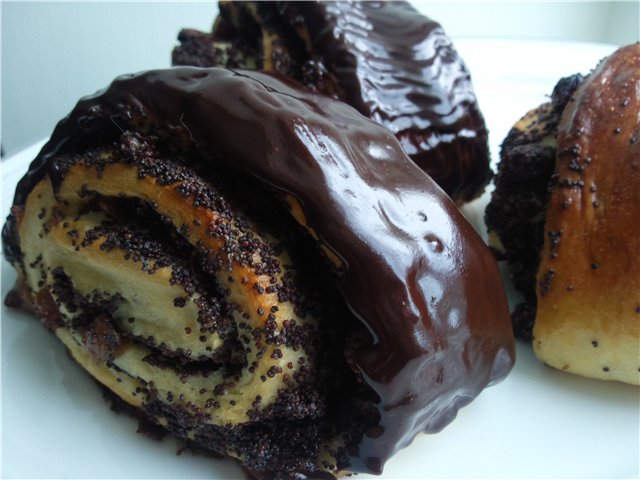 How to make non-yeasted buns
You will need:
- two eggs;
- 50 grams of sand;
- 500 grams of flour;
- 1/4 teaspoon of salt;
- 150 grams of raisins;
- a sachet of vanilla sugar;
- 200 ml of milk;
- 100 grams butter;
- egg yolk.
In a bowl break two eggs, add sugar and whisk. The process of whipping shall take place not less than three minutes, in the end, the egg mass should increase in volume by three times.
Divide egg mixture into two equal parts, one part set aside, to the other add the milk and vanilla sugar and start to whip.
Sift flour, add salt and butter, grated on a grater. Grind the mass into fine crumbs.
A milk-egg mixture, mix with crumbs and quickly knead the dough. The resulting mass is put previously abandoned the egg mass and mix gently.
In the dough add the washed raisins and mix.
Grease a baking sheet with oil and place on it the dough with a spoon in the form of a convex pellets. Brush each "cake" with egg yolk, then place the pan in the oven, preheated to 170 degrees for 20-25 minutes. Unleavened buns with raisins ready.