Instruction
Not every child likes to eat vegetables, so snacks need to make nice and bright. For example, salads lay on the baskets of cheese or transparent cups. As a variant – to organize the salad bar, to the participants themselves gained small plates gradually finished and cut into components: potatoes, carrots, meat, eggs, tomatoes, cucumbers etc. a dressing sauce is better to do it yourself based on oil and sour cream. Small sandwiches make good use of not a sausage from the store and homemade pate Turkey and chicken, mincemeat. And few of the younger guests would refuse a delicious canapes of vegetables, mushrooms, quail eggs and cheese.
Hot dish on a children's holiday, too, should be portioned. It is convenient for the kids and for mom-cook. The easiest option is mini pizzas stuffed with vegetables, mushrooms and lean minced meat. From chicken fillet to make kebabs. They are cooked quickly in a pan or baked in the oven. The most favorite side dish in most children is mashed potatoes. To diversify the table, his stained, mixed with mashed boiled carrots or spinach. Even easier to boil for treats multi-colored pasta in the shape of bows, snails or spirals. But a lot of side dish to cook is not necessary. Children are unlikely to eat everything to the end, and if not enough – you can always cook extra servings of fresh vegetables on skewers.
Traditional end of holiday feast at the birthday party – blowing out the candles on the cake. To children after that don't overeat fat cream, cake worth to buy or prepare small size. A sweet table cover with other dishes. It can be homemade chocolates, which are prepared by using molds for ice from melted chocolate, nuts and dried fruit. If desired, the process of cooking easy to make part of the entertainment programme of the holiday. Another option treats – colored jelly fruit juice and milk in portion cups or molds.
Instead of tasty, but often junk juices and soda can be offered to young guests of the celebration fruit drinks, lemonades and fruit drinks. To those not upset by the lack of the usual drinks, homemade drink will need to submit a "grown-up" in beautiful decanters. Or just pour in bright paper cups. In the transparent bowl of the children treated to a variety of fruit smoothies and milkshakes. The main thing - not to SuperCool drinks or hot games children at risk.
Advice 2: How to set the table for a child's birthday party
Birthday for a child is the most awaited holiday. Gifts, guests, the attention - all for him. Festive bright tablecloth, set of balls, games and contests with friends. What to cook for children on this day, in addition to traditional cake? What dishes to put on the table?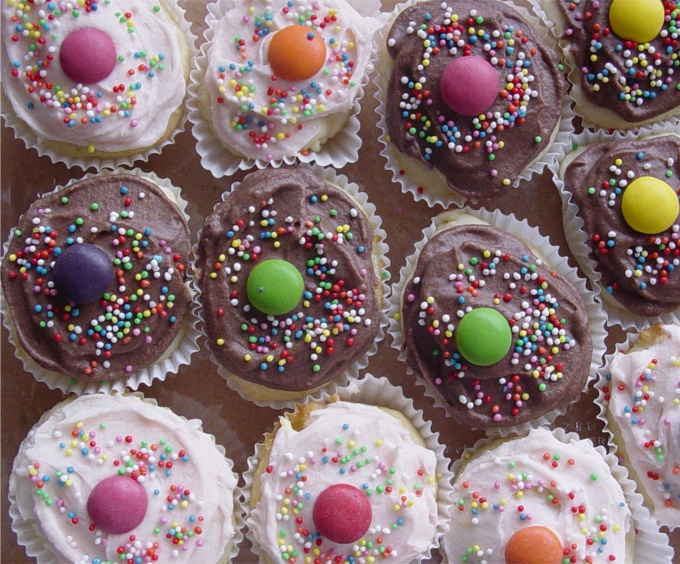 You will need
To cut vegetables:
- 1 cucumber;
- 1 tomato;
- 1 bell pepper.
For fruit salad:
- 1 pear;
- 1 Apple;
- 1 kiwi;
- 1 banana;
- 100 g grapes;
- 250 grams of yogurt.
For the tartlets:
- 1 egg;
- 2 cups of flour;
- 0,5 teaspoon of salt;
- 0.75 cups of water;
- 200 g margarine;
- 1 tsp 6% vinegar;
- vegetable oil.
For 1 serving of the milkshake
- 150 g of milk;
- 30 g of syrup;
- 50 g orange juice.
Instruction
Prepare a vegetable slicing. Cucumber, tomato, sweet bell pepper cut into neat slices. Place on a plate. Sprinkle with greens (consider the taste of the child and his / her guests).
Make a fruit salad. 1 pear, 1 Apple, 1 kiwi, 1 banana cut into small pieces. 100 g of seedless grapes cut in half. Mix everything and add 250 grams of yogurt. Mix salad and put in a beautiful bowl.
If the age of the children, prepare any meat or fish salad (for example, "Olivier") and feed it into the tartlets. To bake the tarts, prepare the dough. Margarine cut into small pieces, on low heat melt it and cool slightly. Add in margarine, egg, half teaspoon salt, water. Thoroughly mix all. Pour in the vinegar. Add in the received weight of the flour and knead the dough.

Ready put the dough for one hour in a cool place.

Sprinkle the table with flour and roll it the dough into a thin layer. Cut out a circles. Molds for tartlets brush with vegetable oil. Put the dough circles in the form, press it to the sides and bottom. Bake the tartlets in a preheated oven at 180 degrees until Golden brown.
Create a fruit kebab. For him, the fruit cut into cubes 2*2cm and thread them, alternating, on wooden skewers. Stick them into the Apple or put in a small vase.
All the ingredients for a milkshake needs to be cold: put milk, syrup and juice in the fridge for 30-40 minutes.

Thoroughly mix the juice, milk and syrup. For smoothies, use any fruit or berry syrup for a child's taste.

Whisk the mixture in a blender until foam. Pour the cocktail into a tall glass, garnish with umbrella, put a straw for a cocktail.
Clear organization of the child's birthday and prepared a program of entertainment and festively decorated dishes creates a good mood and will be remembered your child and his guests.
Note
For some products the children may be allergic. Discuss the list of undesirable products with the moms of your child in advance.
Useful advice
The finished tarts can be purchased in the store.
The edge of the cocktail glass dipped in sugar syrup, then in sugar and let them dry. Pour the cocktail so that it did not reach a sugar line.
Advice 3: What you can make with ground Turkey
Minced Turkey meat is a healthy alternative to a fatty beef
minced meat
. He has an intense flavor and is perfect for a variety of meat rolls, sauces, burgers, meatballs and casseroles.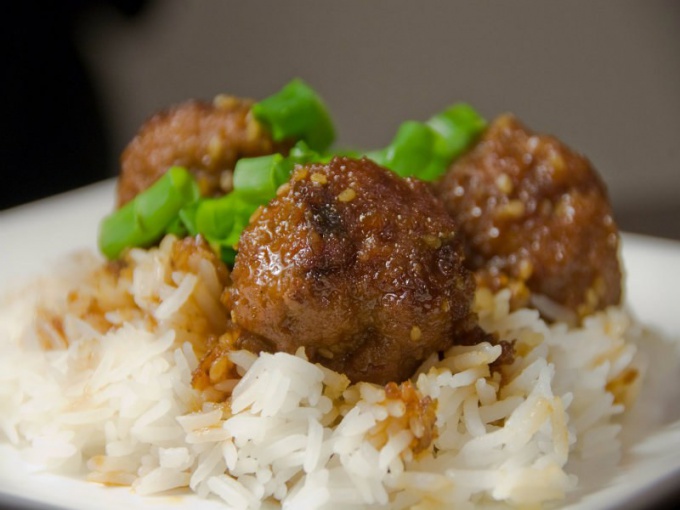 Meatballs from Turkey meat with tomato sauce and pasta
For this flavorful and hearty you'll need:
- 300 grams of Turkey mince;
- 2 heads of onions;
- 50 grams of breadcrumbs;
- 50 ml of milk;
- 1 teaspoon leaf thyme;
- 1 tablespoon of flour;
- 1 clove of garlic;
- 400 grams of chopped meaty tomatoes;
- 100 ml of water;
- 1 tablespoon tomato paste;
- 2 teaspoons of sugar;
- ¼ Teaspoon dried oregano;
- 250 grams of spaghetti;
- salt and freshly ground pepper;
- vegetable oil;
- chopped Basil.
Slice the onion into small dice. Saute the onion until translucent in a deep, wide pan. Soak the breadcrumbs in milk. Leave half of the onion in a pan, add the chopped tomatoes and crushed garlic and cook, stirring, about a minute. Pour in water and tomato paste, place the sugar, oregano, and season with salt and pepper. Bring to a boil, cover and simmer for about 7 minutes. Combine the ground beef with the thyme, soaked IV milk crumbs, remaining onion, and season with salt and pepper. Shape meatballs, roll in flour and fry in vegetable oil until Golden brown. Put in the tomato sauce and simmer for 7-10 minutes. During this time, boil until cooked pasta. Drain the pasta with the excess liquid, mix with sauce and meatballs and serve sprinkled with greens.
To minced meat for meatballs, you can add one grated sour Apple, so the taste will be more intense.
Meat loaf Turkey meat
To prepare meat loaf, take:
- 750 grams Turkey mince;
- ¼ Cup of breadcrumbs;
- 1 chicken egg;
- ½ Head onion;
- 2 tablespoons of milk;
- ¼ Cup of ketchup;
- salt and pepper.
Preheat the oven to 200oC. Chop spring onions. Mix Turkey mince with breadcrumbs, add milk and 2 tablespoons of tomato ketchup, sliced onions, season with salt and pepper. Shape on the baking sheet, the laid foil, roll and brush it with the remaining ketchup. Bake for 30-40 minutes.
This loaf can be served hot with mashed potatoes or cold, cut into slices and putting on fresh bread.
Pie with Turkey mince
From ready-made puff pastry and Turkey stuffing, you can cook a delicious and quick pie. You will need:
- 600 grams of Turkey mince;
- 1 head of onions;
- 2 cloves of garlic;
- 6 slices of bacon;
- 75 ml cognac or Calvados
- 2 tablespoons chopped parsley;
- pinch of ground ginger;
- pinch of ground nutmeg;
- 50 grams of chopped roasted pistachios;
20 berries of dried apricots;
- 2 chicken eggs;
- 50 grams of breadcrumbs;
- 200 grams of puff pastry.
Roll out the dough to a thickness of one centimeter and with sides of 25 and 50 centimeters. Preheat the oven to 200oC. Cut into small dice onion and bacon, crush the garlic. Saute the onions and garlic until transparent, add the bacon and fry for a further 5 minutes. Pour in alcohol and let the alcohol evaporate. Refrigerate this mixture and mix with the mince, put one egg, breadcrumbs, spices and eggs. Shape of the sausage stuffing and place in center of dough. Tape the edges, turn the cake seam down, make incisions diagonally and brush with the beaten egg. Bake the pie in preheated oven to 200oC, then reduce the heat to 170оС and cook for another 15 minutes.