Instruction
Ten rubles. The City Of Krasnoyarsk.
The smallest banknote in nominal value of ten roubles depicts the railway bridge over the Yenisei river, included in the UNESCO's book "the Best bridges in the world". Also on this side of the note there is the chapel of St. Paraskeva the Friday, the great healer. The back side depicts the Krasnoyarsk hydroelectric power station, which is the second largest among the Russian hydroelectric power station.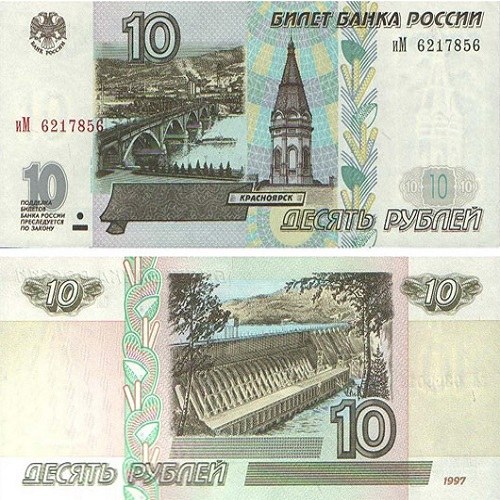 Fifty rubles. The City Of St. Petersburg.
The hero-city of Saint Petersburg with its famous buildings depicted on the banknote in nominal value of fifty rubles. The character of the Neva – a female figure seated on a throne at the base of the Rostral column and the Peter and Paul fortress, a historical landmark of the city. These images are on the obverse. On the flip side – the former stock exchange on the waterfront.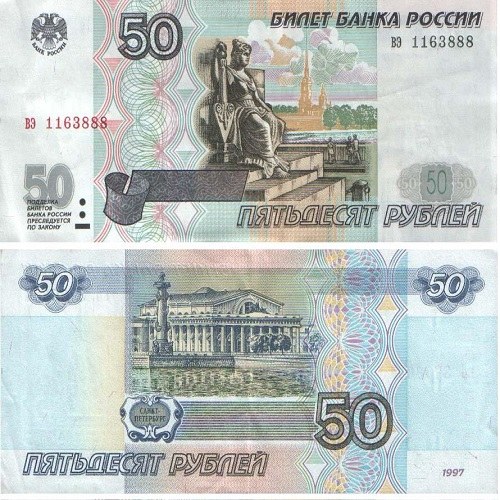 A hundred rubles. The City Of Moscow.
In common parlance hundred-ruble banknote contains an image of the capital city of Moscow. Apollo with chariot sculpture from the pediment of the Bolshoi Theatre and the building of this cultural institution is located on both sides of the bill.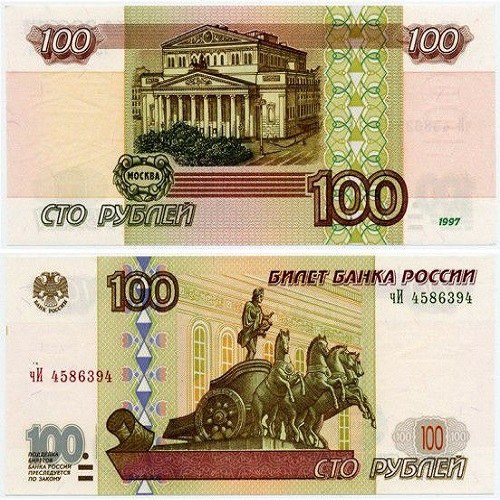 Five hundred rubles. The City Of Arkhangelsk.
The power and might of the city of Arkhangelsk passes the monument to Peter I and the sea port with a sailboat. These images are located on the front side of the banknote denominations of five hundred rubles. On the flip side one can see the Solovetsky monastery – monastery of the Russian Orthodox Church, erected in the years 1420-1430 and a UNESCO world heritage site.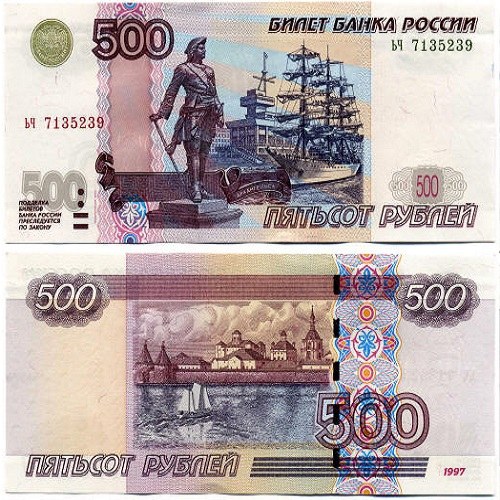 One thousand rubles. The City Of Yaroslavl.
Large green the banknote depicts the monument to the city founder, Prince Yaroslav the Wise, who holds in his hands a temple. In people, this monument is called "Uncle cake". It is located in the city centre. The monument was erected in honor of the Foundation Prince of the city of Yaroslavl. In the background is visible the chapel of our lady of Kazan, having the shape of a rocket. On the reverse side of the note there is another historical monument - the Church of St. John Predtechi (the Baptist), which has a high Federal and cultural significance.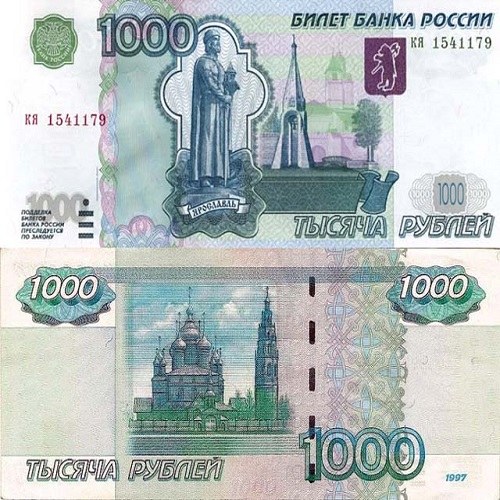 Five thousand rubles. The City Of Khabarovsk.
Beautiful bright in denominations of five thousand rubles depicts a majestic monument to the Governor-General of Eastern Siberia count Nikolai Muravyov-Amursky. Thanks to this great personality was returned to the Amur river, ceded to China in 1989. On the reverse side of the banknote depicts also the powerful building - Khabarovsk bridge, or "Amur miracle", whose length is 2700 meters.