You will need
- 5 large chicken eggs;
- 1 Cup of flour;
- 1 Cup of sugar;
- cast iron skillet;
- aluminum pot with lid;
- baking;
- vegetable oil.
Instruction
Prepare a pan. Cut out the parchment circle on the diameter of the pan and cover them bottom. Grease the parchment with vegetable oil. The walls of the pan do not grease! Otherwise the dough will slide on them and cannot climb the edges, this may form a hump. Cover pans with a towel wrap and secure the top knot or rubber band. Install the design on the burner in such a sequence, as shown in the photos: cast iron skillet, pan, top cover.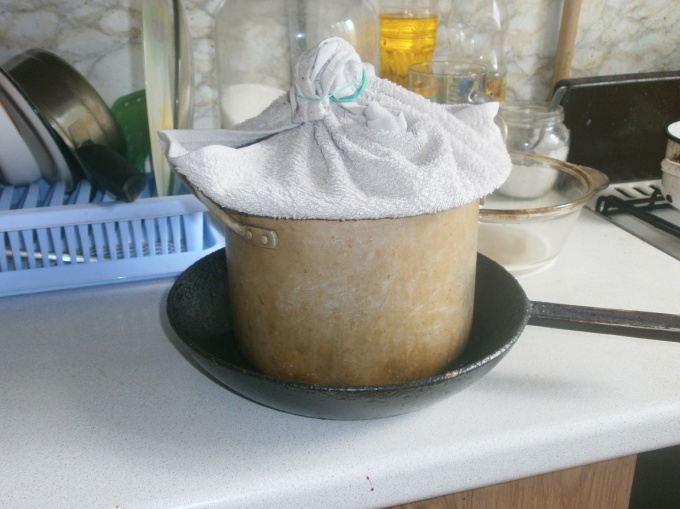 Prepare the dough. First you need to separate the whites from the yolks. Whip the egg whites with a mixer until a stable foam. Continue to whisk, adding the sugar in small portions. Next, add the egg yolks, whisking after each mass. Put down the mixer, it is no longer needed. Add in the mass of the sifted flour and gently stir it with wooden or silicone spatula. Flour interferes with literally a few movements. As soon as you feel that it all disappeared into the mass, the more the dough not touch, it stays lush.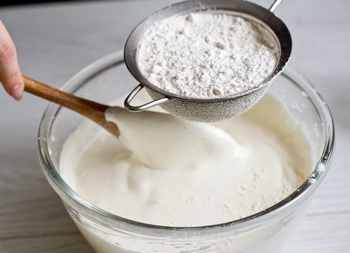 Baking biscuit. Have to turn the burner on low heat, slightly heat the pan. Then pour into the pan with the dough, cover with a tight lid and bake so 1-1. 5 hours. The lid during cooking can not be lifted! In the end, after your cake has already spent an hour on the stove, you can lift the cover to check the readiness. Raw biscuit top will be liquid. If the tip was parched and dry, the cake is ready, if not - close the lid tightly and wait another 20-30 minutes. When cake has finished baking, turn off the fire under it and leave to cool without opening the lid. After half an hour open the lid, thin knife separate the cake from the sides and invert the pan onto a plate. It is easy to get out. Remove the bottom parchment and leave until cool. The thus prepared cake is perfectly cylindrical with a smooth top without humps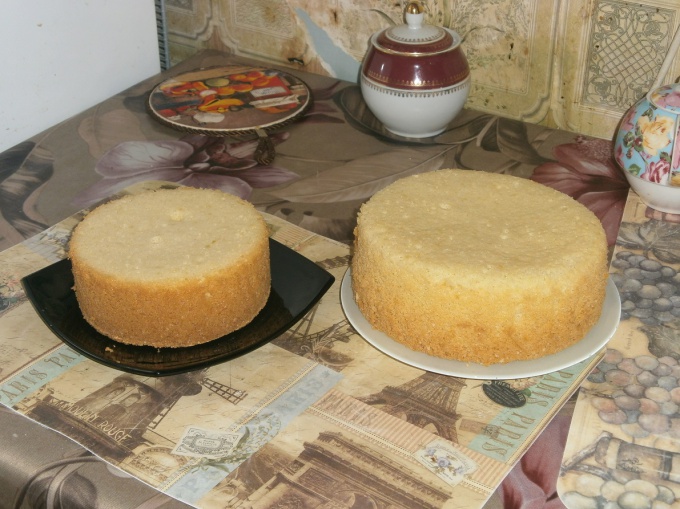 When cake is completely cool, cut it into 3 pieces, soak with the syrup from the berries or fruit over your favorite cream and decorate as desired. In this embodiment, to make 2 biscuits of different sizes. Biscuits soaked in cherry syrup and coated with cream cheese. For this cream I mixed pureed cottage cheese through a sieve with whipped cream and powdered sugar. Top cake is decorated with cherries, cooked 5 minutes with sugar.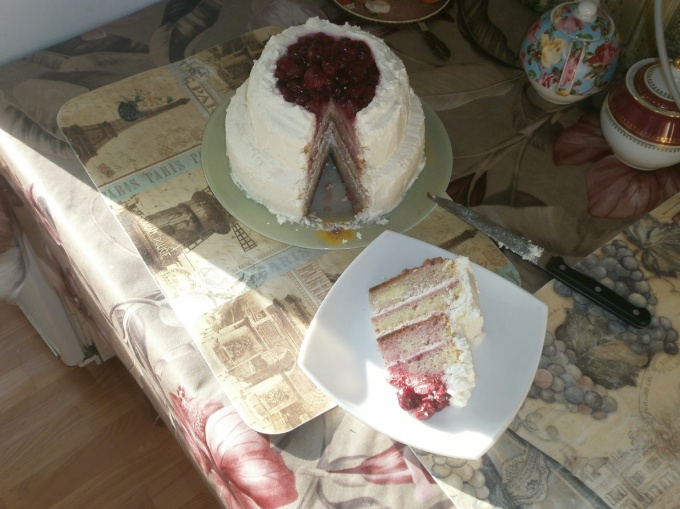 Useful advice
Thus it is possible to bake and chocolate cake, this along with the flour add 3-4 tablespoons of cocoa. Try to find this way a pot of cylindrical shape without sloping bottom, this form is most suitable for making cakes.