You will need
For the dough:
-200 g of flour;
- 1 chicken egg;
- 2.5 tablespoons of vegetable oil;
- ½ Cup lightly salted water.
To prepare the filling:
- ready ground beef;
- onions;
- salt to taste;
- spices;
For the lubrication of pasties:
- the egg;
cheese;
-fresh herbs.
Instruction
The necessary ingredients to prepare and place on the kitchen table. Sift the flour through a sieve and pour into a deep bowl. Add in flour, egg and a good grind until a crumbly mass. Stirring constantly is necessary to pour vegetable oil and a good grind.
The resulting mass you need to gradually pour water and knead the dough. The dough should be soft and smooth. The resulting dough should be wrapped in plastic wrap and put into a cold place for several hours.
While the dough is "resting" you can begin making filling. For this you need to peel the onion and chop it with a knife or in a blender. Add chopped onions to the minced meat, salt and pepper to taste. You need to add any spices to taste and thoroughly mix everything. The beef is ready, remove dough.
After the need to get the dough, roll out using a rolling pin and make circles a great dish. On ½ of the circle put the filling, then ½ of the circle to cover and seal the edges. Ready pasties spread on a baking sheet.

Take a deep bowl, break in the egg and beat well. Grate cheese on a fine grater. Pasties should be lubricated with egg, sprinkle with grated cheese and sprinkle with pre-shredded fresh greens.
Cover the top of the pasties with foil and send in to bake in a pre-heated oven. Bake the pasties necessary for 15-20 minutes.
Advice 2: How delicious to cook potatoes in the oven
Dishes,
cooked
from potatoes, the list is very long, because of their huge variety. This vegetable has a wonderful ability to combine with different products, so you can't every day to create new masterpieces of potatoes and delight loved ones.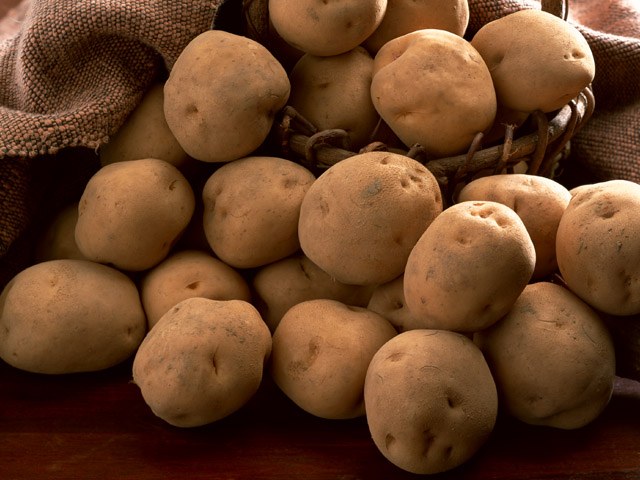 You will need
potatoes;
fat;
floss (not mint flavored).
Potatoes with mushrooms:
600 g of potatoes;
400 g mushrooms;
200 g of cheese (for example
"Russian");
2 cloves of garlic;
50 g butter;
olive oil;
salt;
ground black pepper;
greens.
Potatoes with pork:
700-800 g potatoes;
0.5 kg of pork;
0.5 liters of milk;
1 sweet pepper;
150 g of cheese;
butter;
seasonings (pepper
nutmeg
salt);
greens (parsley
green onions).
Instruction
Recipe No. 1. Small sized potatoes peeled and cut in half. At the rounded parts of the potato halves to make a cut to form a small flat surface. Pan lightly grease with oil and spread it on the potatoes at the center up. In the center of each half to stick a toothpick. Cut the bacon thin slices and skewered on toothpicks in the shape of a sail. Get a kind of "boat". If the fat is salted, then you can do without condiments – be guided by your taste preferences. Bake in the ovenuntil the potatoes will not be easy to protectice pick. The perfect companion to this dish will be pickles!
Recipe №2. Potatoes wash and boil "in uniform", then peel and cut into slices. Clean and cut the mushrooms, fry in olive oil, adding the chopped garlic. Finely chop the parsley. Coat a baking sheet with butter and put layers potatoes (pepper), mushrooms, greens and cheese, cut into thin slices. Put the remaining butter. Pour all the water, after dissolving in it the required amount of salt. Cover with foil and bake in the oven at 180-200°C for 20 minutes. Then remove the foil and bake until Golden brown.
Recipe No. 3. Potatoes cleaned, cut slices and cook in boiling milk for 5 minutes, adding pepper and nutmeg. Remove potatoes with a slotted spoon. Pork cut into cubes and fry in butter, adding spices. Form of grease with butter and put layers of meat, potatoes, shredded sweet peppers. Cheese to grate on a coarse grater and add to the milk, which was otvoren potatoes, fill in the form. Bake half an hour in the oven, heated to a temperature of 200-220°C. the Finished dish sprinkle with chopped herbs.
Advice 3: How to cook hedgehogs in the oven
The combination
of minced meat
with rice has already become traditional and is called "hedgehogs". These meatballs, with grains of rice is really similar to an aggressive hedgehog, popular because of the simplicity of the recipe and its relative dimiceli. To make
hedgehogs
from minced meat even more useful will help them cooking in the oven.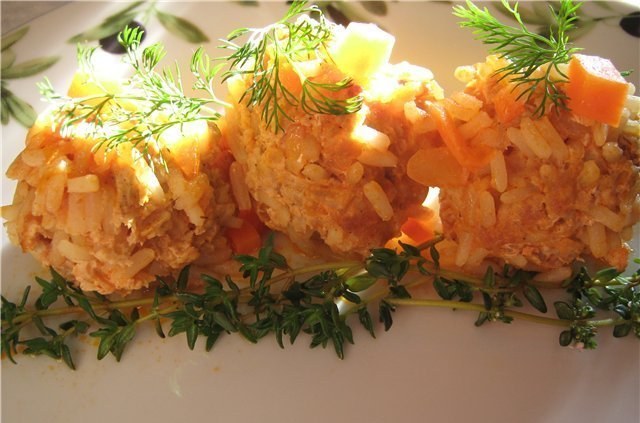 You will need
Fig;
salt
spices.
sour cream or meat broth.
Instruction
In order to prepare hedgehogs from minced meat, need meat. Can cook the meat yourself, or buy ready-made, but in this case, you need to remember that the minced beef quite dry, so it is desirable to further to scroll a few slices of bacon or just mix beef with pork.
Since hedgehogs in the oven prepare a slightly different recipe than being stewed in water or sauce, the rice for the stuffing you must first boil for 10 minutes. During this time, the shell of the grain will soften, but will not have cooked completely, which will speed up the process of cooking meatballs from minced meat and rice in the oven.
When the beef is ready, you need to mix it with rice, which is taken in a ratio of 1 to 5. If the rice is too much in the process of swelling will not hedgehogs with meat and rice porridge with minced meat. In order for the meatballs not lose shape, the stuffing can add one egg. The stuffing should be stirred to a smooth consistency, otherwise the meatballs, the rice will be distributed evenly.
From the resulting meat roll balls of equal size and lay them on the oiled baking sheet. The distance between them may be minimal, since the rice is already partially sasparilla and meatballs will not change the size drastically.
Note
To cook hedgehogs in the oven takes 45 minutes to an hour, depending on the size of hedgehogs and programmes of the oven. If the liquid boils away faster than rice is prepared, it is necessary to add. Alternatively, the first half hour to cover the pan top with foil. When serving this dish additional side dish is not needed, while the substrate is made of vegetables only decorate hedgehogs.
Useful advice
The recipe for hedgehogs can include additional ingredients in the form of herbs or spices, but the main role plays to prepare the sauce. In order to let the rice resporise to a state of readiness, it is necessary to pour on a baking sheet, meat broth or sour cream.
Advice 4: How to cook crispy wings
Crispy delicious chicken wings great as a snack or a hot meal. To cook them pretty easily and quickly, this dish can be used as a treat for unexpected guests. Special ingredients are required, the components of the marinade can easily find in the fridge.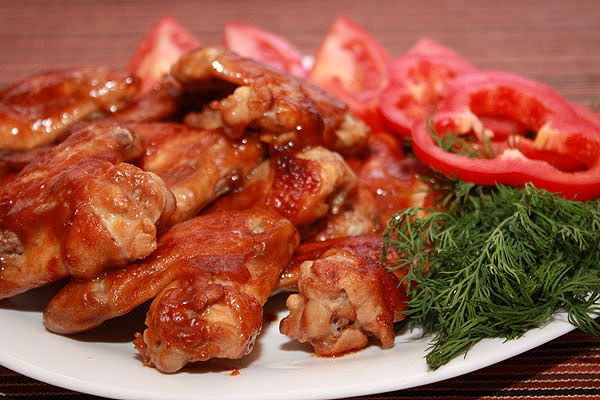 You will need
200 ml soy sauce
2 tablespoons butter
tablespoon of honey
2 egg yolks
100 grams of cheese
100 ml vegetable oil
breadcrumbs
hot pepper Chile
Instruction
Rinse the wings and fill them with marinade. For its preparation you will need 200 ml of soy sauce, one tablespoon of honey and one pod finely chopped chili pepper. Mix all ingredients and pour over the wings so that they were completely covered with marinade. Soak them for half an hour.
While the wings are marinated, prepare the breading. Mix two egg yolks with two tablespoons of butter. Grate it finely 100 grams of hard cheese and add to egg-oil mixture. Place breading mix in a microwave for 10 seconds, one should be homogeneous.
Roll each wing first in a cheese-butter-egg mixture, then in breadcrumbs. Next, they need to prepare, for those who do not like fried foods, use the method of roasting using a microwave oven. Set the mode to grill, place the wings on a grate and cook for 20-25 minutes.
You can cook the wings the traditional way. Heat a deep pan and pour a vegetable oil, not less than 100 ml. When the oil is warm - dip the wings first in a cheese marinade, then roll in breadcrumbs and place on the pan. Fry them until Golden brown on both sides. Then remove them and place on a paper towel to get rid of excess fat.
If you don't like fried foods, cook wings in the oven. Heat it to 180-200 degrees, put the marinated wings on a baking sheet and bake for 20 minutes. If you want to get a crispy crust, leave the tray open. And if you prefer softer meat, cover the baking sheet or pan with foil. If desired, in the process of cooking you can pour the dish is eye-catching juice. Serve the finished dish as a snack to beer or wine, and the second with a side dish of vegetables or cereal.