Professional help

One of the radical ways to help dry and split hair is to cut it. It is necessary that the bundle that started on the tips, did not spread to the entire length of hair. Hairdressers recommend to cut dry hair once in a month and a half, and a fat one every three months.

The best option for oily curls – haircut hot scissors. In this procedure, the hair ends are melted off, which keeps in moisture and nutrients. After the haircut hot scissors hair grow faster, become resilient, healthy and strong.

Beauty salons offer a variety of treatments to improve the condition of dry and split ends. One of the most popular lamination. After this procedure, each hair is covered with a smoothing and protective film. Lamination makes the hair silky, smooth and shiny.


Treatment home remedies

If you have no opportunity to turn to professionals for the treatment of hair, try means home cooking.

One of the most popular tools mask with burdock oil. To make it slightly warm in a water bath 2 tablespoons of burdock oil and add 2 egg yolks. Apply mixture to damp hair, paying special attention to roots and ends. Then wrap head with polyethylene and towel and leave the mask on for half an hour. Wash off of the cool water with a small amount of shampoo.

Burdock contains a large number of active substances that restore damaged hair. If you have no time to do mask, add a few drops of oil in a single portion of shampoo to wash hair. Pour the oil in the bottle of shampoo is not recommended because it can cause delamination.

Treat dry and damaged hair mask from yogurt and sour milk. These dairy products are applied to wet hair, liberally soaking dry ends. Keep these masks half an hour, then wash off with water or decoction of chamomile.

To nourish and moisturize hair, you can use the mask 2-3 egg yolks and 2-3 tablespoons of castor oil. Apply mixture to hair and wrap head with polyethylene. Wash off the mask can in 3 hours.

Quick help damaged and dry hair will have a mask with honey and olive oil. 1 tablespoon liquid honey mixed with 1 egg yolk and 2 tablespoons olive oil cold pressed. The mixture was spread over the entire length of the hair will insulate your head and keep the mask for an hour.


General guidelines

Go to a trichologist, who will prescribe treatment or recommend a vitamin complex to improve the condition of your hair. Perhaps he will recommend to go to another doctor, because the problems with hair can arise due to certain diseases.

Check your diet – dry and cross hairs can be caused by malnutrition. Eliminate fatty, sweet, savory, alcoholic and carbonated drinks, canned food, fast food. Eat more fresh vegetables and fruits that will provide your hair with vitamins.

Wear hats - do not expose the hair to the influence of frost and UV rays. To less damage to the hair, use combs made of wood or bristle. Do not wash your hair too hot water – it dries the hair severely.
Advice 2 : How to repair badly damaged hair
Constant exposure to weather factors, styling, drying and washing weakens the hair. More stressed they feel at colouring or a chemical wave. Created and lustre persist a little longer, and then begins the endless struggle with the dryness and hair loss. But to return them to healthy, you must spend a lot of restorative procedures.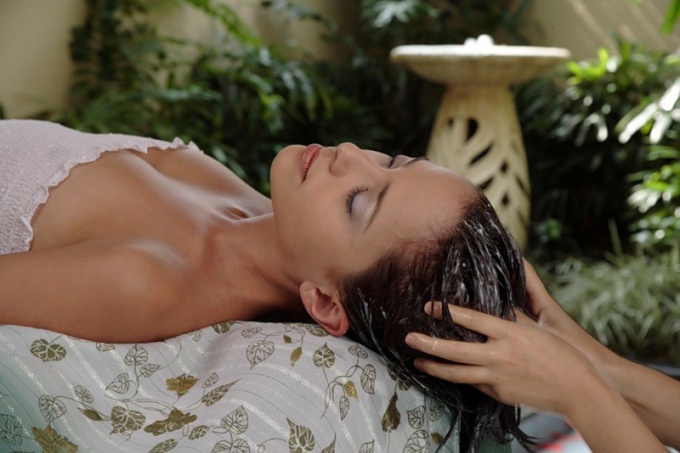 You will need
- the vitamins;
- herbs: chamomile, sage, nettle, burdock root, birch;
- vegetable oil;
green tea;
- honey, egg yolk, rye bread.
Instruction
For successful restoration of severely damaged hair, protect them, primarily from direct sunlight, frost, drying wind, chlorinated and salt water. Do not expose hair to constant impact tools for straightening or perming, hot blow-drying and frequent staining (if necessary, freshen paint only the roots).
Provide the hair with essential internal nutrition, i.e. vitamins and mineral salts. Most of them can be obtained from a properly composed diet. Within 1-2 months drink 1 glass of fresh carrot or carrot-Apple juice. Breakfast cook oat or buckwheat porridge or cottage cheese with sour cream and instead of sugar add 1 tsp of honey. For lunch, eat more plant foods, and raw, for example, cabbage salad and fresh herbs, dressed with olive oil. From the second course prefer sea fish and seafood. Protein foods is a must to restore hair. For their elasticity and Shine drink 6-7 glasses of water daily, but besides this, 2-3 cups of green tea and kefir.
For hair restoration take extra vitamins A, E, C, b, selenium, zinc and sulfur. Drink them within a month as part of a package or separately. And that they are well absorbed, stick to a healthy diet and follow bowel. About his normal activities can be judged by regular emptying.
So that all nutrients reach the hair follicle, make every night a head massage. Rubbing, circular movements to move fingertips in the middle from forehead to nape. Before washing the head use to massage the sea salt, then the hair will get also a lot of present mineral salts. But apply it to wet roots, so it does not crumbled, and after the massage, rinse with water.
To repair severely damaged hair, pay special attention to care. Use shampoos and conditioners for weak or damaged hair. For washing, use boiled water and rinse decoction of nettle, lime flowers or birch leaves. They give hair Shine and elasticity.
About 1-2 times a week before washing the head, make a mask for hair. To soften keratin scales that comprise the hair shaft, apply the mixture from roots to ends then the strands are shiny, smooth and manageable. Use more masks from oils, particularly cedar and burdock, or use them in combination with other components such as egg yolk, honey.
After colouring or perming is useful mask of herbs. Mix 1 tbsp of green tea, marjoram, nettle and sage. Pour 1 liter of boiling water for 15-20 minutes insist. Add to the strained broth 300-400 grams of rye bread and the resulting pasty mass is put on all length of hair. Cover them with plastic wrap and towel. Through 1-1,5 hours, rinse with water, and finally, rinse decoction of herbs.
To repair damaged hair, you can use and professional tools, for example, fortified ready solutions in ampoules. They are applied along the entire length of hair, and also added to shampoos and paints. Enough 2 week course, the hair again began to Shine. But it will last, you need to be concern about them constantly.
Advice 3 : How to make a chef's hat
Chefs and cooks in fairy tales are quite common. Therefore, for school or home performance needs and appropriate costume. One of its main parts — the large cap, which can remove the hair even the Princess, under the Director's plan found themselves in the kitchen. To knit this hat can with your hands.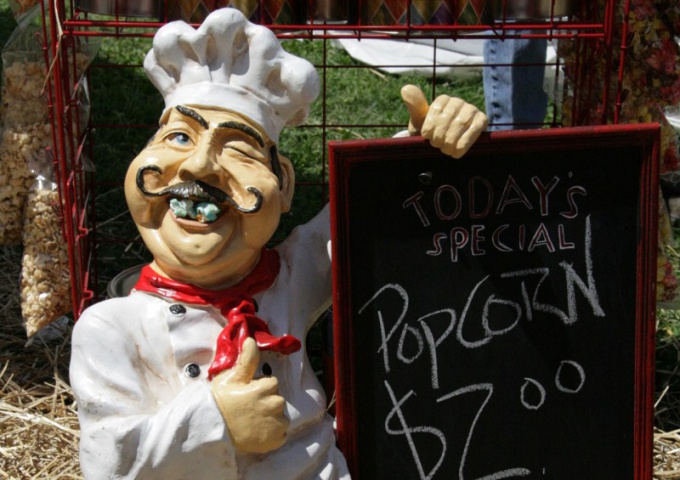 You will need
- white cotton fabric;
- cardboard;
- interlining;
- starch;
- sewing accessories;
- ruler, pencil and compass.
Instruction
Measure the circumference of your head. To cut the cap right on the fabric, but to someone who is not very big sartorial experience, it is better to carve out the right parts of paper. Most suitable graph paper. Draw a strip the length of which is equal to the circumference of your head. The width may be different, depending on the style of cap, but not less than 5 cm Strip of fabric should be folded lengthwise, so it will be 2 times wider. Draw a circle of a diameter approximately equal to the length of the strip.
Transfer the pattern to the fabric. It is best to use for these products, satin, calico or something like that. And fit the muslin, but in this case it is better to cut off a strip, folded four times instead of two. Not very suitable synthetic fabric. To outline the finer details on the reverse side. In a circle make an allowance of about 0.5 - 1 cm strips of fabric fold in half. Align the fold one of the long sections of patterns. For other parties to make an allowance of 0.5-1 cm Cut out of the workpiece.
Stripes reinforce the adhesive interlining in the entire area. Allowances can be not to glue. Fold it wrong side inside, align the cuts and zautyuzhte a fold line. Align the strip, fold it across the face inward. Sweeps and serecite short seam. You should have the wide ring. Fold it along the fold. Just made the seam should be inside the workpiece. Allowances on long sections zautyuzhte inside. You can do the job and in a different order. Glue the blank, fold and zautyuzhte allowances, and then sew a short seam.
The circle sew a seam "forward a needle" on the line that divides the surplus. Do not very large stitches. Will structure the item so that the length of the circumference equal to the length of the ring. Stock circle insert ring inside, baste and pristrochite close to the open edges of the strips. If the fabric is much bristling, cut the seam allowance corners, leaving to the circumference of 1 mm. Can be finished with a line of decorative stitching primaqiune. The hood is ready, but it must still rigidly starched.
Cook the paste at the rate of 2 tablespoons of starch to 1 liter of water. Hold it dome a few minutes to cloth soaked. Spread your product and put it on the disc (for example, on the right size Bank). Dry while the hood will be a bit wet. Iron and doushite on the disc.
Useful advice
The hood can be decorated with lace or embroidery. Embroidery position on the outer part of the strip. To decorate this product need to build. Lace stitching or attach when participarii the upper part of the cover to the strip. Prepare a strip, attach the inside edge of lace or sewing and baste to the outside of the billet along its entire length. Then sew the top. This ornament looks better if it prisborivat.