Products required for chocolate with mint


To prepare chocolate mint, you need the following ingredients:
50 grams of milk;
5 tablespoons (heaped) of high-quality cocoa powder;
2-3 tbsp. spoons of sugar;
1 glass of water;
6 sprigs fresh mint;
1 pinch Chile;
10 g of vanilla sugar;
Article 1.5. tablespoons of butter;
1 pinch of cinnamon;
the cleaned peanuts or almonds to taste.

In addition, you will need to prepare the equipment: a bowl, an enamel pan, spatula, whisk, potato masher, chocolate moulds.


Preparation of chocolate with mint


Tear off with sprigs of mint all the leaves, wash, dry and place in a bowl. Then pour this ingredient sugar. There add the chilli, vanilla and cinnamon. All that is necessary to thoroughly mix and leave for some time to mint managed to give juice.

Pour in a saucepan the cocoa and add milk. Carefully move the ingredients. You should get a paste. It introduces small portions of hot water. After which the mixture is again stirred and heated on low heat. It is important at this time to ensure that it is not burnt. Therefore, the mixture must be continuously stirred. Should get a homogeneous texture, which you can remove from heat after a few minutes.

Take the mint, sugar and again grind it. Then mix the resulting mass with chocolate paste. It add a little water and put on a small fire. It is necessary to constantly stir so that the sugar is completely dissolved. And then you need to add the butter and again mix well. Weight should be homogeneous. When she starts a bit of Shine you will need to remove from heat and let cool slightly. But no need to wait, when the mass thickens and becomes almost cold, because then it won't make a making chocolate.

Take the form and line a rimmed it with foil. There lay a thin layer of the first part of chocolate. Then evenly put the filling (almonds or peanuts), and then put remaining mixture. If you wish to make the mint chocolate no additives, it is possible to pour a little of the cooled mass into shape immediately, making layers.

Wait for the cooling of chocolate at room temperature, and then place it in the refrigerator. After a few hours you can enjoy the delicacy with mint. It will appeal not only to kids but also for adults.
Advice 2: How to make chocolate from cocoa powder and milk
Chocolate is not only delicious, but also very useful. This delicacy has properties to reduce blood cholesterol, reduces the risk of strokes and heart attacks, and flavonoids, which are present in chocolate in large enough quantities, contribute to the slowing of aging.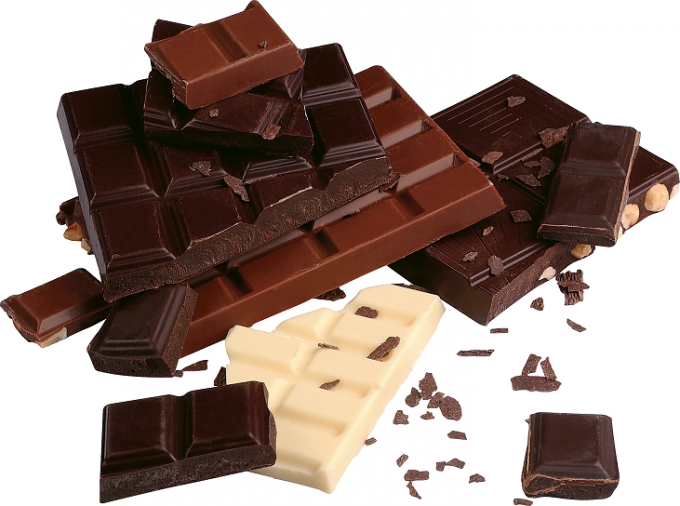 You will need
- 100 g of cocoa powder(get the powder, which has no additives);
- dessert spoon of sugar(or icing sugar);
- 50-70 g of fresh butter;
- 120 g of milk fat content above 3 % (6 tablespoons);
- tablespoon hazelnuts;
- tablespoon of raisins.
Instruction
Take a small saucepan and combine in it sugar and
cocoa
. Add to the mixture half of the cooked milk(milk can be replaced by cream, in this case, the chocolate will be more creamy) and mix everything thoroughly and whisk to avoid formation of lumps.
Put the saucepan on the stove and gradually pour into it the remaining milk, continuously stirring the mass of chocolate. Cook the chocolate for 15-25 minutes on a slow fire, it is necessary that approximately 1/4 of the liquid evaporates.
Chop hazelnuts with a knife, fry it in a hot pan without oil. Raisins for five minutes pour hot water with a temperature at least 70-80 degrees. Drain and dry the berries (use disposable towels).
In the hot chocolate mixture, add fresh butter(if your refrigerator has cocoa butter or coconut, replace any of these oils, butter), crushed roasted hazelnuts and raisins. Thoroughly mix these ingredients and pour in a special form, pre-greased with butter. Let cool the chocolate at room temperature, then place the mold in the fridge for a couple of hours.
Get in shape with chocolate and then add the delicious and flavorful dessert for any flat dish (to do this, for five seconds form with a chocolate dip in boiling water, then just turn it on a dish or tray).
Note
In chocolate you can add hazelnuts and raisins and any other nuts and dried fruits. Rather unusual taste of the chocolate, made with milk and mint.