Lightening hair
Clarification is the removal of pigment from the top layer of hair, and color - change. It is impossible to lighten hair without causing them harm. Dry hair, split
ends
, dull colour – often this effect gives lighting, especially if you decided to do it at home by yourself.
But the decision is made, the blond hair and all. But after a short time, the appearance begins to spoil pretty appear yellow hair. And then the question arises: "what to do"? The bleaching is an aggressive method of influence on the hair and scalp. To dye the hair after bleaching of course possible, but not desirable, it is better to endure a couple of weeks. All the hair was stress.
Choose what is better
The simplest solution to put on hair shampoo that is added to the normal wash head and wash is the most gentle tool.
Purple
shampoo neutralizes the yellow. The main thing is not to overdo it, if you overdo the shampoo on the hair will be the owner of purple hair. Keep the product in two minutes, in this case, the result is closer to white.
In any case, do not use after bleaching resistant inks, this will only intensify the degree of damage of hair. Ideally, we need to help the nourishing hair masks. You can dye your hair without dye – grandmother left a legacy of a large number of recipes. Chamomile, honey and lemon will give your hair a Golden color and lighten. With normal tea it is possible to obtain reddish-brown color. But if you rinse the hair infusion onion peel, the hair is not only strengthened, but also acquire Shine, and the color will depend on the richness of the broth. Apply a hair mask of honey, put the rubber cap and leave for ten hours. Hair will be brighter, and will remove unwanted stains and hair will be silky and shiny.
You need to remember that bleached hair is very difficult to evenly paint in the desired color. So the darker shades are very difficult fall and the paint is washed off quickly. The result may be unpredictable, hair can prokrastsya unevenly, and the color may not be as they expected. To avoid surprises, trust the experts, who will select a suitable for your hair gentle remedy that will stay in your hair, and advise gels, masks or cream to restore hair and scalp, if required.
Advice 2: How to choose paint to lighten hair
In the XX, Marilyn Monroe was brought into fashion dazzling blonde. Millions of girls around the world rushed to emulate his idol and lighten
hair
. Hollywood beauty, Sharon stone, Pamela Anderson, Madonna, Uma Thurman maintain the craze of blond curls and inspire women to disguise themselves as blondes.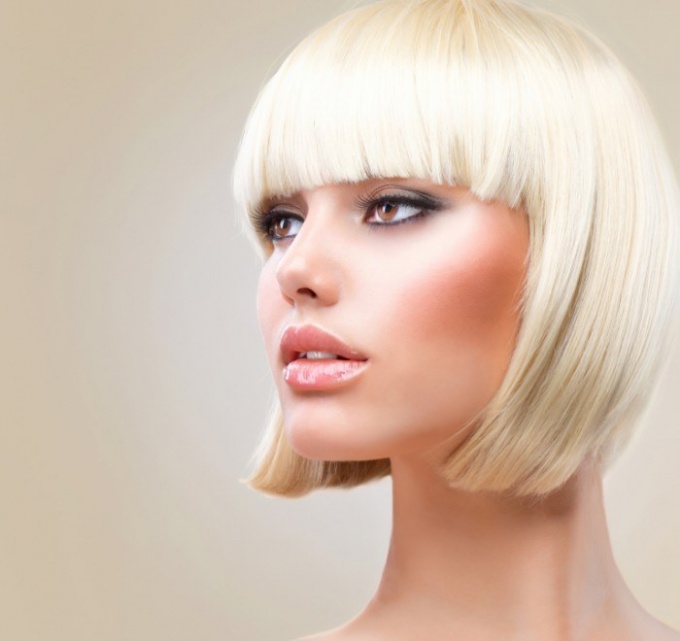 Instruction
Not all know how to correctly lighten hair to a beautiful shade, and it does not spoil the hair. The appearance of unwanted discoloration immediately after staining or the week after that, perepalennye and dry hair, too dark roots are killing all the desire to experiment and frighten women. If you decide to lighten your hair, carefully approach the choice of colors. Prefer professional brands, long-proven in the case. In addition to the colorant, they usually contain ingredients that help not mess up the hair coloring process. Loreal Professionel, Matrix, Paul Mitchell, Gold Well, Wella, Bess has long received high marks hairdressers and their happy clients. When choosing colors do not follow the picture on the box, it may be very different from expected results. Better look at the palette in a special album.
It is impossible to lighten hair and get beautiful blond not knowing the basic rules of color and dyeing. Even if you buy the most expensive paint, most likely the result will greatly disappoint. If you want to lighten hair more than one tone, do not expect to do it in one shot and not spoil the hair. In this case, you have to first lighten your hair with a special powder, and then tint them. Otherwise, a yellow or even a greenish-red shade of hair you can not avoid.
Bleaching is best done by 6% of the oxidizer. To start, visually divide the hair into three parts – touch-up your roots, middle and ends. Apply on hair composition in a ratio of powder : the oxidizer is 1 to 2, and wait a maximum of forty minutes. The optimal time will depend on the condition of the hair and the original and desired color. Rinse composition without sulfate shampoo without using conditioner. May need to repeat the procedure again. In this case, apply the composition again only on the length avoiding the roots, and soak for another 20 minutes.
As a result of this clarification, you can get two options – either hair color will be yellow or orange. Don't worry, you're not done yet. Now you are going to tint hair. Remember the basic rule: yellow corrector neutralizes blue, orange grey. Paint after bleaching mixed with 3% of oxidizing agent and is applied immediately on the entire length and gently massage into a rich lather. Hold for 20 minutes. If you did everything right with the technology, the result will please you.
Do not try to lighten the hair if they are very dry and brittle. You risk being left with almost no hair. Besides porous hair a little differently absorb the paint. First, restore the hair with the help of competent care, nutrition and vitamins. In some cases, especially lifeless curls have to cut more, and then proceed to staining. Don't even try to lighten hair during the critical days of pregnancy. Changes in the hormonal background will bring you unexpected results.
Remember that to be blonde is expensive. Bleached hair in need of care, more than any other. Be sure to buy a special shampoo and conditioner to preserve color. Professional brands have a series of tools designed specifically for blondes. They are composed of sequences of colors, which are able to fight the yellowness and leaching of paint. Do not use aggressive, and better without sulfate shampoo and nourishing hair mask.