Instruction
First of all, do not confuse the shampoo with the balm. Environment shampoo, alkaline, and balm – acid. The shampoo not only color, but also hair shampoos, and therefore, to maintain the color you can use it every day, but the main purpose of the balm is a treat, adding a little hair color.
Shampoo should be applied always after the main wash to clean damp hair (not wet, water must not drain them). Better if before applying a toning shampoo you dry them lightly with a towel or Hairdryer. This will ensure a high-quality coloring.
Note the label on the packaging of shampoo. There is a very concentrated formulations of shampoos, and many experts advise in this case to separate them. Especially if you have blonde hair or you just want to improve their color, but not change it radically. More caution should be treated with toning shampoos for blondes and people with damaged hair (chemistry, frequent use of Hairdryer and styling products, etc.), because coloring hair in a single color, you may get a very different (for example, instead of chocolate bright red). To avoid this, it would be better to apply to the hair, dilute the shampoo: 2-3 teaspoons of shampoo per litre of warm water. Also the concentrated composition can be diluted with regular shampoo in the ratio 50: 50, apply to hair, lather and rinse with warm water.
Shampoo is applied directly onto the hair and spread throughout their length by means of foaming. Do not overdo it, rubbing it into the hair roots as you dare to stain the scalp that will not look aesthetically pleasing. Use a comb, preferably a regular comb, not a brush to distribute evenly on all length of hair. Can I hold a part time on the hair, so the color will be more bright and saturated.
If after using a toning shampoo color did not suit you, no need to worry, because it will wash off after a few days. Then you can try another tool better suited to your hair.
Advice 2 : How to wash shampoo
Coloring shampoos can emphasize the natural color
hair
women, giving it a deeper shade. They give you the opportunity to experiment with hair color without fear of fatal consequences. The pigments included in the composition of the colorant does not penetrate into the hair structure, and are distributed on their surface, so wash out after a few treatments, shampooing. But sometimes it so happens that a new shade is not approached and wash it out faster.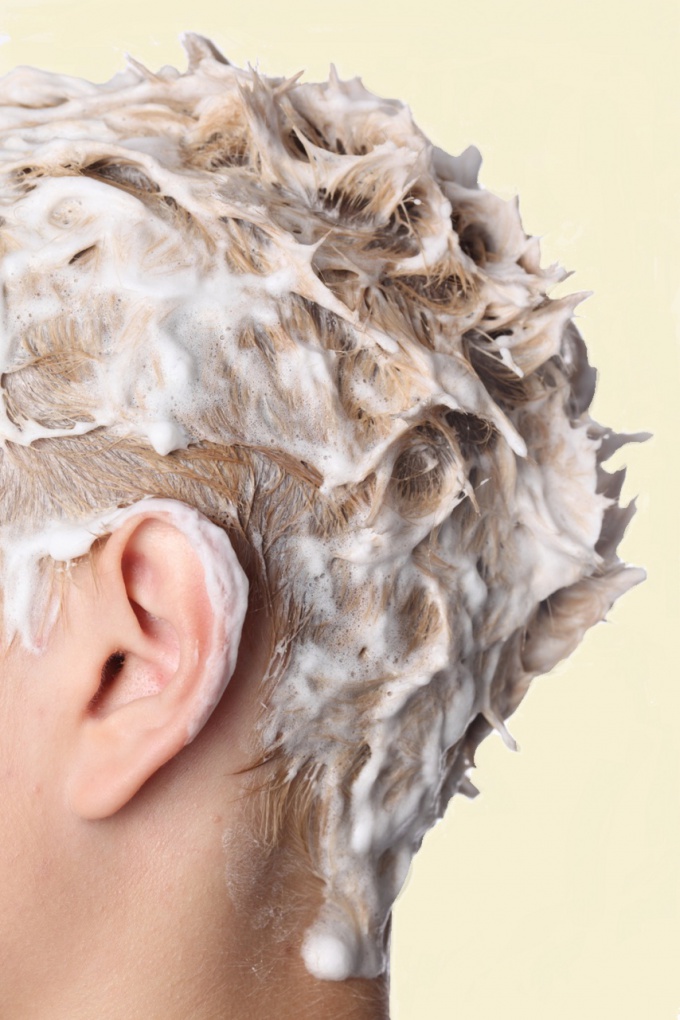 Instruction
If you applied a toning shampoo in accordance with the enclosed instructions and strictly follow all the recommendations, the shade will gradually fade and almost completely washed away for 7-10 times. Wash your hair daily, then a week later, the shade that does not suit you, will disappear.
In that case, if the toning shampoo was applied on bleached hair or on fresh Perm, can be unpredictable and quite long-lasting colour effect. It happens if you used a different color shampoos, before completely washed away the previous color. In this case, the solution may be a repaint. Do it from professional masters, who will pick up the right shade and correct hair color.
There are special professional tools, with which you can wash off even persistent hair dye. They are produced by cosmetic companies and companies in the hair care and represent usually shampoo and deep cleaning emulsion for removing paint from hair.
To make the tone less bright and intense, you can put on the hair mask. Its purpose is different, but the effect it also will allow you to obtain.
Use folk remedies – oil or kefir masks. Kefir apply to hair, put a rubber or plastic cap and wrap head with a towel. Leave the mask on hair for 1.5 – 2 hours, then rinse with warm water.
The pharmacy can buy black soap "Grandmother Agafya", wash the head several times, the paint should go. This soap is natural and does not contain substances capable of causing great harm to hair. But after all the recovery procedures still do a couple times a hydrating mask for your hair to come to life after all these stress.
Advice 3 : Men is different from women's shampoo
On the shelves of supermarkets and cosmetic stores today you can see many kinds of shampoos. Including funds intended for men and women. The consideration of physiological characteristics of both sexes helps each customer to find "your" shampoo, providing optimal hair care and scalp.
Many consumers believe that women's and men's shampoos are distinguished by their extremely flavor. But it's not just the smell, the composition is also of great importance. And what's coming up for grooming men's hair, not the best way affect the condition of the scalp and the curls of women. Differences in the set of ingredients of the means are explained by the difference of acid-base balance the strong and the weaker sex.
The difference between women's and men's shampoo
In women the balance of pH is 5.7, and
in men,
and 5.4. This substantial difference in the parameters of acid-base balance explains the increased secretion of the sebaceous glands at men. So the guys quickly become greasy hair, often the greasiness of the scalp accompanies dandruff. To provide care of such hair, manufacturers enrich men's shampoos are useful adjuncts. For example, zinc, which helps to eliminate Shine and to normalize the secretion of the glands of the scalp.
Often, manufacturers offer men the shampoo with conditioning properties – such novelties to avoid burdening the hair, ensuring the scalp is taken care of. Plus it is not necessary after shampooing using balm.
Men can purchase generic shampoos-gels that will help to clean up and hairstyle, and body. It is worth noting that the guy not only greasy, but also sweat glands, hair follicles, skin tighter, and the circulation is more intense. That is why the famous cosmetic brands are creating shampoos that provide an intensive cleansing of the scalp and hair.
Is it possible for women to use men's shampoo?
Obvious difference between men's and women's shampoo is more intense aroma care products for the hair a strong half of mankind. Often the production of these shampoos are used notes of mint, lime, the smell is so powerful, refreshing and dynamic.
The division of shampoos on the basis of gender pursues another goal, in addition to providing quality care. Many men suffer from hair loss, to combat this scourge, in the shampoo can log nutrients that stimulate the growth of hair. These cosmetic products to strengthen hair – however, women's shampoos, you can find products with similar characteristics.
To care for mens hair better to find shampoos with sulfates is they are good clean scalp, in contrast to tools with a softer composition.
Despite the slight difference in the composition and appointment of men's and women's shampoos, girls can use the funds for hair care products designed specifically for guys. More important is that when choosing the shampoo buyer to take into consideration the condition of the hair and their type, and response to cosmetics.