Krupa, suitable for soup


Vintage recipes soup do not require the addition of any grains, because since ancient times this dish was cooked exclusively from a single variety of fish, greens and aromatic roots. And ate this soup with bread in ordinary days, and the pies – on holidays. Hence names such as ear sterlet, sturgeon and other ear. Over time, this dish started to cook several types of fish, which definitely gives rich, fragrant and slightly sticky broth. This soup, for example, can be obtained from the carp, crucian carp, carp, sturgeon or halibut.

Well, to make CCS more hearty, you can add a small amount of cereals. Best of all, of course, suitable barley – it will give this dish the required viscosity. This cereal definitely pre-soaked in water for several hours, otherwise it will cook very long. And in the ear it is added before the potatoes and cook for 15-20 minutes. But grains in ear in any case should not be much, otherwise the dish will begin to resemble more porridge than fish stew.

Also in the ear are often added to wheat or rice. This cereal is thoroughly washed in cold water several times and put in about 10 minutes before end of cooking. However, although fish is combined with rice, a dish of such grains will have more like fish soup than a real ear.


A recipe for delicious fish soup with barley and vodka


To prepare this dish you will need:
- 1 large fresh carp;
- 3 liters of water;
- onions;
- parsley root;
- Bay leaf;
- 4 potatoes;
- 6 peas of fragrant pepper;
- salt and ground black pepper to taste;
- a shot of vodka;
- 5 tablespoons of pearl barley;
- bunch of green onions and dill.

Pearl barley wash and soak in cold water for 3 hours. Meanwhile clean the fish and gut, do not forget to remove the gills. Wash thoroughly under running water. Cut the head, tail and fins. Put them in the pot along with the parsley root and onions cleaned. Cover with water and bring to a boil. Then carefully remove the foam, reduce heat and simmer, uncovered 15 minutes.

The head will slide onto a plate, and tail fins, onion and parsley – throw. Sieve the broth, again put on fire, add the remaining fish and pearl barley. After 15 minutes, add to soup coarsely chopped potatoes. When it is almost ready, season with salt soup, add the Bay leaf and allspice. After 5 minutes, remove Bay leaf, pour in soup a glass of vodka, pepper and sprinkle with herbs. Cover and let stand 10 minutes.
Advice 2: How to cook soup of crucian carp
Ear is one of the oldest dishes of national Russian cuisine. Try to cook her carp. Despite the fact that there are a lot of small bones, high compared to other inhabitants of fresh waters the content of nutrients and amazing flavor makes this fish a perfect choice for cooking hot soup.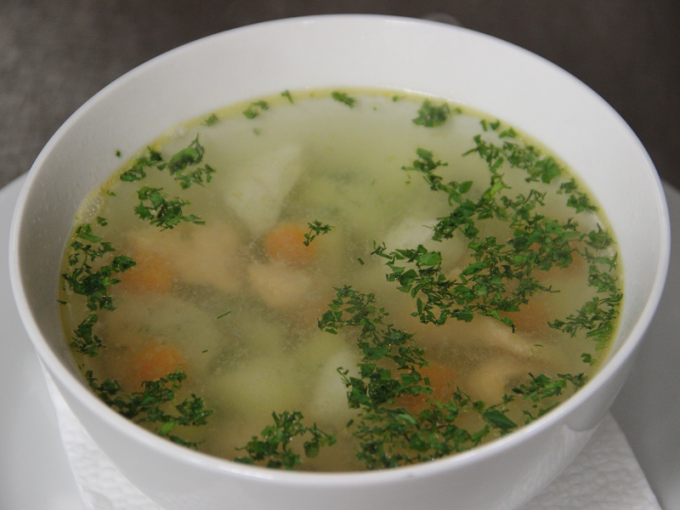 You will need
For a simple fish soup of carp:
- 1 kg carp;
- 3 liters of water;
- 1 onion;
- 5 sprigs fresh dill;
- 4 pea black pepper;
- 1 Bay leaf;
Sol;
For a fish soup of carp with vegetables and millet:
- 1 kg carp;
- 2 liters of water;
- 2 bulbs;
- 3 potatoes;
- 30 g of celery;
- 100 g of wheat;
- 2 cloves of garlic;
- 2 Bay leaves;
- pinch of black pepper;
- 5 grains allspice
- dill;
Sol.
Instruction
A simple soup of crucian carp

Carp wash under running water, clean off the scales, cut the gills, fins and tails, remove the giblets and again thoroughly wash the fish. If you got eggs, don't throw it away, and put in a bowl and save. Attached to the end of the cooking in soup it will give it a beautiful amber color and slightly lighten the broth.
Cut fish head and cut each carcass into 2-3 cross piece. Put all in a saucepan, cover with cold water and place on high heat. As soon as the liquid boils, lower the heat to medium index and collect the resulting foam with a skimmer.
Remove the husk of the onion, cut it crosswise in half and dip in the soup. Cook carp 15-20 minutes, then remove the boiled head of the vegetable and discard. This way you will give the broth a desired taste and smell, but the pieces of onion will not swim in it, creating an unsightly picture.
RUB the spawn in a mortar and put it in your ear. Season the dish with pepper, Bay leaf, chopped dill and salt. Cover pot and simmer fish soup for another 15 minutes.
Soup of carp with vegetables and millet

Prepare the fish as in the previous recipe, boil, carefully remove from the broth and set aside.
Clean the vegetables and cut them the potatoes and onion – diced, garlic – in small pieces, carrots and celery – straws or on a coarse grater. Wash the millet several times and douse it with boiling water.
Lay potatoes, carrots, onions and celery in boiling broth, boil again and stir in grits. Simmer the soup for half an hour, then give him pieces of carp, toss the garlic, both kinds of pepper and Bay leaf, and salt to taste.
Cook a fish soup of carp for another 7-10 minutes on medium heat, remove from heat and let stand for a bit. Pour hot meal on plates and sprinkle with chopped dill.