Smooth complexion is a kind of canvas, the basis for a perfect makeup. However, constant use of Foundation, especially in the hot summer fraught with clogged pores and congested skin. Does this mean that from the Foundation of the funds needed to give up completely? Not at all!


Decorative cosmetics

If you are unable to refuse the masking, use concealer. Due to its dense texture, it copes with skin problems by masking pimples, capillaries, and even bruising. Apply the concealer should be a synthetic brush directly to the place that you want to hide, you have to carefully feather the border.

For dark circles there are special scissors called concealers. They have a liquid texture, not dry the skin and does not accentuate wrinkles. Correct concealer will blend in with the General tone of the skin and eliminates the need to cover your whole face.

Another alternative to Foundation cream – powder. Its main advantage in a lighter coating, the skin breathes. A mineral powder in addition to decorative function, has antiseptic properties, has a positive effect on the skin and is the most resistant.
The powder can be used alone or in combination with a corrector. Apply a large round brush from the center to the borders in a circular motion.

If your skin has serious flaws, take a look at moisturising cream with toning effect. This cream 2 in 1, it moisturizes, aligning skin tone. A great option for summer and for everyday makeup.

Today's popular BB creams, even CC creams will help not only to replace the Foundation, but also a couple of other funds in the purse. BB cream (from the English. "balm imperfections" will not only disguise the problem areas, but with regular use will reduce them to a minimum. A SS-cream (from the English. "color correction") will add radiance and a healthy look.


Not only beautiful, but also useful

There are many ways to improve the skin folk remedies. The most simple and budget include herbs. Freeze ice cubes of green tea or chamomile, parsley, calendula. Wipe your face every morning, and the skin will look fresher, pores less noticeable. To even skin tone will help mask of cucumber, cheese and sour cream. And get rid of the problems on the skin is a clay mask.

Also in the Arsenal of many cosmetic brands are cream, with which you can get rid of freckles, age spots, redness. They have a bleaching effect, creates refreshing skin and contain UV filters.
Advice 2: How to apply concealer in the summer
Concealer is a cosmetic product which serves as a base for makeup. It hides minor imperfections, protects skin from ever-changing weather, wind, sun, rain, temperature changes.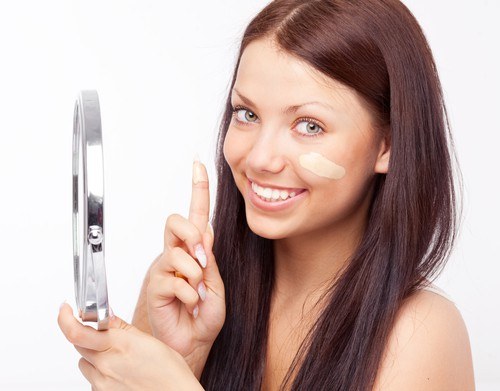 Concealer for summer

When choosing your Foundation and main criterion is the type of your skin. You also need to pay attention to the cream: do you have allergies to its components. Don't forget, summer makeup includes pastel colors, bronze and orange shades. A good choice for you for the summer will be a powder bronzer. You will always have the perfect shade of tan, even if for some reason you can't be in the sun.

Vegetable oil included in the composition of Foundation, quickly absorbed, does not form the face film, and cause the pores. These types of creams are easily perceived by the skin. If you have oily skin, with this choice you have to be careful. Concealer should not be noticeable, especially in the summer. Otherwise your face will look sloppy.

If you have dry skin then this time of year you need to give preference to creams based on water having a fine texture and contains UV filters. This Foundation will allow the skin to breathe.

In summer the skin becomes oily, and the makeup was perfect, you have to understand that one of the creams will not solve the problems. Need face cream that regulates allocation of sebaceous secretion.


Trick toning

On cleansed face, apply the cream–based. Concealer is preferably applied, after waiting at least twenty minutes. To understand how will look like your skin is on the outside, the toner is best applied in daylight or close to it. Depending on lighting the shade looks different.

Shade Foundation or any other cream from the center to the periphery, in any case without stretching the skin. If you are using liquid Foundation, apply it better with fingertips, like gently hammering into the skin.

If the makeup you're using the sponge-sponge, it is better to moisten it with water, and then apply the cream. Use the brush? This tool is better to buy from an artificial material.

Whatever you put on her makeup, the main thing is not to overdo it with quantity. Instead of a well-groomed person can obtain the effect of the mask. We must not forget about hand hygiene and, of course, not to forget clean brush or sponge. It's easy to clean with warm water and soap.

If happened that you have purchased a shade slightly darker than you want, just mix it with your day cream. Make sure make sure after applying tone means color difference between neck and face were minimal. Ideally, it should not be.

When buying concealer, if there is doubt, consult with a specialist. And, of course, do not expect that the Foundation will cover that. If you have serious skin problems, it is better to consult a dermatologist or a beautician.
Advice 3: It is better to use a corrector or concealer?
To mask small defects of the skin can be used as a corrector and concealer. At the same time to solve different problems, it is necessary to pick up various correcting means.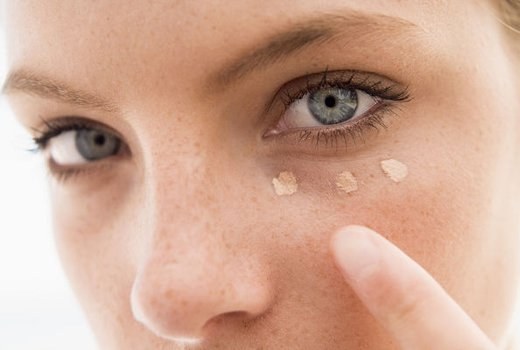 What's the difference from the corrector concealer


For masking skin imperfections you can use various cosmetic products. At present, small defects do not need to mask a powder or a Foundation or applied on the face a thick layer of makeup. The problem of rashes on the skin, dark under-eye circles and red spots perfectly cope cosmetics that should be applied to the skin spot.

Some manufacturers do not distinguish between the corrector and the concealer. Both funds are intended for spot application to the skin. Both perfectly conceal skin flaws. In fact, each of these products has its own characteristics.

Concealer is a thick concealer in Nude. Most often it comes in a tube with a foam applicator or a small tube with a brush. We also offer concealer as a cream dispenser. Concealer should be matched to skin tone. Usually manufacturers produce this tool in several ways.Concealer can be slightly lighter than the base skin tone, but not darker.

Concealer is a cosmetic product that is designed to mask, neutralize certain defects. Unlike the concealer, it can have different shades. For example, the redness on the skin will help to disguise concealer of green shade. Yellow correctors neutralize bruising, purple circles under the eyes.

Concealer generally is applied under powder or concealer. It can neutralize unwanted shades on the skin and then use powder or liquid tones should give the face a uniform tone.

And correctors, and concealers, generally produced in tubes or jars of small volume, as the funds intended for the targeted application, which implies a minimum consumption.


Which is better : concealer or concealer


On the question of what kind of concealers you should give preference, there is no universal answer. For different problems we need a completely different means.

The concealer is very convenient to apply on the eye area. With it, you can easily even out skin tone to give the look of expressiveness. It must be remembered that for this area it is impossible to use conventional makeup designed for face.

Corrector is very convenient to mask defects such as bruises, pimples, dark circles. If the skin has too visible imperfections, their shade is desirable first to neutralize the proofreader, and then proceed to applying makeup on the face.

For eye makeup is more convenient to use a concealer. Using this product will be able to slightly even out skin tone and give the face a fresh, rested appearance.