Sauce "blue cheese": an original American recipe
Ingredients:
- 150 g of cheese with blue mould (Roquefort, Gorgonzola, Dana blue, Lance d'ambert, Bleu d Overn, DorBlu, etc.);
- 250 g creme fraiche;
- quartered lemon;
- pinch of ground black pepper.
Creme fraiche is 30% fermented cream. It's kind of a French version of sour cream, but unlike less acidic, does not clot and does not form flakes when added to hot dishes.
Grate the blue cheese on a coarse grater and place in a glass bowl. Sprinkle ground black pepper and drizzle with lemon juice. Add in a bowl of cheese flavored chips and creme fraiche and mix well. If you need a smoother sauce, grind all in a blender. Let stand at least for half an hour at room temperature. Creme fraiche can be prepared independently according to the following recipe.
Creme fraiche is the basis of this sauce "blue cheese"
Ingredients:
- 200 g of 33-38%-nykh of cream;
- 2 tbsp starter culture (yogurt, yogurt, yogurt or buttermilk).
Remove the cream and starter culture from the refrigerator 40 minutes before cooking crème fraiche. They should be at room temperature so the fermentation process will go faster.
Pour the cream into a glass jar and mix with the yeast. Tightly close the bowl with a lid, cover with a clean dry towel, wrapped in a blanket or blanket and put in a warm place with no drafts for 12-24 hours. As soon as the cream thickens, stir them with a spoon and refrigerate for another 6-12 hours. Homemade crème fraîche is not only a wonderful basis for the sauce "blue cheese", but is almost a complete replacement of the expensive mascarpone in cakes.
Sauce "blue cheese": the European version
Ingredients:
- 100 g soft cream cheese (Buko, Philadelphia, Almette);
- 1 jar of 2% natural yoghurt (125 g);
- 100 g of cheese with blue mold;
- 2 or 3 cloves of garlic;
- 1/3 tsp white pepper.
Clean the garlic cloves from the skins and crush them in a special press. Combine in a bowl soft cheese, yoghurt, grated cheese, garlic and pepper and mix everything with a whisk or electric mixer on medium speed.
Sauce "blue cheese": Russian version
Ingredients:
- 100 g of cheese Dor-blue;
- 4 tbsp 25-30% of sour cream or 33% of the total cream;
- 1 tbsp of lemon juice;
- pinch of black pepper;
- 15 g of fresh dill.
DorBlu mash with a fork and carefully stir with sour cream, lemon juice, black pepper and chopped dill.
Advice 2: How to prepare milk sauce
The milk sauce will soften and set off the taste of any dish, whether baked cottage cheese pudding with raisins, or chicken cutlets. Milk sauces can be done in different degrees of density as well as sugar (for sweet dishes) and salt and spices to meat, pasta or fish. They are widely used in diets due to the low sharpness and a delicate texture.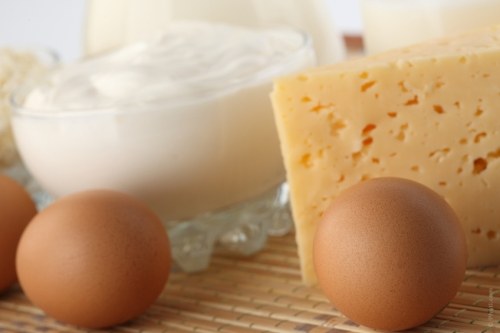 You will need
40-120 g flour
salt or sugar
butter or vegetable oil
Instruction
Most dairy sauces: milk and onion flour ( wheat flour, pan-fried until Golden or light brown color and mashed with butter). According to the canons of French dishes, this onion is called a Roux. You can also cook the sauce on the potato flour, not fried.
The basis for a milk sauceand is prepared as follows: cook the onion, mix it with hot (not boiling!) milk, stirring constantly to avoid lumps, add salt and boil for 5-7 minutes. The amount of flour to sauteed depends on the density of the sauceand you wish to receive.
When the sauce slightly thickens, you can add grated cheese, chopped mushrooms, greens, egg yolks, or chopped boiled eggs, browned onions, spices – as far as your imagination will suffice. Very thick sauce used for stuffing, a semi-liquid can bake the meatballs or add it to vegetable dishes. Liquid dairy sauceAMI watered ready meals such as casseroles, pasta, they also can braise meat or fish. Very tasty this sauce with grated cheese and nuts in combination with pasta dishes.
The famous French sauce Bechamel is a milk-based flour and sauteed. Add nutmeg, Bay leaf, black or white pepper, and flour pounded with butter and diluted with a small amount of broth. The type of broth depends on what dish is being prepared the sauce: meat broth, fish fish.
Dairy dessert sauces cooked in the same way as savory, but is usually liquid and instead of salt add sugar and vanilla, it is also possible to taste add cinnamon, cocoa. Usually served them with cottage cheese and fruit dishes. Try to cook the pumpkin in milk sauce: saute the pumpkin slices, place on a greased pan or form, pour semi-sweet milk sauceom, sprinkle with breadcrumbs and bake in the oven.
Note
In milk sauce, you can't add vinegar or other acidic seasonings, otherwise the sauce will curdle.
Useful advice
To prepare dishes milk sauce are served slightly cooled (70-80oC).