"Boot-cut" or flared jeans
The name of this model of jeans comes from two words: "cut" – cross "boot" – boots, shoes. These denim pants hug the thigh, slightly expanded from the knee. This model is with a low waistline. Flared below the knee, these jeans cover the shoes. The model flare fit for those who prefer not to tuck the pants into the shoes. Plus, jeans "boot-cut" is the most popular model, which sits perfectly on any figure. Flared jeans are perfectly combined with classic shirts, sweaters and fitted shirts. It is most advantageous it will look with heels.
Buying jeans without adding any synthetics, it is better to buy one size smaller, since they are a little stretched.
"Skinny" or tight jeans
These jeans differ a fitted style. This model is very tight on the body, emphasizing the slender silhouette. Combine skinny jeans with tops and shirts casual jumpers and switchtime oversize. Typically, tight jeans model most appropriate in a relaxed atmosphere and is not suitable for the office dress code. Now the trend of the "skinny" in the style "grunge" with a broken leg and a faded wash. They go perfectly with chunky boots and plaid.
"Classic" or straight
The classical model of jeans is suitable for almost everyone. This kind of denim pants is an integral part of the basic wardrobe of every woman. They go together with almost all clothes and shoes, and the classic model in dark blue visually elongates silhouette and conceals imperfections. The classical model of jeans never goes out of fashion for several years now. This season pay attention to straight jeans light blue color with worn effect. And those outfits grunge like artificially aged model with holes.
When choosing jeans, it is better not to save, as good quality denim pants go with everything and last a long time.
Boyfriend Jeans or jeans mens style
For several consecutive seasons in fashion jeans in men's style. They not only emphasize the femininity and fragility of their owner, but also incredibly convenient. Boyfriend jeans look great with sneakers and boots and heels. Combine this model with a shortened t-shirts and switchtime. Typically, this style of jeans is slightly cropped leg for a profitable shading delicate female ankles.
Twisted or jeans with offset side seam
This model of jeans is perfect for owners of full legs. Offset side seam visually makes the body slimmer and legs longer. Wear this model with ankle boots and tunics with a wide belt at the waist. Jeans with offset side seam, as a rule, extend from the knee, so a perfect addition to them will be the heeled shoes. In order to visually adjust the shape, choose a dark blue or black. Also, visually pull the silhouette help vertical wear on the leg.
Advice 2: What are the different styles of jeans?
From working clothes jeans long turned into a comfortable everyday trousers, loved by guys and girls. This resulted in a lot of styles, allowing you to choose the thing on the figure and taste. Every kind of jeans has its own name, a certain specific cut and fit.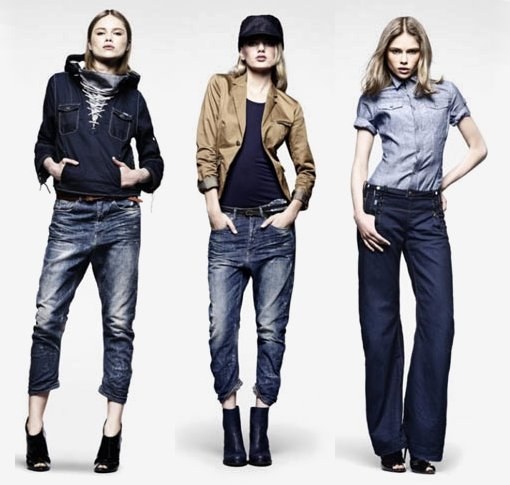 Styles of jeans: fit
Styles of jeans are separated by two parameters: the fit and design. The first determines how high/low is the waist line. The second point is responsible for the appearance and style of the pants.
Planting can be of four types. First Brazilian. This style differs ultrasonically waist: the top edge of the pants is below the belly button at least 6-8 cm Jeans Brazilian landing located right on the hips. The pants are so open style is ideal for girls with toned tummy.
Pants with the Brazilian landing should not be worn in the winter: they are very honest. You can easily sastadita buds or appendages. This style is perfect for the summer.
The second type of fit is low. In this case, closure will be placed below the navel 4-5 cm These pants will allow you to visually lengthen the waist, making it more pronounced. The style is very comfortable, suitable for summer and for winter.
The third type is mid-rise. Waist jeans is almost at the level of the navel, minus 2-3 cm Style ideal for a women who has a tummy or have small deposits on the sides.
High waisted – fourth style of jeans. The belt can be waist high, so be a few inches above it. The last option is the most popular today. These pants can emphasize the waist and visually lengthen the figure.
The difference styles of jeans to cut
Jeans with a straight leg, free or slightly tapered, are called classical. This style emerged one of the first, and still popular in many countries around the world. These jeans are practical, comfortable and look good on almost any figure.
The names of the styles may vary depending on the country of origin. For example, there are three classics standard notation: straight, regular fit, classic.
Style boyfit you'll be a loose fit at the hips. Also there are several narrowed down leg and very low rise. "My boyfriend jeans" is perfect for girls with narrow hips who are fans of casual style.
Jeans style skinny very tight legs from thigh to ankles. These pants – the perfect companion to long knitted sweaters, tunics, high boots. However, will suit skinny exceptionally slender girls.
Pipes is a great alternative to the previous option. Jeans this style is very popular today: they can be worn with straight leg and fashionable rolled a few inches. You can combine pipes with cropped sweaters, pullovers, stylish blouses and hoodies.
Jeans style flare from the hips have a very wide leg. They perfectly conceal the fullness of the hips, make the silhouette slender and elegant. These pants match with silk/chiffon blouses and simple shirts that tight.
Another popular style, flared from the knee. Stylists claim that jeans of this cut will suit any body shape. Flared trousers elongate the legs and balance out the silhouette.