Instruction
Taking a puppy from the first days organize it proper nutrition. The feature of the spaniels - great appetite and omnivorous. The puppy should eat four times a day, after six months, it can be converted to two meals a day. You can feed the dog with industrial pellets and canned food, or cook her a meal yourself. Spaniel need cereals, meat, dairy products and small amount of vegetables. Below long dog's fur look perfect, add to her food a little vegetable oil.
The long silky coat of the breed needs constant care. Visivite Spaniel daily, paying special attention to ears, belly, thick "skirt" and "trousers" on its hind legs. For the grooming needs of a comb with long teeth, scissors for vystrogana mats and a small brush.
From time to time wash your dog with a special shampoo for long hair. Ordinary Soaps and shampoos are not suitable. Cocker spaniels require trimming and grooming - its can do in a grooming salon.
To protect the dog from dirt while walking, take care of her wardrobe. Spaniel useful knitted hat elastic, which protects long ears from dirt and water. For the off-season, the dog need waterproof overalls. For the summer is to buy a light mesh jumpsuit - it will save a thick coat of leaves, dry twigs and small debris. Winter clothing Spaniel is not needed - a thick coat perfectly protects the dog from cold.
Spaniel requires long walks and active games outdoors. Take it with you to run errands, get out of town, if possible, allow your dog to swim - spaniels love the water.
Follow pet health. Time to put the Spaniel all the necessary vaccinations. Regularly inspect the eyes and ears of the pet. Spaniels are prone to ear infections if the dog constantly shakes his head and scratching his ears, show him the vet. Trim the dogs nails - if this is not done, they can grow in. So the dog didn't bother the parasites twice a year to carry out deworming, and in warm seasons wear dog flea collar.
Advice 2 : How to feed the Russian Spaniel
Dog nutrition is the key to her health. Your pet need to offer only healthy food, contributing to its development. To maintain Russian Spaniel in good shape you need to follow all the rules of feeding.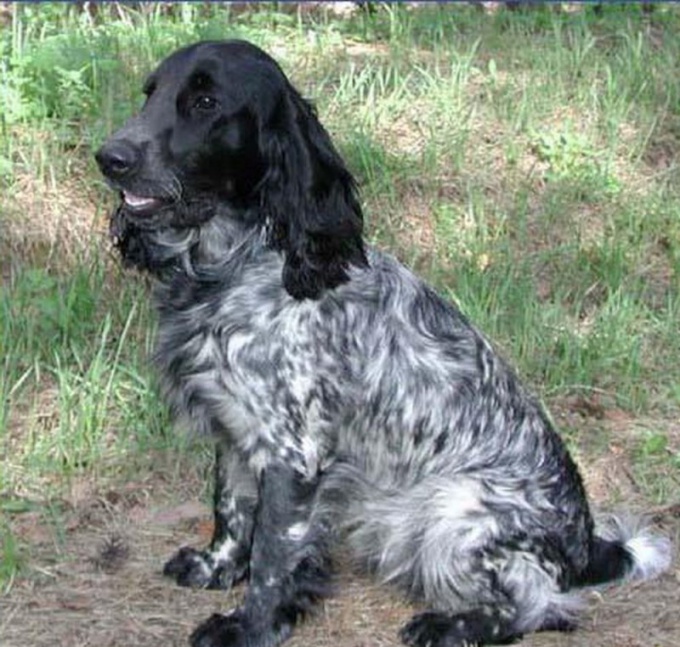 You will need
- dry concentrate feed;
- canned food;
- beef;
- head chicken and ducks;
- by-products;
fish;
- cereals;
- dairy products;
- vegetables;
- fruit.
Instruction
Select the type of feed
Your dog's diet consists of foods that correspond to the nature of the animal. Russian
Spaniel
is a hunting dog, and therefore the food should be high in calories. Feed him to the beef meat, boiled fish, offal, chicken and duck heads, cereals, dairy products, vegetables and fruit. All of this should be erudite in the preparation of the diet. If you don't want to bother with cooking, take advantage of prepared fodder – concentrated dry or canned food.
Calculate the amount of feed

Dry and wet ration requires a different amount of feed. For example, a dog with a dry ration per 1 kg of body weight is necessary for the physiological norm, 15-40g feed a wet diet – 30-60 g.
Prepare meat food

Best food for Russian Spaniel raw meat. Filling the bowl of the adult dog, follow a strict rule: meat cut into pieces, and large bones with some cartilage cut – so they are easier to chew. Do not include in the diet of bones - they break and form sharp edges that may harm the health of the animal. Let's Spaniel meat, alternating them through the day.
Offer the dog a fish

It must necessarily be in the diet of the Russian Spaniel. If the fish is large, remove large bones and sharp pectoral and dorsal fins. Guide heat treatment of the product before piece will fall into the bowl.
Include in the diet vegetable foods

Vegetables and fruits can be fed to the dog raw or processed form. For example, cabbage, cucumber, zucchini, turnips or carrots grate on a coarse grater, a potato will cook or stew in small cubes. Porridge cook in the broth or diluted milk is very popular with the dogs. To Spaniel ate useful greens (parsley, beet tops, lettuce, dill, onion, garlic), finely chop it and mix with other food. You can treat your pet raisins or dried apricots, adding delicacy to mush.
Let's Spaniel at least twice a week dairy products: cheese, kefir or yogurt. Cheese and crumble into porridge small slices – this dish is eaten without a trace. The egg should be offered not more than 1 times in 6-7 days, mixing it with any product. Without limiting possible water Spaniel whey.
In the diet include vitamins

For the full development of the animal necessary vitamins and minerals. Readily enter them in food in the form of minerals, bone meal, glycerophosphate, fish oil and other supplements.
Observe the mode of feeding

Regardless of age Spaniel should strictly observe the mode of its supply. Install a permanent feeding time in accordance with the frequency of eating dog and his routine. This is especially important if you have a small puppy. Sure that he was fed full and on time. For example, to achieve 2 months, he should receive food 6 times per day, 2-4 month puppies need to be fed 4 times a day, and the younger Spaniel (4-7) enough three meals a day. After 8 months, the dog should be given food only twice a day.
Note
Don't let Russian Spaniel sausage, sugar, candy, high-calorie flour products – these products are harmful for his health.
Useful advice
Food for Russian Spaniel must be warm, soft and slightly salted.