You will need
- a means for washing thereof;
- softening solution;
- diesel fuel;
- spatula;
- water and a hard brush;
acid.
Instruction
The house is built, sew up the facade of the building is not desirable, because the brickwork looks the already presentable. All the beauty of spoil only scattered spots of salt on bricks. What to do? Buy special acidic product that removes efflorescence from brickwork (soluble salt and oxide deposits). There are tools along with the dissolution of salts loosen up the remains of the mortar on the bricks. Before using the product, carefully read the instructions for use.
If efflorescence after treatment brick special tool again spoke out, treat it with diesel fuel. Ugly stains should disappear forever.
If passed the furnace, and it is necessary to clean brick from mortar, take a stiff brush and water. Mastic can be removed by mechanical means (wipe the surplus with a spatula). Get a special paint for brick, if after washing of the traces from mechanical impact.
Cement mortar with brick to remove any acid. Better to use the salt.
Bullying street artists ruined the whole look of the building? Do not buy different means to wash graffiti. The fact that the paint for these purposes may have a different basis, and the universal substance for removal of no. Find a company that has a professional technologist. It needs to arrive at the site, after inspection, recommends the right tool. Check out the technology in most organizations is free. Following the recommendations of the specialist, get need a wash and remove graffiti.
With the porous surface of stucco and some brick remover paint won't help, have to think about mechanical action. Buy sandblasting for one-time use is expensive, so contact a cleaning company. This to some extent will allow you to save money and guaranteed to save buildings from unwanted arts.
Note
If you invite employees of the cleaning company for cleaning brick, sign a contract. In it, list all the types of work they must perform for a fee within the specified period. Pay upon completion of the harvesting.
Useful advice
Do not RUB brick metal objects will remain unsightly scratches. Better to RUB it with a piece of another brick of the same color.

Some types of efflorescence are soluble in hot water.
Advice 2 : How to clean brick
Cleaning
brick
can be used if you want to use the old bricks from demolished masonry in new construction. Also it is sometimes necessary to clean the finished brickwork from the stuck solution or efflorescence. Improper cleaning
of brick
may lead to its destruction, so before starting work, familiarize yourself with reliable and proven methods.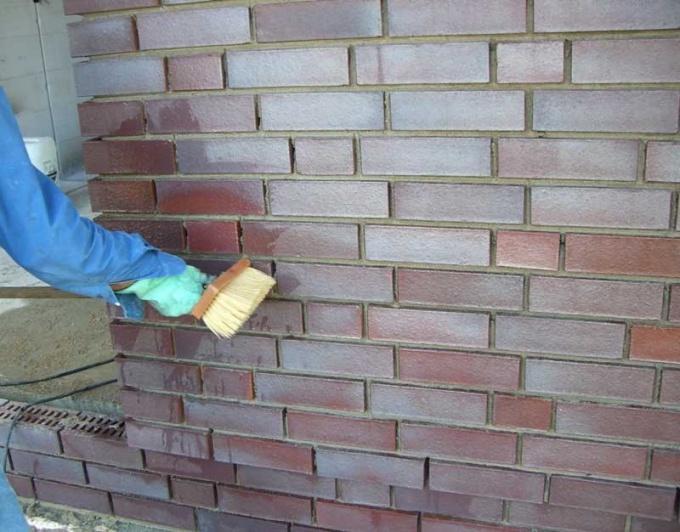 You will need
- hammer, chisel, chisel, axe, sandpaper;
- drill with a special nozzle, grinder, jackhammer;
- water, hydrochloric acid;
- chemicals;
- sunflower-seed oil and brick powder;
- water repellent.
Instruction
If you have a lot of free time, clean the bricks by hand. To do this, take a small hammer and chisel (or a chisel) and salivate the largest pieces of the solution. You can use a small sharp hatchet, but keep in mind that it will be quickly blunted. After removal of large pieces of treat the bricks of a large emery paper for this pitch tool is two wooden strips and fasten sandpaper to a transverse rail. This way you remove the solution from red bricks, clean sand-lime brick postukivaniem much more difficult.
In order to speed up the process, use sandpaper, a jackhammer or a drill with a special nozzle. It is sure to protect eyes and respiratory organs with the help of special glasses and respirator, because is very much dust.
Given that cement mortar for brickwork mixed with the water, try to soak the bricks in water. After that just wash them with a stiff brush. Then thoroughly dry the bricks.
If you clean red clay brick of good quality, use a solution of sulfuric acid (for example, electrolyte for batteries). Dilute it with water in a ratio of 1:10 or 1:7, be very careful when working with acid as a simple touch or inhalation of fumes can threaten the strongest burn. Put the brick in the old cast-iron bath, pour the resulting solution and boil on the fire. The solution is completely gone. Don't spend this experience with a silicate brick, he will simply collapse.
For purification of brick in finished walls, use ordinary cosmetics. Apply it on a rag and wipe the bricks, allow to dry and rinse with water.
Another way: mix sunflower oil with the powder obtained from the sawing of bricks with a grinder. Then, the resulting mixture wipe the bricks. The disadvantage of this method can be called a long time to dry brickwork.
Clean the masonry of ceramic bricks is possible by means of dilute hydrochloric acid. To do this, pour the wall with a hose running water and gently wipe the bricks so that the acid did not get to the mortar. If the acid will get into joints, and will act in the form of plaque, simply wash the walls with soap and water.
To remove from the wall efflorescence (white patches), use clean water and a wire brush, but this method will help only for a while. For reliable protection of the walls must be treated with special cleaning compounds, and then with water repellents.