You will need
1 kg of pork;
4 cloves of garlic;
150 g of bacon-fat;
ground pepper;
salt to taste;
intestine thin.
For frying:
sausage 150-200 g;
onion to taste
mushrooms 200 g;
potatoes 1-2 PCs.;
the cherry tomatoes 8-10 PCs.;
chili pepper to taste;
Basil and oregano to taste.
Instruction
If you want to treat yourself and loved ones to these homemade sausages, it is better to start with their preparation. To do this, take the meat, cut into small pieces with a size of 0,5—0,7 cm and Then received the meat add salt, chopped garlic, ground black pepper, a little sugar. In some recipes, starch is added (1-2 tablespoons per 10 kg of meat).
Then cut the bacon in small cubes of 0.3—0.5 cm, add to meat and mix well. To the consistency was soft enough, add in the mince and a little water. It will be easier to fill the cold mass shell.
Then fill the shell well mixed meat mixture, tie and hang for the precipitation mass per hour. Front suspension prick sausages with a thin awl or needle to allow air and excess water were out. After an hour, the sausages can be cooked to recipes that you have selected. If you have prepared the sausages, then start frying the recipe.
Grilled sausages.

Heat the olive oil in a skillet. While it heats, cut into small pieces leek. Once it is hot, add sausages, cut into small pieces.
While the sausages are fried together with the onion, slice the raw mushrooms. Better if it's just mushroom caps as the legs are cooked a little longer. The time of roasting mushrooms in 10 minutes.
While frying the mushrooms, peel the potatoes and cut it into small cubes. Add the potatoes to the pan and continue to fry on, stirring occasionally. With potatoes, the dish will turn out satisfying.
Then add the vegetable component of the dish. Chopped tomatoes, chili peppers (be careful not to overdo it with quantity) and spices: Basil, oregano and chopped garlic. Mix all the ingredients well and after five minutes turn off the stove. A dish of fried sausages are ready, Bon appetit!
Advice 2 : How to cook Bavarian sausages
Bavarian sausages in their homeland, in Germany, called white sausage or Weisswurst. They are prepared from the mixture of chopped veal and fat pork, generously seasoned with lemon, parsley, onions, ginger and cardamom. All beef is rammed in a fresh pig intestines, from which, by ligation, make a small sausage. Weisswurst – natural and therefore perishable. Sausages served boiled, with a light wheat beer, sweet mustard (Weisswurstsenf) and traditional salty pretzel – a pretzel ( Bretzel).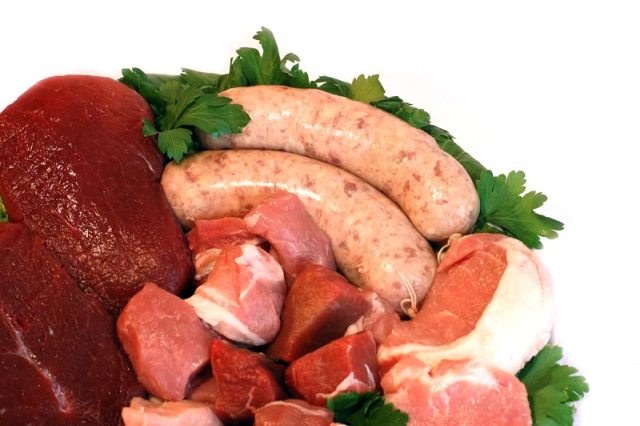 You will need
water/beer/white wine.
For the pretzels
1 1/2 cups warm (55 to 65oC) water;
1 tablespoon of sugar;
2 teaspoons of salt;
1 sachet of dry yeast;
4 ½ cups of flour;
Nesolenogo 60 grams melted butter
10 cups of water;
1 yolk from large chicken eggs;
vegetable oil;
large salt.
Instruction
In contrast to all other German sausages and sausages, Bavarian sausages never fry on the grill. Moreover, they never boil. The whole thing in a too thin natural casing, so heat it can crack and, according to the Bavarians, content immediately becomes unfit for food.
Take a wide but shallow pot. Fill it halfway with water, light wheat beer or white wine.
Bring the liquid to a boil and once it boils, turn off the heat.
Immediately put in hot liquid Bavarian
sausages
so they lay in a single layer, and cover the pan. Keep sausages, covered for about 10 minutes. Such heat treatment is enough to bring them to readiness. The fact that Bavarian sausages eat only very fresh. After all, they are not smoked, they do not add preservatives, weisswurst is traditionally eaten on the same day and was Packed. The Germans even have a saying that the weisswurst should not hear the midday bells. With the development of refrigeration industry tradition to serve Bavarian sausages only for Breakfast was forgotten, but properly prepared, it is still possible only the freshest products.
Pretzels

Mix warm water, sugar and fine salt in a bowl with a mixer, on top evenly sprinkle the yeast..Wait until they start to foam. It will take about 5 minutes.
Add the flour and butter and using the dough hook, mix ingredients on low speed. Increase the speed and knead a smooth dough.
Remove the dough from the bowl, salmon bowl, grease it with vegetable oil and place back in the bowl. Cover with clingfilm and put in a warm place for an hour. During this time the dough should double in size.
Preheat oven to 220оС. Heat in saucepan water ( 10 cups) to a boil. Prepare a baking tray with baking paper and prepare a Cup of vegetable oil, coarse sea salt and brush for baking.
Remove the dough and divide into 8 equal parts. Roll each piece into 16 inch harness. Each harness will publish U-shape, and then fold the loose ends with each other. You get a pretzel.
Whisk the egg yolk with a little warm water.
Lower each pretzel into the boiling water for 20-30 seconds and lay out on a baking sheet. Brush the pretzels with beaten egg, sprinkle with salt.
Bake pretzels for 10-12 minutes, until light Golden brown. Serve warm, but not hot.
Note
Bavarian sausages prepared and served in a special way, they are still eating not like any other sausage, or sausage.

There are a few basic methods:
- suck the contents from one end of the sausage, holding another in her hand. This method is called zuzeln;
- make a cut along the sausage and remove the skin with a knife and fork;
- clamp the bottom shell with your thumb and forefinger and pull over, removing the shell "stocking";
- with a knife and fork squeeze small pieces of sausage on the plate .