You will need
egg 3pcs.
vanilla - 1пакет
yeast is fresh - 50 g.
butter or margarine - 250g.
sugar - 1.5 stack.
flour - 6-7стак.,pinch if
jam to taste.
Instruction
One of the most common recipes of the pie called "kuh" is presented below. For a start, a Cup of sugar, salt and yeast must be diluted in a little warm milk. Then add half of the flour, knead thoroughly and leave in a warm place, so that the resulting mass went. After mass taposiris and will increase in volume approximately two times you need to add the beaten eggs, melted butter and remaining flour. All of these components then the dough is made. And once again, you should give it a go. The milk in the recipe instead of sour milk, and margarine for butter.
When the dough is still a little come, it should knead again and put in a regular, greased, standard form or roll out to a thickness of 1-1,5 cm and put on a baking sheet.
Next you need to prepare the powder. The powder is prepared from butter, sugar, flour and vanilla. Should fifty grams of butter to pound and a half Cup of sugar and the sachet of vanilla. Flour you need to add enough to get a kind baby.

There is a slightly different recipe crumbs: leaves margarine with flour, add sugar, egg and flour. No kneading, just mix all the ingredients so to make a baby.
The top of the cake sprinkle the resulting oil-sugar baby, give a little brew (about twenty minutes) and put in oven. Can the top of the cake spread with jam, which you prefer and then sprinkle with crumbs.
Approx cooking time of the pie "Kuh" is from half an hour to forty minutes. When the product is a little browned, you can determine his readiness by sticking in a pie a match or a toothpick. Dry the shaft will attest to the fact that the cake is ready, the remnants of the test match will indicate that the cake inside is still raw.
Note
The dough should not be very steep.
The first 15-20 min of cooking the oven door in any case you should not open the cake may fall
Useful advice
The dough is made with sour milk, tastes better.
Ready pie to cool, then it can be cut into pieces. Kuh can be sprinkled with powdered sugar.
Advice 2: How to cook kuhu
The kitchen or Kuchen (Kuchen is an ancient and very popular German cake, similar to the Russian cake, but without the cream. All the necessary ingredients immediately placed in the oven. It is prepared for a variety of celebrations: a birthday, a wedding, a birthday party. But since this pie to cook fairly easily, it is baked and in everyday life, for example at work, or when you suddenly looked guests.
Consider two of the easiest and popular method of baking.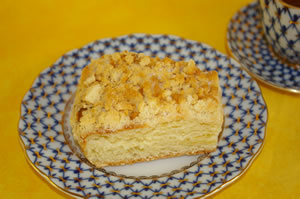 You will need
4 eggs
1 liter of warm milk
200 gr. margarine
a pinch of salt and sugar as
a packet of baking powder or packet of yeast
1 kg of flour
For the second method:
2 cups milk
3 eggs
1 package of vanillin
250 gr. butter
50 gr. fresh yeast
1.5 cups of sugar
6-7 cups of flour
a pinch of salt
Instruction
The first method of preparation:

Knead yeast dough, do not forget him at least twice "treated" (i.e. infuse). The dough should not be too tight. When they finally roll out and place on the baking pan, give him a little more to stand up and "get used" to the new form (20 minutes).
The second method of preparation:

One Cup sugar, yeast, salt dissolve in warm milk. Pour half of the flour, mix thoroughly and put in a warm place. After mass taposiris and two times increase in volume, add 200 gr. melted butter, beaten eggs and remaining flour, and also need to knead the dough, which should not be steep. Then again allow to rise.
The first method of preparation:

For a time, until dough is on the baking sheet, you need to make the topping (Rivel). To do this, take 200 gr. flour and 125 gr. butter. It, butter, warmed to room temperature, carefully knead with flour. After this is supposed to be diverse in its form lumps. Them and sprinkle the dough cools.
The second method of preparation:

Punch down dough and spread in a greased form
The first method of preparation:

Further, all put in the oven (170 degrees) and give the cake to rise and bake.
The second method of preparation:

Preparation topping: 50 grams. butter to grind with 0.5 cups of sugar and the sachet of vanilla. Add the flour to make crumbs.
The second method of preparation:

Sprinkle top of dough butter-sugar crumbs and place in the preheated oven for 30-40 minutes. The required temperature of baking: 200 degree.
The second method of preparation:

That cake is not a donkey, the first 20 minutes the oven door do not open. When the kitchen is browned, check for readiness with a fork or toothpick. Ready pie cool slightly, then cut into slices. Ready!
Note
Do not put the sugar ahead of time, and it's going to ruin the whole product! They can be sprinkled only in the case when the kitchen has been removed from the oven and almost cooled.
Useful advice
1. To make the topping (Rivel) less crumbled, need to spread the blank of a mixture of one egg, a couple spoonfuls of sour cream and sugar. This should be done before you pour the butter-flour crumbs.
2. Before you pour crumbs of flour and butter, rolled out on the baking tray the dough should be spread with any jam or preserves