Instruction
Choose pants that are suitable for growth. With proper selection of the legs when walking, do not ride up too high, but not kolokotsa on the asphalt. Correct length is when the lower front part is on the boot and forms a small room, and comes to the back of the heel. Please note that the pants length was about one inch above the floor level and from under them could be seen about a third of the Shoe.
Picking up the pants, keeping in mind that they should be fully covered by socks. The latter must be of sufficient length to bare legs when you have to sit down. An important condition is that the socks were the same color with pants or a few shades darker.
When buying pants pay attention to the bottom edge of the pant legs were hemmed inside a tight marginal band. This will protect the lower edge from rapid wear due to contact with shoes.
If pants are becoming costume top, know that the first to wear out faster. So try to order them two pair to one jacket. Classic rules do not contain a strict requirement that the suit was the same color.
Purchase pants, made of quality materials. Minor savings with their purchase can have a serious impact on the image. Always nice to see a toned man in a neat, fresh-pressed pants, than in shapeless folds in the pants with saggy knees.
When buying pants you need to know that high-quality models, usually have an inner lining to the knees, and the width of the lapel is on average thirty to forty inches, depending on the type of tissue. The classic versions have six or seven loops for threading a belt, and the size of their pocket is equal to the size of a man's palm.
When choosing pants, consider the size of the waist. During fitting ensure that the belt was loose enough to stick two fingers.
Advice 2 : What should be length classic trousers
Regardless of whether you buy ready-made pants or sew to order, it is important to choose the right length of leg. Rules to wear vary from the classic or casual style you prefer. Also important, what shoes will you match the pants.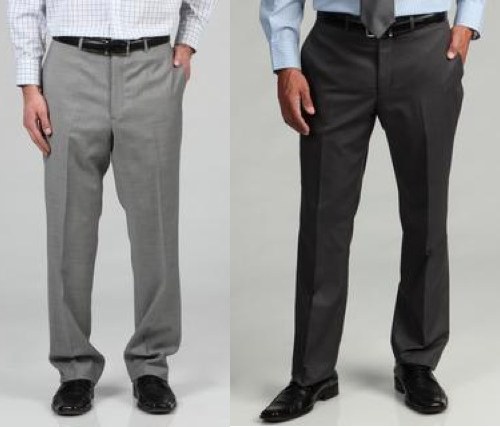 Instruction
Men's classic pants can be bought in the market or order in the Studio on individual measures. In both cases you need to take along shoes or boots that you want to wear them. If you are looking for a costume for evening events, the pant legs should form one neat crease front and rear to retreat from sole by no more than 2 see the Finished pants, bought on the market or in the store of men's fashion, it is necessary to stitch a tailor, and edge it is best to lay a bit diagonally so the front crease is not too long.
If you prefer neo-classical or casual style, choose a tapered classic pants. In this case, the leg can be short enough to show the laces on shoes. It is best to buy such pants, oxfords or other shoes with laces. This style is called European or mid-Atlantic, it is especially important in the recent years.
Classic denim pants worn two ways. In the first case, if you prefer a regular or loose fit, Trouser-legs should be slightly longer than it is for a formal suit. If you want to show yourself stylish young man, choose a slim cut, podrachivaya legs and boldly open shoes (of course, before that you need to make sure she was decent).
When choosing women's trousers leg length depends on the height of heel that you will wear them. Classical analysis is performed on the principle of "mid-heel". Therefore, the same pants cannot be worn with classic pumps, ankle boots and ballet flats in turn: for each pair of shoes needs its own length.
Flared trousers, bananas, or any other casual trousers should be flush with the surface. This style goes well with shoes with heels.
Recently came into fashion women's pants-chinos, tailored for a classic style, but slightly tapered and with a cuff at the bottom. These pants are supposed to wear with pumps or heeled sandals 5-7 cm, and they should end at the ankle. In any case, do not allow formation of folds at the ankles and knees! The same rules apply to jeans style slim and skinny.
Another simple way to determine the correct length of pants — the free style, longer leg. Accordingly, tight pants needs to be shortened. Of course, you can buy pants with a cuff, but they are not for everyone, because visually shorten the legs and make you look old.