You will need
salt
Bay leaf
allspice
carnation
Instruction
Need to buy in shop of a large herring, preferably with a whole skin, and without the rusty spots. If herring frozen, pre-thaw.
Rinse the fish and give some water to drain out. Herring can be run immediately to remove the head and entrails. But it is better to salt the whole, and to clean afterwards.
To make the brine. To add salt about 1 kg of herring, you will need 1.5 liters of brine.
You need to take 1.5 liters of water and put to boil. Add 5 tablespoons with slide salt and 1 tablespoon sugar. If you wish to brine, you can add Bay leaf, peppercorns, cloves and 1 teaspoon of vinegar.

Boiled the brine should be cooled to room temperature.
Herring folded into the container. Will fit three-liter jar, enamel pot or small basin. If you use a pot or basin, then you will need weight to hold the fish. Otherwise it will float.
Pour the cooked herring brine and place in a cool place.
Herring will be ready in about 48 hours. Get salted and very tasty.
Advice 2 : How to cook herring with vinegar and oil
Herring, inexpensive and tasty fish. On our table it is present consistently. In addition to good taste, herring has useful properties. Because it contains about 20% protein that is easily digested.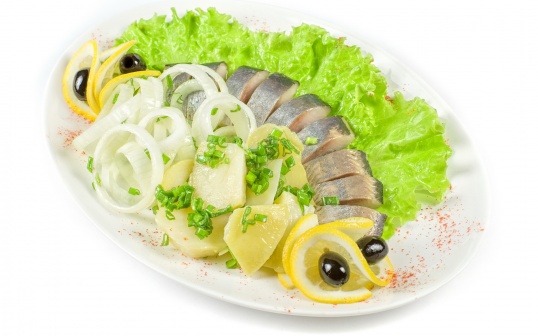 You will need
2 salted herring
1 onion
3 tablespoons vegetable oil
1 tablespoon vinegar
Instruction
Choosing the herring, take the larger. Usually it is fatter, tastier. And bones of such fish easier to remove. Starting the cooking, cut the fish's head with a sharp knife. Remove the fins.
Cutting the belly of a herring, clean the insides thoroughly. Don't forget to remove the black film on the inner walls. Along the ridge of fish make a neat cut.
Then remove the skin. Divide the fish into two halves and remove the bone. Rinse the herring under running cold water and cut into small pieces.
Onions clean. Wash it and cut into half rings. At the bottom of the dish place the onion and pour it vinegar. After 5-7 minutes add in the fish.
Pour the herring with onions and vinegar with vegetable oil. Use unrefined sunflower oil. Then the dish will turn out flavorful. All stir again. Herring with vinegar and oil ready.
Useful advice
This dish can be prepared for the future. Place it in a glass jar, refrigerate, adding on top a little vegetable oil. As such, the herring can be stored for 3-4 days.