Instruction
First determine the layout and composition of the portrait. Try thin lines to sketch. This is done in hard pencil. Draw a silhouette of a man, apply the main features of the face of the picture, background elements, and clothing items.
Now carefully consider the color-based portrait. Select its main task. It needs to emphasize the color. In addition, all the shades should be in harmony with each other. A portrait can cause calm emotions, if you are creating will use lighter and pastel colors. The picture will be more dramatic and sensual, will make a greater impression on the viewer if you will use bright and contrasting colors. Coloring picture pick depending on what tasks you set for yourself, and who you draw.
The first picture the lightest part of the portrait. Try more precisely and more successfully transfer using paints plastic face. Oil is a rather difficult material to paint. Therefore, to better understand how to reflect transitions between colors, first try to practice a little on the rough sheet. Then you can easily use different shades of oil paints and the best way to reflect plasticity and emotion of the portrait. Before you begin to draw on the palette to mix the desired shade of paint.
Don't forget to reflect on the portrait of the shaded areas and patches of light. Apply the paint with a brush short, light strokes. Each layer of strokes you have to apply the picture gradually.
Useful advice
After the portrait is written and dries, cover it with paint. This coating helps protect paint from the interaction with the air. Because of this, the picture will please you long enough.
Advice 2: How to write oil portrait
In order to write oil portrait, you should select the model that you agree to pose for continue long hours. Working with oil paints takes a lot of time.Then you should cook a certain way on canvas or cardboard. Then, spreading his pre-paint, you can get to work.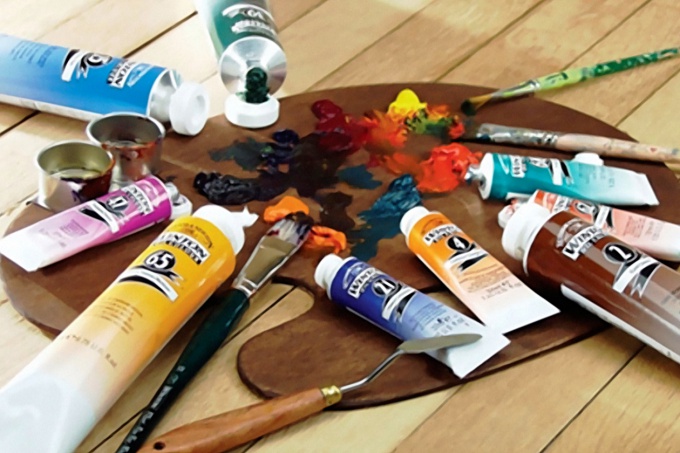 You will need
Sitter, canvas or cardboard, primer, charcoal, oil paint, turpentine, brushes, palette
Instruction
To work with oil paints it is better to choose canvas. If there is a desire in principle, it is possible to opt for hardboard or plywood. Before writing oil on canvas (or other material) should be primed. For this there is a special primer. Then, the fabric should be dry. When the primer dries, you are ready to work.
Sketch under oil paint is better to choose coal. They need to work to their full potential. It is sufficient that the drawing was done in semitones. No matter what the sketch will be bright. It is only necessary to transmit the main characteristics of the portrait.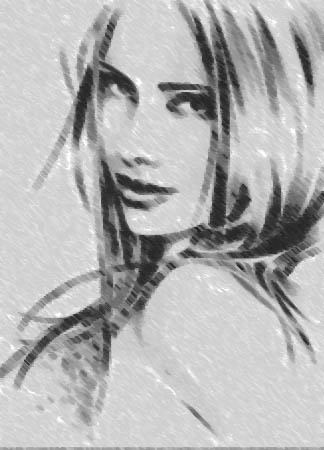 Before you start to write directly oil it is necessary to analyze the model. It is precisely to determine its main characteristics, the characteristics of the structure of the face and nuances of color. You need to determine what kind of paint are used to sketch with oil.It is important that the artist "got used" to the model, felt it the colouring. Then there will be problems with colour reproduction.
Before the paint job must be diluted with turpentine on your palette. You can then start doing the underpainting.Underpainting is a thin residence of the canvas. Doing the underpainting, the artist defines the color and tonal relationships. However, prescribed large areas of the painting.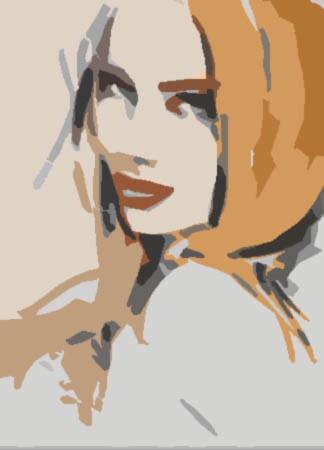 In General, the whole portrait oil is conducted from larger objects to smaller ones. The process of writing the details. Each new element that the artist adds to the portraithas to be more careful compared to the previous one.
After the underpainting is necessary to clarify the tone and color giving the picture more hull. Soaking the canvas in tone and color, should gradually reveal the shape of the object. Brushstrokes of oil paint should be put to several areas, constantly comparing the tone against each other. For example, smear on the forehead, nose and cheek, and then to compare them. After that you need to compare a color part with shadows and penumbras.
To complete the job should be modeling and synthesis items. At this stage, needs to be specified parts throughout the canvas.
Note
If by nature the elements do not have hard lines (lips, cheeks, eyelids) "mold" they need soft strokes.

It is impossible to obliterate edges between shapes in the portrait.

Smaller forms it is necessary to prescribe with a brush.
Useful advice
Doing the underpainting, it is desirable to do without white.

Bad paint strokes it is better to remove with a palette knife (spatula made of thin steel).
Advice 3: How to draw a portrait in watercolor
Various art materials allow to create the same picture, but give it a radically different atmosphere and different feelings – if the oil painting that recalls the monumentality and depth, the picture painted
with watercolors
, carries transparent and airy atmosphere, giving the image of lightness. That is why watercolor
portraits
so well to emphasize the human beauty. Knowing the technique of working with
watercolor
, you can paint a
watercolor
portrait of any person.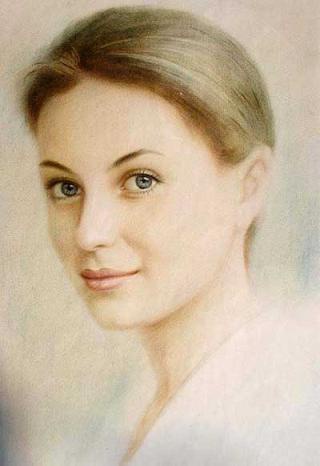 Instruction
To start, determine the composition of the portrait and its layout. Outline sketch silhouette depicted on the portrait of a man, apply on drawing basic facial features, clothing, background elements.
Consider the color – based portrait-all the colors chosen for painting should be in harmony with each other and to emphasize the major emotional task of the portrait.
Than lighter and pastel shades you use, the more calm emotions cause portrait. The more vivid and contrasting colors you choose, the higher the voltage experienced by the audience and the more dramatic will be the portrait. Depending on who you draw and what tasks put before him, picks up the colors of the picture.
Watercolor painting should be filled with air and transparency, so the paint should Shine through each other and drawing must obey this rule. Do not use white paints – their role is played by a white paper.
Start painting with the lightest fragments of a portrait, trying to successfully pass a color plasticity of the depicted person. Try in advance to practice on a rough sheet for sketches to understand how to create transitions between colors and how to use different shades of watercolor in order to best demonstrate the emotional intensity and the plasticity of the portrait.
Don't forget about the light glare and shaded areas. Apply paint with a brush lightly, don't overdo the amount of paint – it should be transparent. Due to the large amount of moisture in the dye paper for watercolor tends to gather in the folds and deformed, and therefore, pre-stretch the paper on a tablet with buttons or fastenings.
Advice 4: How to paint with oil
To paint with oil paints is not easy. For this you need to prepare the canvas, brushes, handy tools. Paint is applied with different strokes depending on the shape drawing objects and light and shade on them.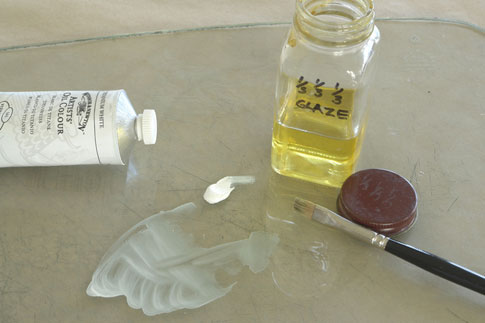 You will need
Linen/ cotton canvas, cardboard, wood or other canvas with acrylic primer; brushes made of natural hog bristle for the main work and sable brushes for drawing details; sponge; rags, palette for mixing paints; solvent/linseed oil for diluting the paint and washing brushes; varnish for a protective coating for the finished work
Instruction
Label on canvas for future drawing using simple shapes and contour lines. Use this diluted paint, charcoal, pencil.
Spherical and toroidal objects draw sickle and twisted brush strokes, confusedly — triangular strokes, cylindrical, parallel strokes. Flat surface print with parallel brush strokes.
For smooth color transitions, use the flat brush. In this case, the paint mix on the palette and apply to the proposed location of gradation. Move the brush forward-back-forward in a cross manner. In the final step of creating the color transition use parallel strokes. Work with a clean brush from a darker color to a medium tone, and then clean again with a brush from a lighter color to the middle color.
Poziruuschie transparent layers of oil paint, the shading pattern on the dried layer. To get them, use to dilute the paint a special liquid, and the mixture was applied with kolinsky brush in a horizontal position. If you want to change the color of the pattern in the glaze make the direction of the strokes in much the same way that there are on the primary layer.

Translucent glazing layers also apply kolinsky brush in a horizontal position. The paint is dilute in the ratio damanskogo 1/3 varnish, 1/3 turps and 1/3 linseed oil.
Note
Pencil for outline drawing use with care, as its sharp tip can damage the primer of the canvas.
Useful advice
Mix paint on the palette carefully and gradually. For more bright colors, use white color or glaze.
Advice 5: How to start painting with oil
Written by oil painting brings home comfort and tranquility. Oil paints are noble, they wrote the acknowledged masters of painting. Portrait, landscape or still life painted in oil paint on canvas to decorate your interior, make it elegant and unique.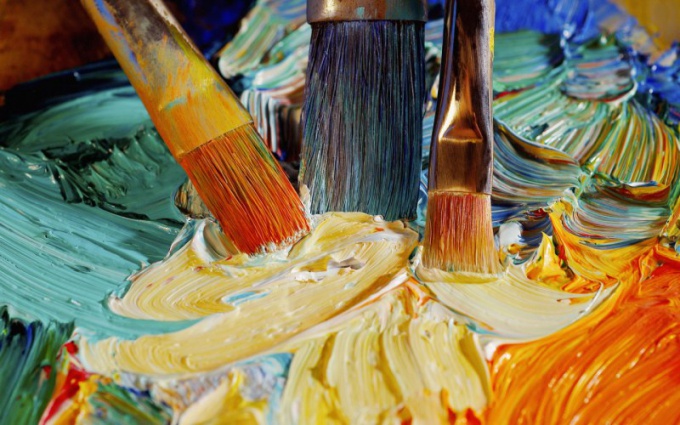 You will need
- oil paint of different colors;
- brush with natural bristles (bristle and kolinsky);
- canvas;
- primer;
- fine sandpaper;
- easel;
- palette;
- linseed oil;
- spatula;
- solvent;
- turpentine;
- Lac;
cloth;
-a Cup.
Instruction
Buy in a specialty store or Department quality oil paint, brushes and other necessary supplies for painting. Pay special attention to paints and brushes are the main tools of the artist. Good brushes retain their original form after each stroke, bad — practically do not bend and do not return to original shape when dipping in oil paint.
Stretch canvas on a frame. For oil painting use thick cotton or linen cloth. It is necessary before the work is primed. Apply the first coat horizontally. Smooth the surface with sandpaper and to get rid of small cracks, apply a second vertical layer of primer.
Install the canvas on the easel. Pour in a little Cup of turpentine for cleansing during operation of the brushes. After the primer has dried it will take about an hour. Make a sketch of the painting.
Wipe the palette linseed oil and wipe dry. Then squeeze her oil paints. Palette while you work you can hold in your hand or place it next.
Mix the linseed oil with dark oil paints to use for the base of the picture. Enter into the mixture with a palette knife a little thinner. This will give the paint flow and they will fall to the canvas more evenly.
Working on the painting, apply an oil paint neat strokes. If your work is high volume, then paint with a bristle brush. Separate sections with a thin portrayal of complete calico tassels.
Correct mistakes and inaccuracies in the painting, wiping the paint with a palette knife and using a piece of cloth soaked with turpentine. Then treat the area with sandpaper and moisten literally one drop of linseed oil.
After finishing work wipe the palette knife and the brush with a rag. Thoroughly rinse the brush in solvent, just don't leave them in it for long. Remove the paint from the palette, wipe it with linseed oil and wipe dry.
Dry the finished painting vertically on
an easel
. For complete drying of oil paints will require three days.
After painting, apply a coat of varnish damanskogo. It will help to seal in color and protect the surface from cracking.
For the final varnishing of the painting, apply two coats of varnish. Let the first layer dry, it will take about a night and apply the second.
Note
To draw on top of the last layer of lacquer is impossible. The surface will crack. Therefore to sign their work before applying the last coat of varnish.
Useful advice
If you're using unprimed canvas, it must be pre-applied to fabric hide glue for extra coverage.

The layers of oil paint on the picture should be the same or each subsequent thicker than the previous one. Otherwise, the surface is deformed.
Advice 6: Is it possible to learn how to draw independently of the teacher
At least once in life every man wanted to learn to draw beautifully. However, not all went to art school or have art education. But if you have the desire and perseverance to learn to paint is never too late. Even without a teacher you can achieve good success in this business.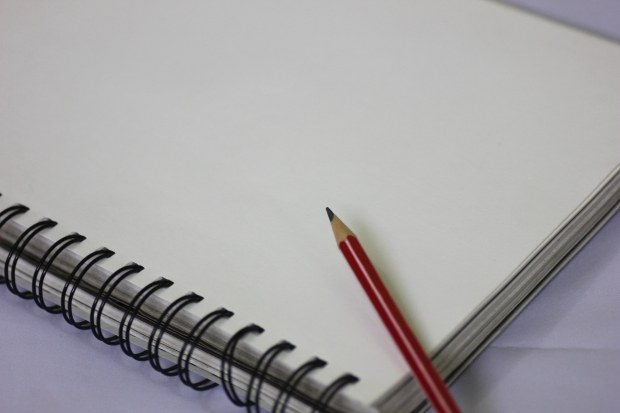 At what age begin to learn


No matter how many years you may be, it is never too late to learn something new. If you decided in that whatever was to master the art of drawing, age is not an obstacle. Many famous artists began to draw as adults.



What materials will you need



First of all, decide what you like better - the drawing or painting. If you want to create a black-and-white and expressive portraits, we purchase graphite pencils of different degrees of softness. If you prefer color pictures, it is better to buy gouache. It is better suited for the beginner than watercolor. If you are not afraid of difficulties, you can start with oil paints. You will also need brushes and paper. If you want to paint with oil, you can buy the canvas. Now there are many different art materials, so you can easily find what exactly you need.


Where to start learning


In order to achieve success in drawing you need to follow the principle of gradualism. Do not just try to draw Nudes. Best to start with small objects like Apple and a glass. To draw from nature. Just set a subject and try to portray it on paper. The first experiments may be unsuccessful, but we must continue to draw.

Buy or download a tutorial on drawing - it will help to learn different techniques. Better if it will be a real tutorial on how to build, perspective or anatomy. Books like "Draw 50 cats" is designed for copying images, they don't teach, postroeniya will not bring much benefit.

Try not to draw from photos because a flat image does not give you a feel for the volume of the object. Draw from nature every day. Get a small notebook and carry it with you to be able at any moment to sketch something interesting. The more you practice, the sooner you'll see progress.

Show your drawings to your friends and family. Lookers-on see most of the error. In the process of drawing you may not notice that distorted the proportions. Eyes are getting tired, a few hours you look at your painting while you work and it can seem a masterpiece. However, looking at it a month later, you may find that the job isn't as perfect as it seemed before.

In any case, the main thing is not to give up. It is really without a teacher to learn to create masterpieces, above all, keep drawing.