You will need
¼ Cup soy sauce
2 tsp lemon juice
½ Tsp finely chopped garlic
¼ Tsp. ground black pepper.
For the goose
dried whole:
1 goose,
salt,
parchment
twine,
the attic.
Instruction
If you have a house with a attic, then you can zavalit the whole bird. For this carcass must be pre-processed to remove the giblets, wash and dry well rubbing with coarse salt, both outside and inside. The bird is tightly wrapped in parchment, tightly tie the twine and hang upside down in the attic, tied to a beam. Leave for 3-4 months. Cooked meat with a pleasant smell, with protruding fat, reddish. If you are worried, if not rotten meat, remember that salt is the oldest preservative.
In terms of usual city apartment you can prepare dry-cured goose breast. If you have fresh goose breast, put them for 30 minutes in the freezer to then make it easier to slice. If frozen, pull them out of the freezer and let it thaw in the refrigerator, with the same objectives.
Mix the marinade of soy sauce, garlic and pepper.
Cut the Breasts into strips with a thickness of 0.25 – 0.5 cm. Cut across the muscle fibers. Remove excess fat as they can become rancid and spoil the flavor, drastically reducing the shelf life. Put the pieces of goose in the marinade and remove for 1 hour. Take the marinated pieces and let them dry.
Turn the oven on low, ideally between 60 and 65 degrees Celsius. Wait until it has warmed up. If you have an oven with convection, turn this option on, if not, you will have to keep the oven door ajar for ventilation. Wedge it with a wooden stick or spoon.
Lay strips of goose on the grill, making sure they do not touch each other. If you have no grate, lay the goose on a baking sheet on baking paper, but then don't forget to turn the slices every hour. Put the grill or the pan in the oven and keep there for at least three hours, to dry meat. When jerky is ready, it will be dry, but not brittle, a little more flexible. Remove the goose from the oven and allow to cool completely. Store in an airtight container for no longer than three weeks.
Useful advice
To marinate goose Breasts before drying, you can use various marinades. A good Supplement is a powder of chili pepper, ginger powder, herbs, Cayenne pepper, sesame oil.
Advice 2: How to marinate a goose
Goose is entirely cooked, looks very beautiful and festive. Exuding its flavor, this dish will not leave indifferent you and your guests!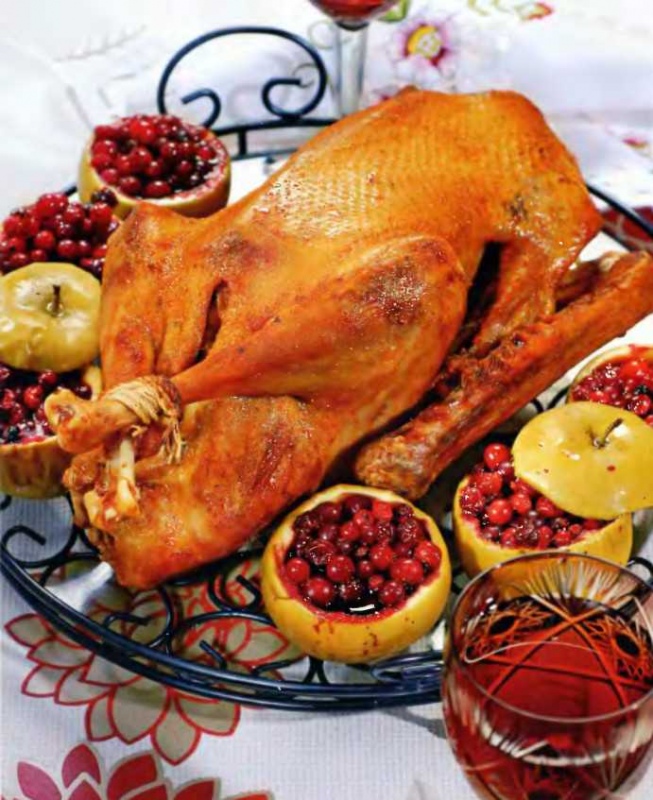 You will need
1 lemon
1 bottle of dry white wine
salt
pepper
the goose-girl
1 grapefruit
greens and orange for decoration
sleeve for baking.
Instruction
Take the goose, weighing 4-5 kg, it is good to wash, dry, RUB with salt and pepper. Lay in a deep form.
Cut lemon in circles and to impose the goose.
Pour a bottle of dry white wine and put into the refrigerator to marinate for 10-12 hours.
Grapefruit slice circles and put in a sleeve for baking. On top, put down wings already marinated goose. Sleeve fasten with two sides, make a few punctures and lay on a baking sheet.
Bake in a preheated 200 degree oven for 2.5-3 hours.
Serve on a plate previously adorned with circles of oranges and greens. BON APPETIT!
Note
To make the legs and wings do not burn, you can wrap it in foil. If goose yellow legs, it means that he is young, if maroon or red, then the bird is old and accordingly the meat will be tougher.
Useful advice
Before cooking the goose would have to hold fresh meat in the refrigerator for a day, then it will be much softer. You should consider the size of the oven and the goose. The resulting fat, you can leave, it will be useful for preparing other dishes.
Advice 3: How to jerk meat
Jerky is a very popular cold appetizer. It is characterized by high taste qualities, nutritional value, and it is easy to cook and can at home.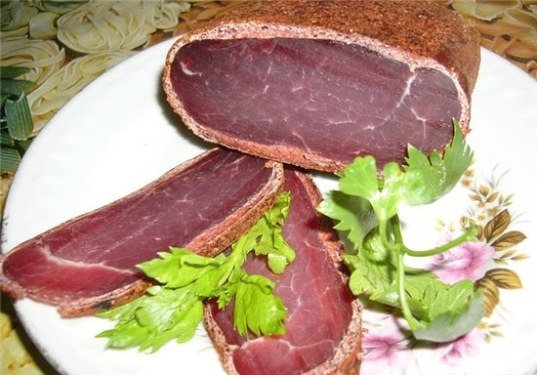 You will need
salt;
water;
spices;
sugar;
vinegar.
Instruction
The first method
of drying
is more suitable for the villagers, because to bring the meat, you will need a dark room like the attic or the shed. Cook should be in a cool time of year – late autumn or early spring as the optimum temperature bring by this method should not exceed 10 degrees.
Take a piece of meat (veal, lamb, horse, chicken, rabbit). Separate the flesh from the bones and major tendons. Cut along the grain in long strips with a thickness of 3 to 5 inches.
Prepare a strong brine: 200 grams of salt per 1 liter of water. Can add a bit of spice: Bay leaf, pepper, etc. Bring to the boil. Each strip of meat is fully submerge in the boiling brine for 3 minutes. Then the meat should be removed to drain the brine. Repeat this procedure in turn with each piece.
When all the meat has cooled down, it should be hung for drying in a dry dark place (e.g. in the attic or in the barn). After about three weeks it will be ready.
The second method is best suited for beef or large game, such as elk, deer. You can cook it in a city apartment. Take a piece of meat separate from the bones and major tendons. Cut along the grain in thin strips (no thicker than 1 cm). You can gently discourage strip on both sides.
One kilo of meat prepare a mixture: about 40 grams of salt, a tablespoon of ground coriander, one teaspoon of black pepper and sugar.
Stripes wipe meat on both sides with vinegar mixture, then roll in mixture, then lay as closely as possible in a stainless steel tank or enamel bowl. Press down the yoke, put in the refrigerator for 6 hours. Then remove the container, flip all the pieces to the other side, again press down the yoke and put in the refrigerator for 6 hours. After that, rinse the meat in strongly diluted vinegar (about 1%), wring out and hang in a dry ventilated place, protected from insects with gauze capes. A maximum of 2 days the meat is ready.