Instruction
To choose the right hairstyle you need to know the following. If you are the owner of oval shaped faces, you will suit absolutely any hairstyle. For a round face, it is recommended to create an asymmetrical silhouette, as if to pull a face. This will help you side-swept bangs, side parting or
hair
combed to one side. In any case, do not pick it up more in the hair smoothly parted in the middle.
For square faces are also suitable asymmetrical haircuts. We need to raise the line of the forehead. Do not make a long thick bangs and style your hair with gel from the forehead to the nape of the neck. For the triangular face suitable hairstyle with long straight bangs with curls on top. With this face shape should not sweep to the side strands back. The winner of the rectangular face looks to reduce it, so choose thick bangs to the eyebrows and cover his ears and bramlette face strands to visually make the face more oval.
The hair needs to affect other facial features. If you are a woman with large facial features, you'll like the smooth cut, which would lay a big wave. If you have a long nose, you'll appreciate the lush hairstyles, curls, swirls, placed on the forehead. If your nose is upturned, the best hair combed up. Small nose - curls or ringlets, but without bangs.
Too long neck? Cover the hair. A short neck? Open it. If you have big ears, then partially cover their hair.
Choosing hairstyle, do not forget about the hair type. If you have fine thin hair, you should not do long haircuts. You can make a ladder in a semicircle and easy coloring, which visually add volume to your hair. If you have heavy and coarse hair, do a stepped haircut, this situation may facilitate the cutting out. With hair of average thickness, you can do any haircut, given the oval and facial features. Special fit "ranki".
To choose the color of hair, first you need to determine what color type you belong to. If you are a woman-winter (white skin, bad tans, hair dark, eyes intense cold, usually blue, gray, brown or black shades), then you can use dark shades with a slight blue tint, such as bluish black, the "black Tulip". Use the red palette is not recommended.
Girl-the spring is very soft and smooth colors and lines. Light, honey, Golden, brown with a Golden tint hair, thin and curly. Eye usually light blue, but can sometimes be brown. Such girls are never green eyes and dark tan. Light skin, usually with Golden freckles. These girls will suit pale Golden hues, and also reddish colors, from mahogany to the color of autumn leaves.
Girls summer there with fair skin, pink blush and a good tan. Hair color is ashy outflow, and eyes come in all shades of grey. For light summer styles will suit shades of wheat from the "white sun" to "Golden sand." Girls-summer should not be repainted in red, black and copper color.
Girls autumn have delicate skin prone to burns. The complexion is smooth, never blush, if you have freckles, reddish color. Red hair, often curly or fit locks having a good dense structure. Eyes bright, contrasting from green to amber. This color type will suit all shades of red, brown palette, dark brown color.
Defining your color type, just remember a few simple recommendations:
1. Paint your hair to match your conditional palette, otherwise chose the wrong tone can make your appearance untidy and careless.

2. With age, lighten hair, as dark hair give out all the flaws: wrinkles and uneven skin.
Advice 2 : How to find out if you bangs
If you are going to change her hair, many women try to imagine how they will look. Is it possible to know exactly, go Bang to face or not? How long should it be?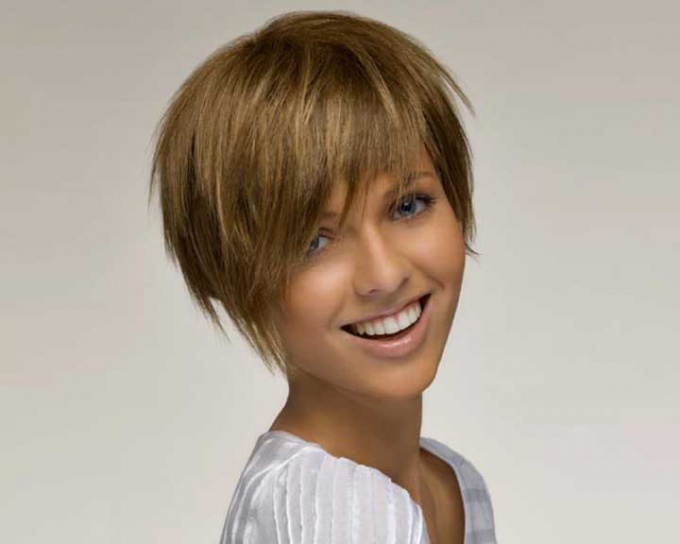 Instruction
Use computer programs selection of hairstyles or take the test on the Internet. Select your photo and choose hairstyle that best suits to the shape and type of your face. The bangs can pick up almost any lady, and she almost will never be unfashionable. Only change the color, length and tilt angle. Programs are convenient because you both get the opportunity to experiment even with the hair color, as well as other conditions, such as hair type, makeup.
Choose bangs according to face shape according to the following criteria. If you have a high forehead, you perfect long straight bangs. It is often recommended by hairdressers. Straight bangs will make facial features softer and more correct, in addition you seem for a younger woman. The only condition under which make it impossible – very thin hair. They dirty quickly, so the bangs will appear greasy.
If your face has a shape close to the triangle, make a thick bangs in an arc shape. She easily falls on his forehead and looks very natural. This form will help to balance and soften angular facial features. The ends of the bangs should be slightly screwed inward, and then mess it.
A woman with a round face is better to make a long thick bangs with a slight feathering. It will make the face appear longer, however, don't overuse styling products. Use shampoo for smooth hair and your bangs would be adorable.
Trust the professionals. Skilled and experienced master will choose the kind of bangs that will emphasize your individual attractiveness and originality.
Don't be afraid of change in their appearance. The right bangs can be made to any person in any type of hair. It can also help to hide some flaws in appearance, will give emphasis to your eyes and accentuate the soft lines of the cheekbones.
Advice 3 : How to understand, go Bang or not
New hairstyle – one of the variants of change of the image. But if drastic change is not desirable, for example, from brunette to become a blonde or short to cut hair, try to "play" with bangs.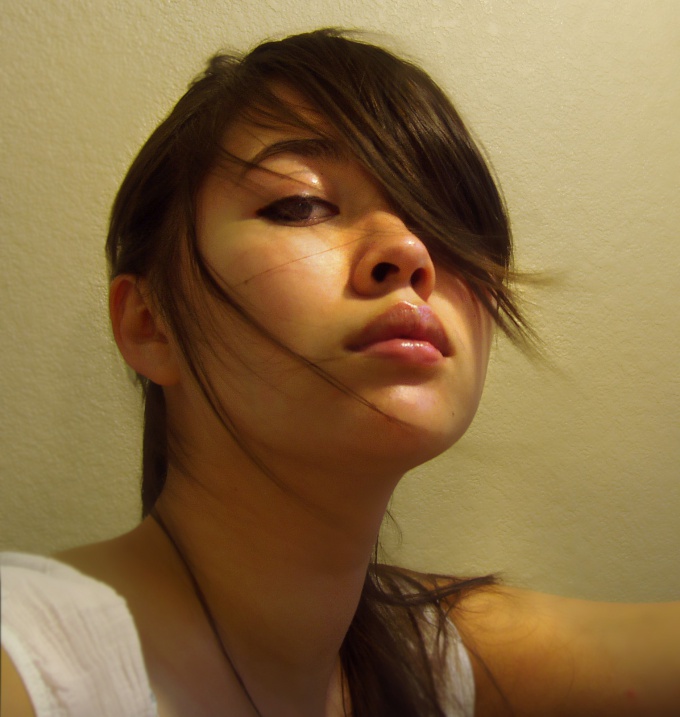 Instruction
It remains in fashion almost every season, changing only its form and length. Using bangs to hide wide forehead or accentuate cheekbones. In addition, she is a "young" image of its owner. But women with thin hair and those who can boast of curls, bangs will bring a lot of trouble. In the first case, because of the natural fat of the hair it will quickly look grubby, and the second will have to make an effort for styling. Do not cut short
the bangs
, if your hair does not differ splendor, you will only emphasize the paucity of his hair. If the hair is thick and long, French bangs, which starts from the top.
Thanks to the many forms you can choose the bangs which is most suitable for your face. To facilitate selection, use the special software selection of hairstyles. With their help, you can "try on" hundreds and even thousands of different bangs in the context of a particular haircut. Plus of such programs in the fact that you can experiment not only with a short, oblique, long, ragged bangs, but to regulate the intensity of the color or length of hair. Install one of the programs on the computer and upload your picture close up. And you will have the opportunity to see your next image into different angles.
You can also assess whether you fit one or the other form of fringe in the store, where they sell wigs. By the way, women with oval face shape this tip to anything – this form is considered ideal, so the bangs will suit any. It is worth noting the versatility oblique bangs. It is suitable for almost everyone, as it looks great on long and medium length hair with a ragged haircut. Depending on the hairstyle you can play with the length: open or, conversely, to hide the forehead under the hair.
Advice 4 : How to determine which haircut will be suitable
Women understand that by using the well-matched hairstyle can change even the most ordinary appearance. That is why hair care and haircuts , a significant part of the fair sex pays special attention. How not to make the wrong choice and to determine which haircut suits you best?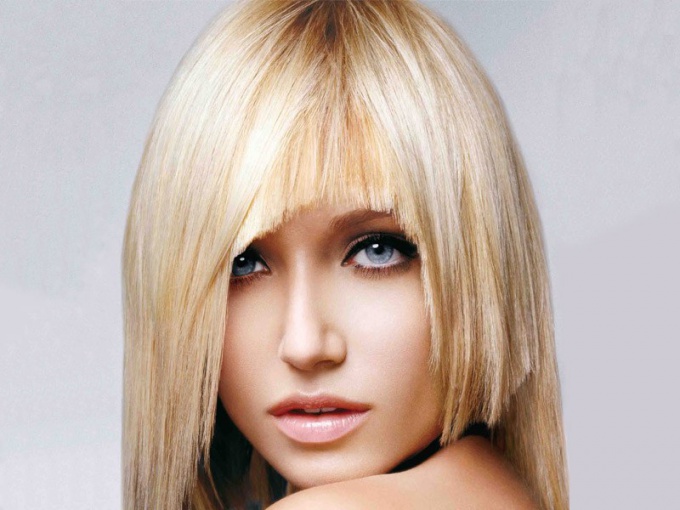 Instruction
To once again figure out how to get a haircut, for a start, ask yourself how much time you are willing to spend on styling and do you have all the necessary tools.
In addition, consider how often you want to visit the hairdresser, because some haircuts quickly lose their shape and the hair is often trimmed. Short hair will look perfect, if you go to the master once a month, survive without long hair and two or three months.
The most important factor in the selection of haircuts to take into account the structure of the hair. Refrain from long, if you have light or thin hair because they will look rare. Such hair is a straight and layered hairstyle that adds volume. If you have thick and coarse hair, ask them to give you a haircut that will reduce their "weight". Don't keep your head cleansed very short, because the hair will look sticking out.
Determine your face, stand in front of the mirror and removing the hair. There are soft and hard types. The first are face oval, round, pear and heart; the second is triangular, square, rectangular and diamond-shaped.
Remember that you will have to decorate such a haircut that best accentuate the advantages of your facial features and smooth out or hide imperfections. It depends on what is considered aesthetically ideal oval face shape, when selecting hairstyle, try to imagine how to put your hair to "build" the appearance of an oval. Ie,
round face, the haircut
should visually lengthen, wide at the top, hide under the hair, and the lower part extend; a square can be mitigated, giving it a roundness with bangs or curls, etc.
The type of hairstyle to choose, given the influence of the environment. So, if you live in a humid climate, any hair can look fluffy and greasy, if your location has frequent dust storms, the hair will often be washed in cold to wear headgear, etc.
Keep in mind that your lifestyle is also an important condition for the selection of haircuts. If you live at work, sophisticated styling, which requires much time and effort is clearly not for you. Physical labor or sports will also affect the appearance of hair. Choose something that will allow your hair to look well groomed in any situation.
Coming to the beauty salon, don't forget to bring photos or clippings from magazines with examples of haircuts that you like. In this case, you, first, don't have to explain "on fingers" what do you want to get on the head, and secondly, you will have the opportunity to discuss with the hairdresser of the various options and really find a haircut that suits you.
Advice 5 : As fashionable to wear your bangs
Now is a great time for those who love to wear bangs, as in the fashion of a huge variety of options of hairstyles. You can choose the one that goes best with your personality, lifestyle and clothing.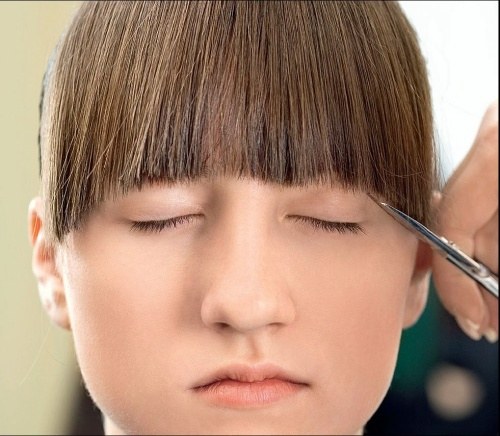 Instruction
Now in Vogue wide
Bang
in the Egyptian style, sometimes shaved-toe over the bridge, sometimes just exactly trimmed. Goes well with straight long hair to his shoulders, and with any variant of the classic Bob. This bangs is a girl with the right, a slightly elongated face. The owners of the narrow face such haircut will make the oval slightly wider.
Broad-faced girls and those who have a low forehead, the above option is not very suitable. If they want to wear the hairstyle, then it is better to choose a slanting, asymmetrical, or short French bangs. This styling is visually make the face more elongated and correct.
Asymmetrical bangs can be several options – from straight hair, tilted to one side, or in the style of Marilyn Monroe, when a curly lock of hair covers one half of the face. Such wavy bangs and goes well with short hair style blonde movie star, with long soft waves.
Short plucked a fringe will suit those who have a boyish haircut. It makes your face look more gentle and young. To wear such shaped bangs recommended fragile girl with delicate small features. It is not heavier appearance and add to the charm.
For those who have heavy square or rectangular face, it is better to choose asymmetrical short bangs which will give a rude person more cheerful and light appearance. You can just leave a few strands that frame the face, without weighing it.
Those who are lucky to be born with regular features can wear any hairstyle. For example, fashion fringe-pony, and more than a short-cut on the forehead and elongated heads. People can afford an unusual curly bangs in the shape of a heart, triangle and other geometric shapes.
Women with thick hair, layered bangs go, especially luxurious they look when the individual strands are painted in other colors. If you have long bangs, you can wear it with one eye closed, or zachesov ago (in this case, the hair secured with Bobby pins, hairpins, Bobby pins).