You will need
- Soil;
Seeds;
- Fertilizers;
Water;
- Shovel;
- Watering.
Instruction
Prepare the ground. Clover is a pretty undemanding plant, but grows best in Sunny areas and gives a real "carpet" of greenery and flowers in loose filled with organic soils. Fertilizer is better to make with autumn digging is based 4-5 kg decomposed manure to each sq. m. plots. Together with the manure makes sense to make 6-7 g of double superphosphate and 3-5 g of potassium fertilizers. In the spring, before regrowth of green shoots can be used to make 4-5 g of urea, scattering the granules on the surface of the earth.
Select for sowing clover warm autumn day. It is highly desirable that the temperature has not risen above 15 ° C, otherwise there is a risk that the plant will start to grow and will die from frost. In view of the fact that the seeds are quite small, they are recommended to be mixed with clean river sand in a ratio of 1:3 and planted in furrows drawn at the distance of 10-15 cm from each other. If desired, you can sow clover and randomly, but in this case, increase consumption of seeds.
Feed with liquid manure. This should be done in the spring when the temperature will not fall below 5-7 degrees Celsius, and young shoots of clover touched in growth. To prepare the fertilizer dissolve 15 kg of mullein in 30 liters of water, cover with plastic wrap, tie, to prevent the access of oxygen, leave for a week. After some time remove the tape, fertilizer mix, dilute with water in ratio 1:5 and feed the young shoots of clover.
Spray the plot with a solution of intaver or treat another tool from harmful insects, when clover will be included at the time of budding. To pinkish-red flowers and emerald green you happy as long as you can feed the clover wood ashes. It contains potassium, magnesium and many other nutrients that contribute to a better vegetatie, as well as protect the clover from diseases.
Advice 2 : How to use the clover as a lawn
Clover is good to use as a lawn in areas that have poorly drained soil, shaded places, and in that case, if you want to have a beautiful lawn without spending a lot of effort.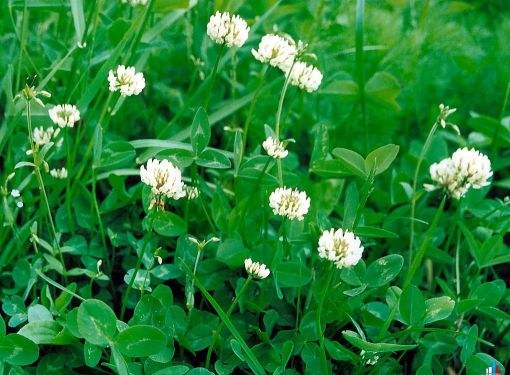 Clover will not be allowed on your lawn weeds. It will not need a haircut. A lawn of clover looks better than classic. For lawns use different varieties of clover. The most common are Clover, Pink and white Clover (white). White low-growing, similar to the characteristics of povorotny.

Seeding a lawn of clover
Deciding to have a lawn of clover, you need to first buy the seeds. This is done in the spring. A lawn of clover can be planted earlier than normal as soon as the earth thawed after the winter, and at night stopped freezing. Clover is a hardy plant. It can adapt to different regions and weather conditions. Tolerates frost and within three years every year grows without requiring a new odsavani.

Before planting you need to smooth the plot with a rake. But we can not try as planting regular grass lawn. Clover disguise all the irregularities of the soil. Then clover seeds must be soaked for an hour in water or a weak solution of potassium permanganate, dry and mix half with dry sand or garden soil. The number should be about 100 g of seeds on 1 m2 of the future lawn. Mixed with the sand the seeds evenly over the area of the lawn. It is best to sow in several directions – lengthwise, then crosswise or diagonally.

The crop top covered with layer of earth at one centimeter. In a fertile soil or peat for the top layer need no clover will grow in any soil. The earth compacted slightly (roll the entire area is also not necessary, enough to trample on a crop of land, tucked under foot sheet of plywood).

Care
After packing the lands, the crops should be watered very small rain to the soil is not eroded and washed out the seeds. Try to land when the rains are not predicted at least the next couple of days. Water the lawn daily, trying to keep the soil moist and not letting it dry out for weeks. In two weeks there will be shoots. It's begun to form your new lawn of clover.

Clover is quite drought – adult summer lawn watering no more than once a week. To fertilize a lawn of clover is not necessary – the plant contains sufficient nitrogen to not only safely grow and turn green, but also to feed nutrients to the soil.

The disadvantage of this lawn can be considered that it is not resistant to trampling. To preserve the appearance of a beautiful green lawn, in the lawn to lay the track. Three years later, the lawn will need to re-seed, using the method described above.