Instruction
Fresh air is the key to a peaceful and sound sleep
of the child
. Worrying about what the baby freeze, do not put the crib near the battery or heater, it is better to dress him warmer or to cover additional blanket. And ventilate the room before going to sleep, and
night
Yu to leave the window slightly ajar.
All children are different, some more tempered, the other from birth, the absolute "snowbirds". To determine the comfortable life of the parents picked up the mode of ventilation and clothes to sleep, several times during the night, you can check baby's nose (as a walk).
If the child constantly during sleep throws off the covers instead of blankets, you can use a baby sleeping bag, special fasteners for blankets (they attach the blanket to the sides of the bed). Alternatively, you can dress the baby warmer, with the expectation that the nightYu, he will sleep on top of the covers.
If the night needless to wrap the baby, his sleep will be restless, may appear diaper rash, and infants can rise the body temperature, because the mechanism of thermoregulation they still imperfect. Therefore, it is important not to percutiat child before bedtime.
In autumn and spring, when the houses off the heating, it is advisable to put on the child warm pajamas and warm socks. If the baby is cold (cold nose) on top of pajamas to wear a cotton camisole and panties. It is better to avoid as night clothes clothes made of wool, this material is scratchy, and thin hairs it can cause irritation.
In winter with good heating in the house and in the regime of weak ventilation, the baby is enough to wear cotton pajamas.
In night clothes for the baby need to avoid ties, buttons, tight elastics. Also, do not at night to wear baby tights and socks with tight elastic.
If the summer child to sleep comfortably in shorts, you should not force him to wear pajamas. Enough to make sure that the nightYu did not bother flies and mosquitoes.
Note
When dressing a small child for a walk, always adhere to the "Golden rule": to put on one's clothes more than wearing it myself.
Useful advice
A few simple truths. 1. If you are going outside, always dress yourself and then wear the baby. 2. For outlets in the shop use separate overalls (set) that the child could remove his jacket. Remove the hat and scarf. The sight of children in shops, dressed in a jumpsuit, hat and hood causes panic. 3. For the health of the child is equally harmful to both cooling and overheating.
Advice 2: How to dress your baby for the New year
The new year is the most awaited and magical holiday. To it begin prepared for a few days, and sometimes weeks. Decorate the house, buy groceries for the holiday table, choose outfits, hairstyles, etc. For pleasant troubles we should not forget about the children. After all they believe in new year's eve comes Santa Claus carefully puts the presents under the tree and performs any dream come true. During this holiday the children want to be prettier is all.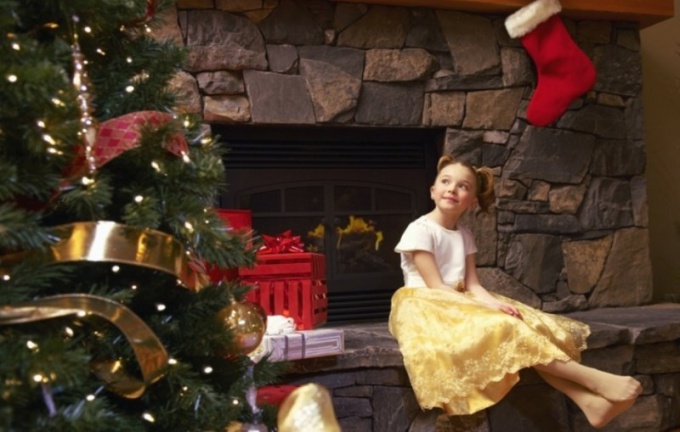 Instruction
The main time have fun children usually starts from 25 December and ends 7th January. These days in kindergartens, schools, palaces of culture are matinees, performances and other events. Children dressed up in beautiful Christmas costumes. Girls often want to be the heroines of their favorite fairy tales: snow white, Cinderella, or just a Princess. The boys prefer for a while to feel like a musketeer, Midshipman, spider-Man, Superman, etc.
Parents in the new year period is to talk with your own child. Often adults do not want to further spend money to buy for the baby and just wrapped it into last year's suit or dress. It is worth thinking about, and will not spoil if the
parent
step Christmas mood their baby. After all, how he is dressed, depends on its success among peers. And if something does not like your child's costume, unfortunately, this may affect his later life in
children"s
kindergarten or school.
If the baby passionately tells you that in this New year, don't want to dress up a Bunny, Fox or a snowflake, he doesn't need to try to prove the opposite. This magical holiday make your child a real fairy tale. Let ordinary girl becomes for a while a beautiful Princess, and the boy – the courageous knight. This will raise the self-esteem of your child that will be important for him later in life.
Talk with your toddler every detail of the outfit. For example, if a girl wants to be a fairy, don't forget to dress buy graceful wings, wand and tiara. Allow own child to become a designer suit. He will tell you his dream, become for him a magician and sorcerer. Then on new year's holiday your child will be proud to show off her outfit and saying that he himself invented it.