Instruction
In order to make your own scroll, you will need paper. Since a scroll is a rolled in a roll of cut paper, then you first need to determine its size.
It can be a standard landscape worksheet or something longer. For making long scroll is better to take a roll of Fax paper. Or, failing this, to glue together several standard sheets. To give the scroll view of the historical paper must be painted. Methods there are many.
The easiest way is to paint the sheet with two sides light brown watercolor and dry it. A more interesting way, which is noticeable less time and is old scroll much better, is to soak it in strong tea or coffee for a while so that the sheet is wet but not limp. For this brew very strong black tea or coffee, cool it and pour into a container, which then placed the scroll. Ten minutes, soak it in tea or coffee so that it is wet on all sides. Then dry it in expanded form - and the basis for the roll is ready.
Attach to the edges of the scroll strip. Write paint or ink on it is necessary, roll into a roll and tie. To give the coat greater historical accuracy cover the knot of ribbon with paraffin or wax.
Useful advice
To give the scroll effect of aged paper, you can also use sunlight. To do this in Sunny weather, you need to put a sheet of paper on the windowsill.
Advice 2 : How to make a scroll with their hands
Full role-playing game involves the player-role play a variety of game accessories and attributes appropriate to its role, as well as the era in which he acts out. If you play mage in the role-playing game, you require appropriate surroundings. In addition to a cloak and staff, you'll need a magic scroll. To manufacture a scroll , you can at home.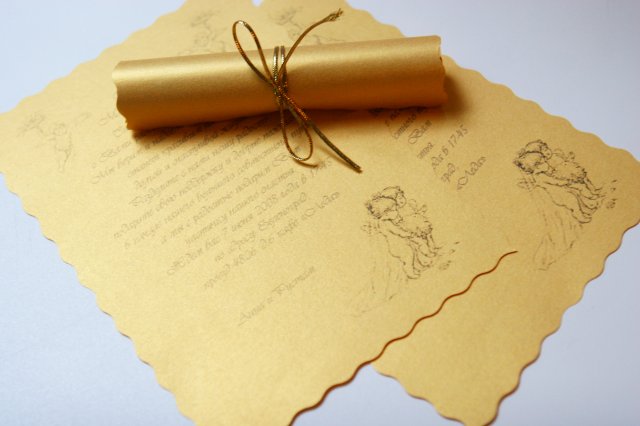 You will need
- scissors,
- PVA glue,
- long line,
- pencil,
- two cardboard tubes,
- decorative wooden end caps for curtain rods,
- parchment for baking
- cardboard,
- colored tape.
Instruction
Determine the desired size of the scroll unfolded, cut a sheet of parchment and raschertite it.
Glue one edge of the parchment to the cardboard tube, and then further strengthen its edge, gluing a sheet of cardboard on the back side. Ready wrap the parchment into a scroll and tie a ribbon with a wax seal. In the side hole of the cardboard tube insert plugs for the rods and secure them with glue.
Creating a scroll, consider it the final size, which includes the additional length curly wooden plugs, glued on both sides. In accordance with the received measurement rascherchivayut parchment.
To plugs held tight, choose a cardboard tube, in which the chosen plug will be held tightly and be inserted with force.
Draw with ink or paint magical symbols, to make it look more colorful.
In addition to parchment for baking you can use ordinary paper, aged by manual method. For aging paper, use strong tea or instant coffee.
Additionally decorate a scroll of leather and metal fragments, and to complete the magical way to make antiqued paper magic book.