You will need
- ginger root;
- lemon,
- med;
- 2 liters of water;
- 2 cloves of garlic.
Instruction
Ginger is used in cooking, it has a pleasant taste and special aroma, is quite a valuable seasoning in cooking. It imparts a subtle flavor to soups, vegetable soups and porridges. They are seasoned with homemade sausages and pates. Root ginger enhances the taste of roast beef, veal, chicken, duck, pork and Turkey. Also it is used in the harvesting for the winter compotes. Candied root ginger is used for making candied fruits, candies, jellies, and preserves. In meat and fish dishes it is necessary to add 0.2-0.5 g fresh ginger 15 minutes before end of cooking. In compotes and other sweet dishes – 0.3 g of ginger per serving for 3-5 minutes before end of cooking. The dough – 1 g of ginger root per kilogram of the test.
For tonic action, especially during and after colds, it is recommended
to drink ginger
tea. Take
the root
of ginger
, wash and peel a small piece. Grate it on a fine grater, to get about two tablespoons. Fold the grated ginger in a quart jar and add 50 ml of fresh lemon juice and a little honey (to taste). Pour all the boiling water and cover, leave to infuse for an hour. Try ginger tea, you will experience several flavors – spicy, sweet and sour. This tea will speed up processes in the body and invigorate you.
Any means prepared on the basis of ginger root, accelerates the metabolic processes in the body, removing excess water and toxins. He's also the best way affects the digestive system, removes cholesterol from the body and has a mild laxative effect, which is undoubtedly very valuable for people seeking to lose weight. This can be prepared a special ginger tea with garlic. Ginger root wash, peel and cut into thin slices. Clean the garlic and cut into thin slices. Fold the chopped ginger and garlic in a thermos, pour two liters of boiling water, cover and leave to steep for one hour. After that, strain the prepared tea and pour into a thermos again. During the day drink the tea in small cups.
Useful advice
Also ginger root is widely used in medicine for treatment of many diseases.
Advice 2 : Ginger - beneficial properties of the aromatic root
Ginger is popular not only among fans of Japanese cuisine, but also those who are watching their health. This aromatic root has many beneficial properties, so it constantly needs to be in the diet. Thus it can be used fresh and in powder form.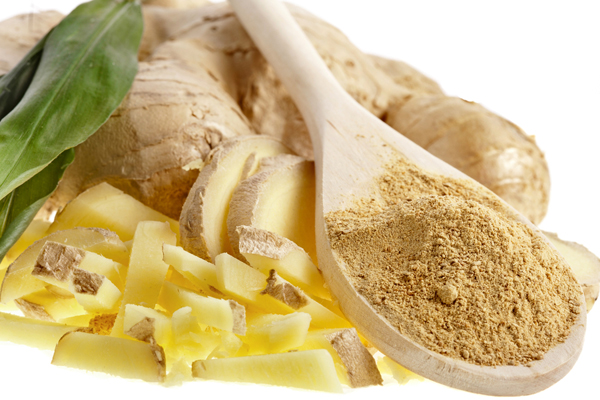 The antiseptic properties of ginger
Ginger is a powerful natural antiseptic. It has antibacterial, anti-inflammatory and antibacterial properties. Due to the fact that this plant is able to suppress pathogenic flora, it does not develop harmful bacteria. That is why ginger is an integral ingredient in Japanese cuisine in which fish is often served raw.
Ginger for fresh breath
To freshen breath and get rid of the odor, just chew small piece of ginger or just RUB their teeth.
Ginger as a pain reliever
Ginger root helps to relieve pain from tooth to muscle. If worried about the tooth, need to chew a piece of ginger and leave it on the tooth. For getting rid of headaches grate ginger (about a teaspoon) and mix with water to make a homogeneous mass, then it is necessary to impose on the forehead. With muscle pain, you can boil a few spoons of ginger powder in a liter of water for 10 minutes. Ready broth pour into the tub with hot water – muscle tension as you lift.
Ginger for colds
Antiseptic properties and a high content of vitamin C make ginger an excellent remedy for flu and colds. For prevention you regularly drink ginger tea, and if the disease is caught unawares, it is recommended to use a simple recipe for a healthful drink: ginger root cut into pieces (the more the better), pour boiling water, add lemon wedge, mint leaves and a little cinnamon. As soon as the drink cools, you will need to add a teaspoon of honey and drink in small SIPS and tasty, and useful!
Ginger as an aphrodisiac
Ginger stimulates blood circulation especially in the pelvic organs), and this causes excitation, increasing the potency.
Ginger for motion sickness
When "sea" of the disease helps fresh ginger root. You can chew small pieces or to just breathe in his smell – it will help to get rid of nausea, relieve lethargy and drowsiness.