Instruction
A power of attorney drawn up in writing. For ease of execution are special forms, which you can find online and fill out by hand. On some sites, such as gai.ru you can find special power of attorney forms that can be filled out directly online, with the result that the finished power of attorney can be printed on a normal printer. The power of attorney spells out the owner (or owners) of the vehicle, the person (or persons), who entrusted the vehicle, as well as the validity of power of attorney up to three years.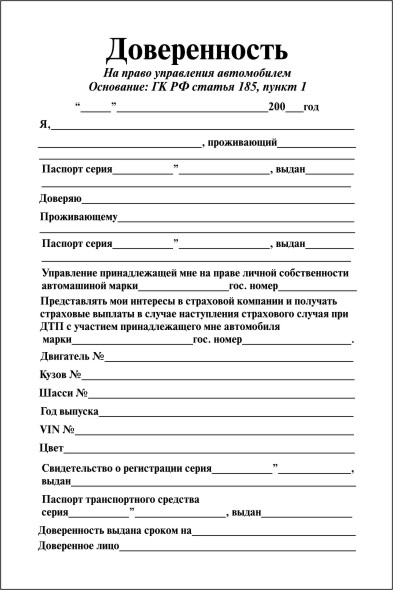 In addition to the names of the vehicle owner and the person to whom written authorization, in this document, you must specify a few moments. The power of attorney spells out the powers granted to the representative, as well as the possibility or impossibility of substitution. The attorney also provides basic information on the characteristics of the vehicle such as make (type), state registration sign, identification number VIN, year of manufacture, engine number, body number, color, series, number, date of issue of the passport of the vehicle and registration document and the name of the organization issuing them.
Feature a power of attorney must be signed by the person (s) issuing (issuing) a power of attorney on the car. Made in the simple written form power of attorney does not require notarization, however, if desired, the signature of the principal (principals) to certify.
A power of attorney can give the right control of the vehicle, the management and disposal of vehicle haul, customs clearance and production of vehicle registration and insurance, as well as other actions directly related to the car (inspection, conduct the case in court, the car insurance).