You will need
1.5 kg of sugar
cookware for jam
banks for the finished jam.
Instruction
One of the recipes raspberry jam 1 kg washed and enumerated berries take 1.5 kg of sugar. Raspberries put in a pan in which then you cook the jam. On top sprinkle the berries with sugar. In this state, leave the berries to infuse for 8 to 10 hours in a cool, dark place. Then put the jam on the heat, bring to boil and simmer 20 minutes.
Of course, the most beneficial is the fact jam, which was subjected to heat treatment, as it retains more vitamins and other nutrients. Different this jam is called the orientation meeting. To prepare it, take 1 kg of raspberries. Carefully rinse it, being careful not to damage the berries. Pour the raspberries and sugar for 5 hours, and then pour out the syrup. Boil it for 10 minutes on high heat. Then reduce the heat and add in syrup raspberries, bring to a boil and simmer for 5 minutes. After 8-10 hours again bring the jam to a boil and boil for another 5 minutes. Ready jam pour in banks.
The third method of preparation of raspberry jam is that once the raspberries will be covered with sugar, after 3-4 hours you will need to drain the resulting liquid. The resulting syrup boil for 5 minutes, and pour over the raspberries. Simmer the berries on low heat until tender.
Useful advice
In addition to its taste, raspberry jam has healing properties. In raspberries, raspberry jam contains acids that prevent the formation of cancer cells, and substances in its effects similar to aspirin. Therefore, a cold tea with raspberry jam helps to reduce the temperature. In addition, these substances thin the blood, this is especially true for people who have problems with blood clotting.
Advice 2 : Raspberry jam: how to cook
Have raspberry jam lot of fans. Everyone knows how beneficial it is for colds and as delicious just like that, with tea. Raspberry jam – a great addition to pancakes, pancakes, toast and cakes, while raspberry jelly is not worse than the currant suited to grilled or roasted meat. Recipes raspberry jam a lot, so everyone will find something to his liking.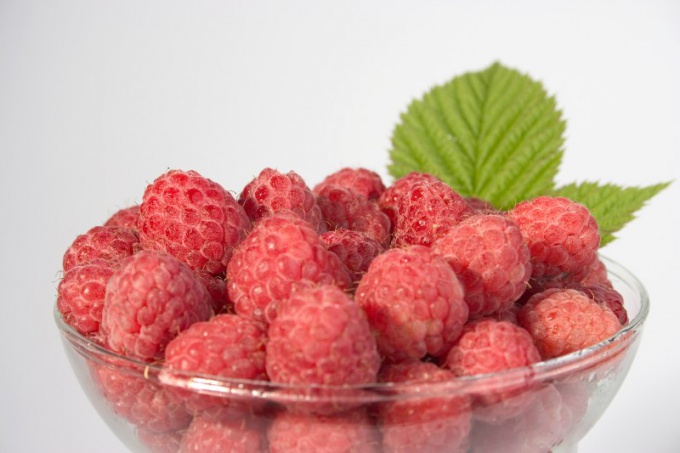 You will need
Raspberry jam according to old English recipe

1kg raspberries;
1 kg of sugar;
350 g of red currant;
100 ml of water.
BlackBerry-raspberry jam
1kg raspberries;
1 kg of blackberries;
2 kg of sugar
Instruction
Raspberry jam
according to old English recipe
In raspberries is very small generousi substances, but currants contain pectin in excess. That is why, if you combine these two berries are delicious thick jam, in which currant acidity will only emphasize the sweet taste of raspberries.
Currants and raspberries bust, remove the stalk and twigs, rinse and dry. Raspberry - berries tender, so it is better not to wash under running water, and omitting the colander filled with aromatic selected berries, in a container of water.
Pour into a small pan with water, bring to the boil and stir in the currants, reduce the heat to low and simmer about 15 minutes. Remove from heat, cool and RUB through a sieve. If the sieve is too large for the cell, cover it with several layers of cheesecloth. Or you can just squeeze the juice through a gauze cloth. You need to get about as much juice by weight, how much did you currant.
In currant juice, place the raspberries and cook jam on low heat for at least 15-20 minutes. Periodically stir the jam and berries knead a wooden spoon. When you have formed a uniform red mass, bring to the boil and simmer for 2-3 minutes. Remove from heat and, while stirring, a thin stream pour sugar.
Return the bowl of jam on the stove and boil on high heat for about 10 minutes. Remove from the surface of the fragrant delicacy of the foam, let it cool slightly and place in sterilized jars.
BlackBerry-raspberry jam

You can cook the jam classic, but the more usual method. To came it unusual and interesting, add to raspberries its close relative the BlackBerry.
Without mixing, the loop, wash and dry berries. Cover them separately with sugar ( per kilogram of berries as much sugar). Mix berries and sugar, leave overnight to drain the juice. If you mix the berries immediately, but not later, when cooking, you do not get the beautiful crimson color of the final product, so it is not necessary to simplify the process.
In the pelvis for jam drain mixed with sugar juice. Bring, not forgetting to stir constantly, until boiling, put the berries and reduce heat to low. Cook for 5-7 minutes, also stirring occasionally and skimming. Remove from heat and allow the jam to cool completely, you can even leave it on all night. Return the pelvis to the fire and again bring to a boil, reduce the heat to medium and cook for another 5-7 minutes. Turn off the heat, allow the jam to cool slightly and place in sterilized jars.