You will need
5 kg of red currant,
- 2-3 kg of sugar,
the 10 liter bottles.
Instruction
Red currants should be thoroughly washed under running water and lay out to dry on a cloth napkin.
After that the currants should be cleaned of twigs and put in a large capacity, for example, 10-liter bottle.
Fill the bottle with currants 2-3 kg of sugar. Pour a specially prepared key or spring cold water so that to the top remained 10-15 centimeters.
Now the bottle must be closed by special cover, in which is inserted a flexible tube. The tube is put in a container with water and attaching the tube to the lid tightly paper over with wax or clay to avoid cracks. A water seal prevents air from entering the bottle of wineusing the water Cup you can determine the degree of fermentation and the end of separation bubbles in a container of water.
Put a bottle of winem the sun and soak about 20 days.
Then polypropolene wine , strain, pour back in the bottle and add a Cup of sugar. Cover with water slide.
A week later the wine ceases to ferment. Try gently to drain, not to disturb the sediment. Pour into prepared wine bottles.
For every 0,5 liter bottle, add 4 tbsp of vodka and cap. Store wine in a cool dark place.
Advice 2 : How to make wine at home
The wine is a pleasant beverage, which not only has a great taste, but also very useful for health. This drink can be prepared from several components, including: apples, grapes and berries.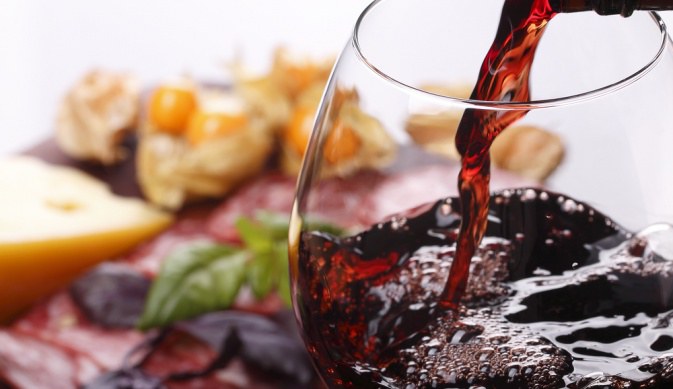 You will need
- яблоки
- груши
- ягоды
- сахар
Instruction
Как сделать вино
из яблок
Итак,
как приготовить
вино из
яблок
? Начинать приготовление вина стоит с отжима сока. Помните, что яблоки мыть нельзя. На их кожуре находится огромное количество полезных для сбраживания дрожжей. Грязные или поврежденные яблоки достаточно протереть и удалить сгнившую поверхность. Для того чтобы вино не получилось горьким, из яблок необходимо удалить сердцевину.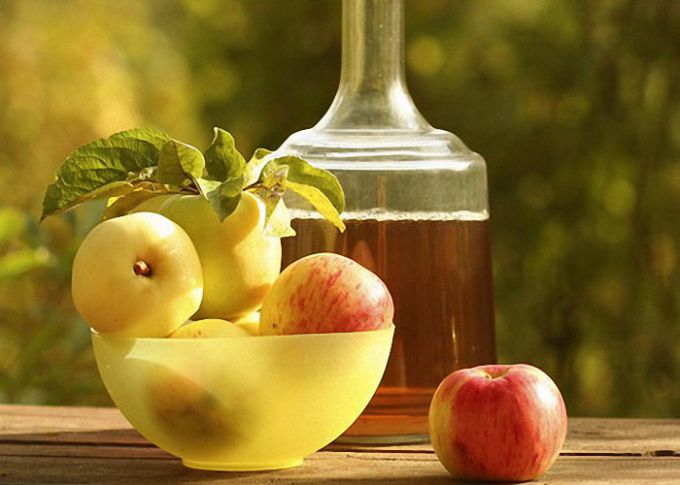 Яблоки очищены — приступайте к их переработке. Если в доме имеется хорошая соковыжималка, то лучше всего воспользоваться ею. Она максимально очистит сок от мякоти. Вместо соковыжималки можно использовать мощную механическую терку. Полученный продукт необходимо отжать, а затем поместить в емкость с широким горлом сроком на 2-3 дня. В этот период яблочное пюре делится на сок и мезгу. Мезга образуется поверх сока. Она плотная, поэтому пюре необходимо перемешивать в течение первых 2 суток- 2-3 раза. На третьи сутки мезгу оставляют в покое, а по окончании срока снимают при помощи дуршлага. Самое время добавлять сахар. Количество добавляемого сахара полностью зависит от того, насколько крепкое вино вы хотите получить. Хотите получить крепленое вино, добавьте на 1 литр вина 250 граммов сахара. Чем больше сахара, тем крепче вино. Яблоки сами по себе сладкие, поэтому с количеством сахара главное не переборщить.
Вино готово к сбраживанию. Поместите сок в посуду или емкость, которую можно загерметизировать. В процессе брожения образуется пена, поэтому емкость должна быть на 45 % пустой. При брожении образуются газы, для их выхода в емкости необходимо проделать небольшое отверстие и вставить туда тоненькую трубочку. Внешний конец трубки стоит отпустить на 2-3 сантиметра в стакан с водой. Поместите емкость в нехолодное место. На протяжении всего периода брожения в стакан выходят газы. Как только газы исчезли - вино готово. Однако не стоит его сразу открывать. Дайте ему настояться. В среднем брожение длится от 1до 1,5 месяца. Чем больше выдержка, тем вино вкуснее. В вино из яблок также можно добавить сок из
рябины
или груши. Это придаст ему терпкость.
Как сделать вино из
винограда
Итак, начать приготовление вина стоит с самой кропотливой работы, отобрать хорошие ягоды от сухих. Если вы хотите получить терпкое вино, то виноград стоит давить вместе с веточками. Однако в данном случае существует угроза того, что вино будет горчить. Оборванные ягоды необходимо поместить в большую емкость. Нежелательно хранить ягоды в таком виде на протяжении долгого времени, так как процесс брожения может начаться раньше. Как только ягоды были отсортированы, приступайте к их переработке. Для этого необходимо использовать любой инструмент, который сможет виноград растолочь. Толочь виноград стоит до тех пор, пока жмых не останется на дне емкости. Полученный виноградный сок необходимо отжать.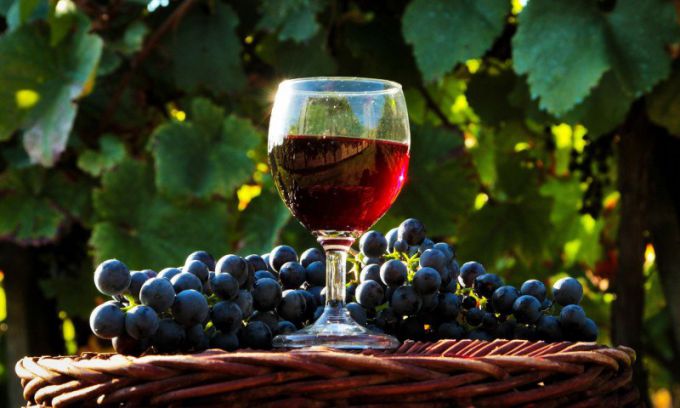 Перед тем как перелить виноградный сок в емкость для брожения, рассчитайте количество места, необходимого для образующейся пенки. Добавьте сахар. Перелейте сок в тару и тщательно загерметизируйте. Обязательным условием для брожения вина является специальная трубочка для отвода газов, о которой было рассказано выше. Емкость стоит поместить в подвал для брожения, которое будет продолжаться на протяжении 2-3 месяцев. Для того чтобы убедиться, что вино бродит, следите за газами, и
пузырьками
в стакане. Изредка воду необходимо менять и мыть стакан. После того как вино готово, его стоит перелить в другую тару. Спешить при сливе не надо, так как на дне емкости всегда остается осадок. Вино готово к употреблению!
Как сделать вино из слив

Слива – ягода универсальная, она прекрасно подходит для приготовления вина и белого, и красного – в зависимости от сорта самой сливы. Сливовое вино нельзя назвать элитным напитком, но оно вкусное и пользуется заслуженной любовью. Вкус этого напитка, конечно, специфический, аромат оригинальный, ценителям виноградных вин с богатым букетом он может и не понравится. Но сливовое вино хорошо подходит ко множеству блюд, идеально дополняя их и подчеркивая вкус.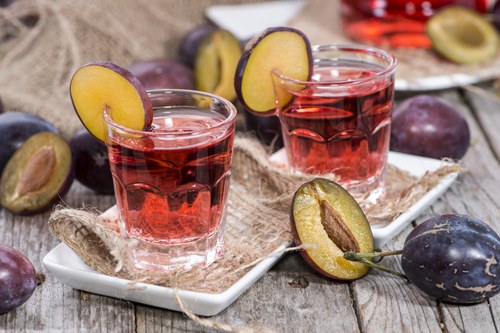 Сливы перед приготовлением вина, как и яблоки, также лучше не мыть, а просто слегка протереть от грязи. Когда это сделано, аккуратно отделите их от косточек и положите в подходящую посуду, она должна быть достаточно объемной. Прямо там толкушкой, лучше деревянной, измельчите ягоды, превратив их в гомогенную (однородную) массу. Добавьте к размятым сливам воду в
пропорции
один к одному. Затем накройте смесь чистой тряпочкой или полотенцем и сразу уберите в теплое место. Внимательно следите за получившимся сырьем: через некоторое время на поверхности массы станут появляться пузырьки и пена. Это значит, началось брожение, то есть вы все абсолютно верно сделали. Когда процесс брожения станет чуть менее интенсивным, то есть где-то через неделю, процедите жидкость через марлю и перелейте в заранее подготовленную чистую бутыль или большую банку.
Далее надо смешать жидкость с сахаром, его количество зависит от того,
какое
вино вы планируете сделать. Если
сухое
или полусухое, достаточно будет 250 граммов. Если
сладкое
или полусладкое – надо не менее 350 граммов. Размешайте сахарный песок до полного растворения и закройте банку или бутыль либо резиновой перчаткой, либо крышкой с дырочками, через которые будут выходить газы. Еще лучше всего вывести из отверстия в крышки трубочку и опустить ее в банку с водой, чтобы пузырьки выходили туда. Сливовица будет настаиваться примерно полтора или два месяца, температура в доме должна быть комнатной. По окончании процесса вино надо аккуратно слить в чистую емкость, оставив образовавшийся осадок на дне. Все, сливовое вино готово, можно разливать по бутылкам и угощать гостей.
Advice 3 : How to make wine from currants
Of red and black currants, you can cook home-made wine will have a pleasant color and rich aroma. This wine is perfect for making mulled wine, syrups for impregnation of sponge cakes and use in pure form.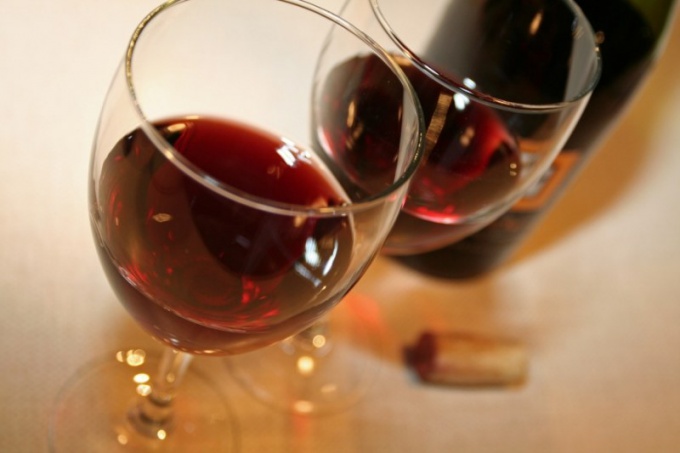 Red currant turns a light sweet wine that will be an excellent addition to the dessert. To prepare a drink, you'll need:
5 kg of red currant;
- 2 kg of sugar;
- 6 liters of boiled water.
Sort and rinse the berries, place them in a deep Cup and mash well. Put crushed berries into a large jug.
In a separate container, combine sugar with water, put on fire and boil the syrup, stirring constantly. When the sugar is completely dissolved, remove the syrup from heat and pour over the red currants.
Ocuparte bottle stopper gauze and place over a week in a dark warm place. Then strain the drink, pour into bottles, cap and remove be stored in a cool place.
Wine from black currant
A wine with wonderful aroma and rich full-bodied flavor made with black currant. For this you will need:
- 3 kg of berries;
- 100 g of raisins;
- 2050 grams of sugar.
Before you start making wine, make the yeast. Connect the 50 g of sugar with the raisins and pour 100 ml of warm boiled water. Jar of raisins, cover with gauze and put in a warm place. After 5 days the wine yeast will be ready, you can now cook the drink itself.
For starters, try a black currant and rinse under cold running water. Clean berries, crush with a tablespoon, to start to release the juice, and place in a big bottle of wine. Put crumpled currants with sugar, pour 5 liters of warm boiled water, add yeast and stir.
Ocuparte bottle gauze tube or put on her rubber glove and put it on a month in a dark warm place. After that, filter the fermented wine from the currants and pour it into bottles. The drink is ready to drink in a month. If it contains sediment, strain it again.
The wine from red currants and gooseberries
Sweet wine can be obtained from the mixture of red currants with gooseberries. To prepare a drink, you'll need:
- 3 tbsp. currants;
- 3 tbsp. gooseberry;
- 3 tsp of dry yeast.
Cleaned berries blend with a blender. Place them in a deep container, pour sugar, add the yeast and pour 5 liters of boiled water at room temperature.
Close the bottle with the future wine gauze tube or a medical glove, put it in a warm place for 1.5 months. The fermented beverage, strain, bottle and put away to be stored in the cellar.