You will need
olive, sesame or any other oil;
- rose petals.
Instruction
Crush the rose petals and pour water on them. Then add the olive (or any other) oil in a 1:1 ratio. The resulting mixture is put on low heat and evaporate from the water.
Take two cups of rose petals and pour a glass of olive oil. This mixture steep for 2-3 weeks in a dark place, stirring occasionally. Then separate the oil from the petals.
Heat the oil to 60-70 degrees (not boiling), send rose petals and steep the mixture in a dark container for 2 days. Then remove the petals and add fresh. This procedure was repeated 8-12 times. The obtained oil store in a dark container.
Take a piece of cotton wool and put it in a jar so that it occupied about half the space. Next, fill the jar with rose petals and oilm. close the jar and set it in the sun. The next day remove the rose petals and replace them with fresh ones. The procedure must be repeated every day until the oil will not gain a persistent pink aroma (approximately 10-14 days). Then press the wool obtained oil was stored in the refrigerator.
Useful advice
Rose oil is often used in the massage for cellulite). For stress relief and skin regeneration is recommended to take baths with rose oil (5-7 drops). They also can be enriched creams, tonics and other cosmetics (5 drops to 5 g base). For a session of aromatherapy drip 6-8 drops of rose oil in an aroma lamp and breathe in its fragrance;

The spectrum of therapeutic properties of rose oil is huge: it eliminates inflammation, flaking and irritation of the skin, relieves stress, restores hormonal balance, normalizes the digestive tract and rejuvenates the skin, normalizes the activity of sebaceous glands.
Advice 2 : How to make rose oil
Rose – beautiful and fragrant flower, useful properties of which are widely used in cosmetology. There are many cosmetic products containing extract of rose petals. One such remedy is rose oil. This product helps to normalize the metabolism, regenerates the skin, making it supple and taut. In addition, rose oil is an excellent antiseptic and is used to treat certain skin diseases and burns.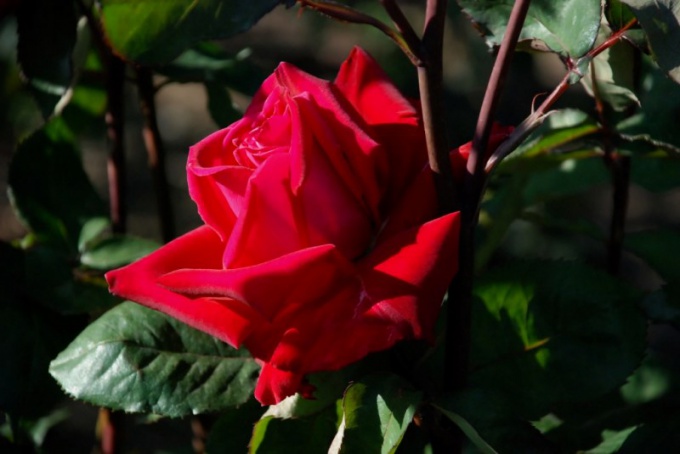 You will need
- rose petals;
- olive oil.
Instruction
Rose oil it is possible to make your own at home. In this case, it will be different from its industrial counterpart, however, will retain all useful properties. First of all, you need to prepare rose petals for the manufacture of oil use red flowers with strong fragrance. Collect them better in the early morning before the sun heats the plant and essential oilin the rose, disappears. You can use slightly wet the flowers, however, drops of water on them shouldn't be. The collected buds disassemble the petals and clean them from impurities, if necessary. It is not recommended to store them for a long time, otherwise all the useful properties are lost.
As a basis for the preparation of rose oil you can use any vegetable oil, however, cosmetologists advise to use olive. It is a good herbal medicine that effectively moisturizes and nourishes the skin. Take one Cup of olive oil and pour over two cups of rose petals. A container with the mixture, close tightly and place in a dark place. Stir the petals every two to three days. After three weeks strain the oil and pour it into a clean vessel. The remedy is ready.
There is another method of producing rose oil. To start heat the olive oil in a water bath to a temperature no higher than 70 degrees. Pour it into a prepared dish and place the petals (as many as will fit). Leave the jar closed for two days in a warm place. After the petals are discolored they need to be removed and replaced. This procedure repeat at least ten times. Ready oil close tightly and store in a dark place. This cosmetic product can be used to wipe the body after bathing and sessions of conventional and anti-cellulite massage.